Head to head: Rodriguez v Neymar
We preview a key head-to-head in the World Cup quarter-finals between two star men who will also be lighting up the UEFA Champions League live on Sky Sports next season. Here, we analyse the No.10s of Colombia's James Rodriguez and Brazil's Neymar. Who will fire their nation to victory?
Last Updated: 04/07/14 1:01am
JAMES RODRIGUEZ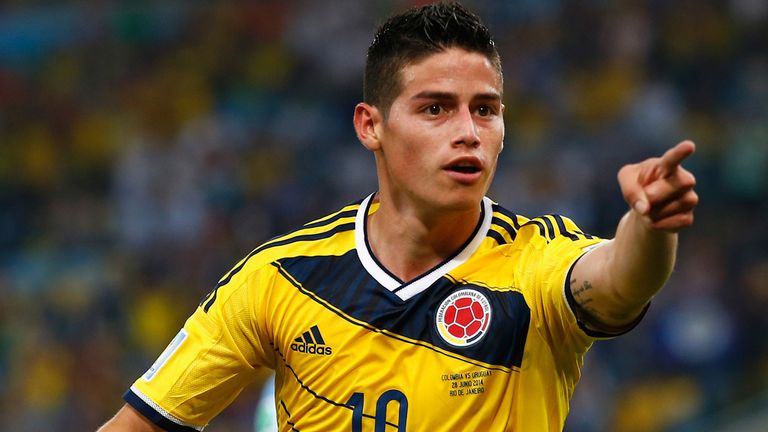 Age: 22
Nationality: Colombia
Club: Monaco
Position: Forward
STRENGTHS
With five goals so far in the World Cup, Rodriguez has taken the tournament by storm. The South American has only averaged 3.5 shots per game this summer (Cristiano Ronaldo averaged 7.3) which gives an indication of his lethal instincts; if he gets a chance, watch out. The pacey Rodriguez also contributes assists, with two so far in Brazil, and is capable of scoring a range of goals from the spectacular, against Uruguay, to the predatory, versus Greece.
WEAKNESSES
Rodriguez is not the strongest and so can sometimes be bounced off the ball when in possession. He has been dispossessed on average twice per game in this summer's World Cup to date and Brazil may therefore look to give him some rough treatment. The 22-year-old is also not the best in the air and has won just one of his only three aerial duels at the 2014 finals.
RUMOUR MILL
According to newspaper reports, both Manchester United and Chelsea turned down opportunities to sign Rodriguez in the past. United are said to have passed at offers both last summer, before Rodriguez joined Monaco from Porto for £34million, and in 2010. Elsewhere, Chelsea are reported to have had the chance in the 2013 January transfer window but decided not to bother. Any of those possible deals would have been a bargain in comparison with the Gareth Bale-rivalling £80m fee which Real Madrid would supposedly be asked to pay this summer.
    
World Cup 2014
    
Goals
    
Assists
    
Shots Per Game
    
Aerial Duels Won
    
James Rodriguez
    
5
    
2
    
3.5
    
1/3
      

NEYMAR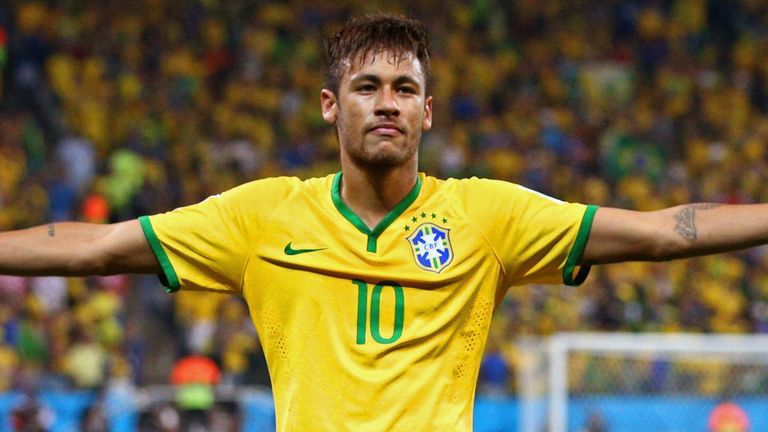 Age: 22
Nationality: Brazil
Club: Barcelona
Position: Forward
STRENGTHS
Four goals in four games as the pin up of Brazil's World Cup shows Neymar is a young man who can certainly handle pressure. Seven months younger than Rodriguez, Neymar has definitely had more exposure of the biggest stages, including his move to Barcelona and a decisive penalty in the shootout victory over Chile, but he has taken it all in his stride. With 3.8 shots on goal per game at the 2014 World Cup, Neymar has averaged more efforts on target than any of his squad-mates while he also averages 3.5 successful dribbles per game. The latter total is again more than any of his compatriots this summer and provides an indication of his tricky, speedy and nimble style of play which has proved such a success.
CHAMPIONS LEAGUE
Watch Neymar and James Rodriguez in Champions League action next season on our new channel - Sky Sports 5. Activate now
WEAKNESSES
It has been said many times before that Neymar is not the best at tracking back and performing any sort of defensive duty. Playing on the left of Brazil's attacking three in a 4-2-3-1 formation, this could sometimes be exposed as it was last season in a Barcelona side who were admittedly on the wrong side of the hill. Meanwhile, Neymar has yet to contribute an assist this summer and it also remains to be seen whether he has fully recovered from the knee and thigh injuries suffered against Chile.
RUMOUR MILL
Neymar will not be leaving Barcelona any time soon after his £50m move in the summer of 2013. That transfer fee is still debated. The biggest rumour surrounding Neymar regards his fitness and those injuries suffered versus Chile and after some close attention from defenders earlier in the tournament. Could Brazil be downplaying their star man's fitness so as not to raise any fears?
    
World Cup 2014
    
Goals
    
Assists
    
Shots Per Game
    
Aerial Duels Won
    
Neymar
    
4
    
0
    
3.8
    
4/6