Europa League: Basel boss Murat Yakin still believes his side can overcome Chelsea
Basel are confident of pulling off a minor miracle and winning at Chelsea to advance to the Europa League final.
Last Updated: 02/05/13 3:33pm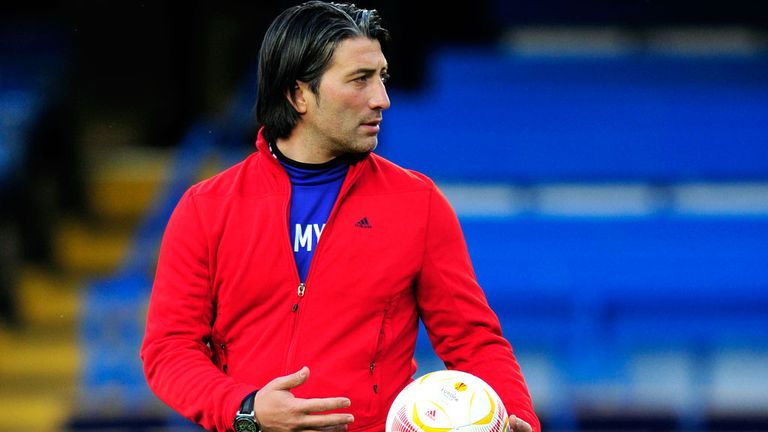 The Swiss champions have never won a match in England and in their 10th attempt against Chelsea at Stamford Bridge they must overcome a 2-1 semi-final first-leg deficit to reach the May 15 Amsterdam final.
Basel boss Murat Yakin said: "Every game is difficult and we know we're playing against Chelsea, who are the Champions League winners. They have two top players in every position.
"But we will do everything. We will be brave, we'll play with confidence and who knows? Maybe we can achieve a small wonder and we can qualify for the final."
Forward Valentin Stocker added: "It will be important if we can actually take the lead. If we have that confidence that we can score a goal here, maybe that can psychologically affect the whole team and maybe in that way we can achieve a small miracle."
Late in the first leg at St Jakob-Park, Basel were 1-0 down to Victor Moses' first-half goal and facing a narrow deficit.
Three minutes from the end Stocker was awarded a penalty - dispatched by Fabian Schar - to level the tie.
The decision appeared soft and Stocker smiled when questioned about it on the eve of the second leg.
He said: "I saw it on TV myself, what can you say? I need to hold back on that."
David Luiz's last-gasp free-kick earned Chelsea victory and Basel's task could be more difficult as they could be without their attacking focal point in Marco Streller as the 6ft 6in striker faces a late fitness test.
Despite their impressive run to a first European semi-final - a streak which has included wins over Zenit St Petersburg and Tottenham - Basel are still to win away from home in the tournament.
Chelsea, meanwhile, are unbeaten in 12 European ties at Stamford Bridge, their last defeat coming to Manchester United in the 2010/11 Champions League quarter-finals.
"I don't hold much for statistics," Yakin said.
"What I want is that we play here, we play very good football and that we start well.
"Chelsea are defensively very good, they are very good in attack, but our team also has very good qualities.
"We have shown that against Tottenham, what we're capable of doing.
"We're very happy to be here. We will be trying everything to get to the final.
"We will fight hard, we will give passion. We know it's difficult - we've got a 2-1 deficit to catch up.
"We will do our best here."
Basel lost 3-0 to Luzern in the Swiss League last weekend and are without a win in three.
At times, Yakin's men dominated Chelsea, but could not make the pressure tell and he remains optimistic.
"We've got to be clever, we've got to be intelligent," he said.
"We've also learned that if you always have possession it doesn't mean you're going to win the game.
"We have to see what we can do, be confident and try our best."
Yakin hopes the speculation linking Jose Mourinho with a return to Chelsea could prove to be a distraction for their hosts.
"Maybe that's good for us," Yakin said.
"We know what we have to do, we know what we have to do to qualify.
"We have one goal, we'll give our best."