UEFA Europa League: Michael Laudrup says Swansea earned last-32 spot
Michael Laudrup insisted that Swansea deserved to reach the Europa League round-of-32, despite defeat in St Gallen.
Last Updated: 13/12/13 8:08am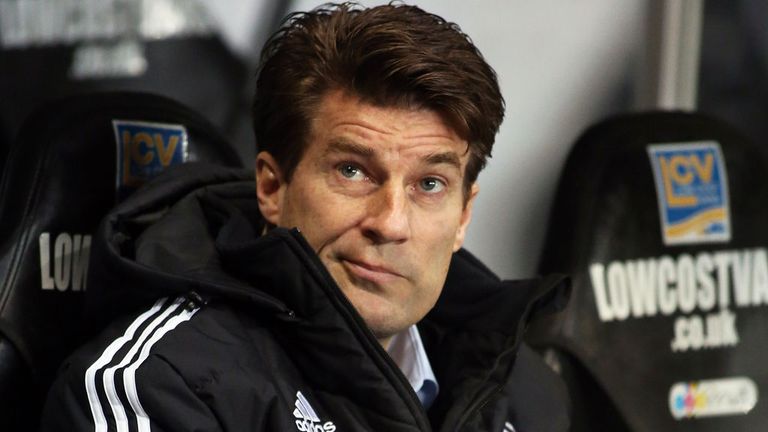 The Welsh club needed a draw in north-east Switzerland on Thursday night to guarantee qualification from Group A, but Kuban Krasnodar's failure to beat Valencia in Spain ensured Swansea would progress.
Marco Mathys' late winner was a disappointing end to a group campaign that started with a 3-0 win in Valencia, but Laudrup remained satisfied with his side's efforts.
"Being through is the most important thing," he said. "In a couple of weeks, we won't think about how we got there, we will just know we are in the last 32.
"We have two months to wait before the knockout stage, and we are there because we deserve to be there.
"Maybe you can always take things out from these games and say we should have done more, but we are through.
"When we were 1-0 down and Kuban equalised against Valencia, for just a second their late goals against us went past my mind.
"When St Gallen got a last-minute free kick - two goals in injury time could have sent us out, but fortunately it didn't go like that."
Swansea have reached the latter stages of a major European tournament for the first time in their history and Laudrup hopes this achievement will be remembered for years to come.
"I hope that it is huge for everybody in Swansea. We don't know when we will play in Europe again," he said.
"Sometimes you appreciate it but maybe not enough when you are in it. Maybe you appreciate it more when you are more distant from it.
"I can only compare it with my experience at Getafe when we reached the quarter-finals. It was a nice experience at the time, but four or five years later is when they really appreciated playing Bayern Munich and Benfica.
"I hope thinking back it will be the same with Swansea, when it comes to winning the League Cup and playing in Europe.
"Now let's see what happens in the draw. You never know, the weaker team of the two can move on if you play well."
Defender Chico Flores limped off with a knee injury in the second-half and Laudrup must wait to find out the full extent of the injury.
"I talked to the doctor and we have to wait a couple of days to know. It was a knock to his knee, but we can't say any more about how long he will be out," he said.
"He was already suspended for Norwich on Sunday, but we will have to wait a couple of days to know how bad it is."