Europa League: Juande Ramos says relationship with Spurs is fine ahead of Dnipro tie
Juande Ramos says he has no personal axe to grind with Tottenham as he prepares to face his old club on Thursday.
Last Updated: 19/02/14 4:57pm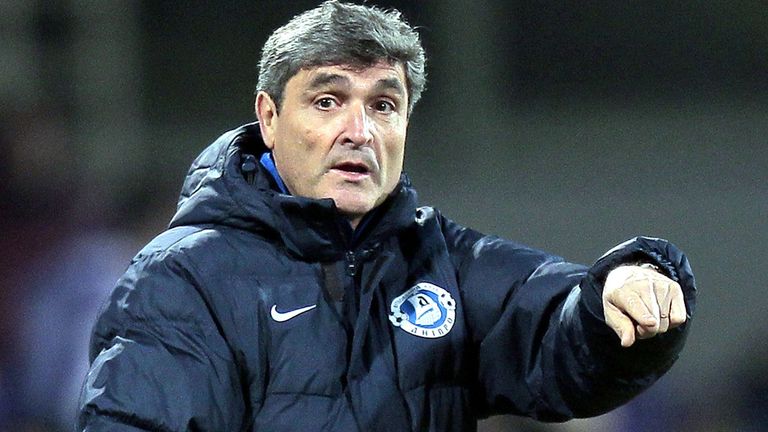 The former Spurs manager - and the only one to win a trophy in the past 14 years - is now in charge of the club's Europa League last-32 opponents Dnipro.
Ramos was sacked by chairman Daniel Levy months after lifting the League Cup at Wembley, and weeks after strikers Dimitar Berbatov and Robbie Keane were sold for a huge profit.
The Spaniard could not resist mentioning those sales when asked for his view of Levy and Spurs ahead of the first leg in Ukraine, but his overall tone was conciliatory.
He said: "Of course I would shake hands - not only with him, but I have good relations with all of the managerial staff of Tottenham.
"I'm sure that all chairmen and the leaders of teams do what they have to do to take care of their teams.
"He has done a lot, he was able to sell Berbatov for £35m and Robbie Keane for £17m and some other players, he has done a lot in ruling the team."
Tottenham are now in the business of forking out huge fees of their own having three times broken their club record last summer to sign Paulinho, Roberto Soldado and Erik Lamela.
Ramos said: "Tottenham will have 11 players on the pitch and seven on the bench, and all of those players have high ability.
"I have to emphasise that the budgets are really different, in Tottenham and in Dnipro. In Tottenham it is three or four times larger and they can afford buying such players as Roberto Soldado."