Swansea City winger Pablo Hernandez full of praise for Rafael Benitez
Swansea City winger Pablo Hernandez has described Napoli boss Rafa Benitez as a "great manager".
Last Updated: 20/02/14 12:44pm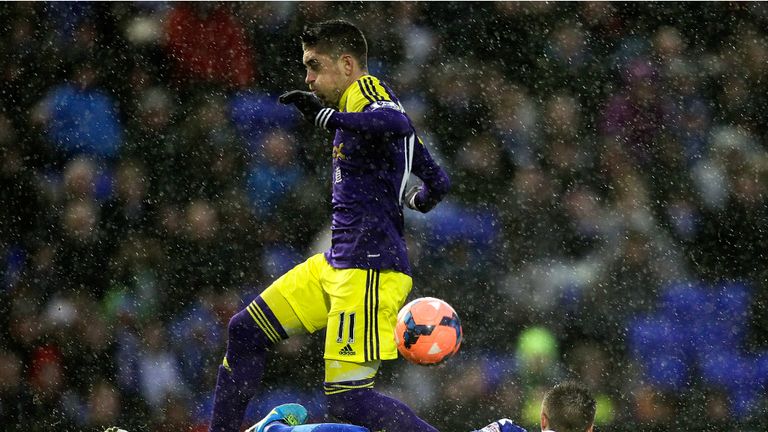 The 28-year-old Spaniard was in the youth teams of Valencia when Benitez was in charge of the first team and led them to the Primera Liga and UEFA Cup double in 2004.
The 53-year-old tactician, who subsequently went on to win the Champions League with Liverpool in 2005 and the Europa League with Chelsea last season, was appointed as the Napoli manager at the start of the campaign.
Hernandez will now come face-to-face with his compatriot in the first leg of the Europa League last-32 tie at the Liberty Stadium on Thursday, and he has revealed his admiration of the former Inter Milan boss.
"I used to see Rafa at the training ground and the way he worked with players," he told the South Wales Evening Post.
"He used to make sure that the young players had a lot of work so it was possible for them in the future to play for the first team.
"I played in the young teams when he was in Valencia. But I know how the people and fans in Valencia love Rafa Benitez.
"He did great work with the team, to win a Uefa Cup and two Spanish titles with Valencia is not easy.
"It's a good record to have, he was a big manager in Valencia and I have a lot of respect for him.
"I used to go the stadium to see the games - big games in Europe and in the Spanish League - and in this moment I thought to myself 'I want to get on the pitch and play in three or four years'. I worked hard and I did it."
"His tactical work, the defence of his teams - it is difficult to score against them. He's a great manager and it's possible that he can manage a big team in Spain one day.
"People in Spain think he is a good manager. He did great work in Liverpool to win the Champions League and his teams always play well and win titles.
"He is still young and it's possible that in five, six or seven years he can train one of the really big teams in Spain."