Europa League: Matt Cafer relishing the chance to play in Europe with College Europa
College Europa goalkeeper Matt Cafer is relishing the chance of playing Europa League action next season.
By James Pearson @SportsPeo
Last Updated: 24/05/14 3:41pm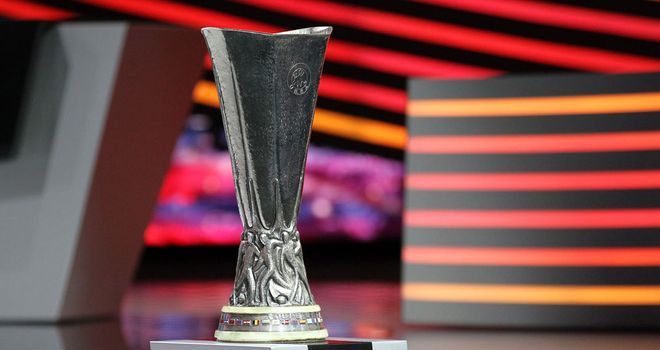 The Dolphins finished fourth in the Gibraltar Premier League last season on the back of promotion from the second division the season before.
College Europa are in the hat for the draw for the first round of Europa League qualifying where they could be drawn against the likes of SPL giants Aberdeen.
Cafer knows the club faces an uphill task qualifying for the first round of the competition proper, however the 19-year-old sees no reason why they cannot cause an upset or two along the way.
"It's unbelievable, especially for someone at my age, at 19, it's more than any club in England could offer me," Cafer told Sky Sports on the prospect of playing European football.
"It's different because in England you have a lot more crowds in a smaller or bigger area whereas in Gibraltar there are only like two or three big clubs, obviously College Europa and Lincoln who have just qualified for the Champions League it's really weird, like a family atmosphere with a competitive edge.
"No one expects us to do anything, we turn up and no one knows what's going to come from us no one has seen us before in the Europa League because it's the first year Gibraltar have been accepted into it.
"It gives us a massive edge, whereas when we are playing teams we can get a bit of background information about them have a bit of background knowledge whereas no one will know anything about us.
"At my age it's really important for me to play games. I'm just happy at the minute, just playing and getting experience and playing in the Europa League. I'm not going to miss out on that opportunity."
Staying on
Cafer is currently in England but is planning on signing a new 12-month contract at College Europa when he returns to Gibraltar next week.
"When I left Yeovil in December I signed for them from the end of January until the end of the season, so four or five months. I hope to be offered a new deal and if I am I'll sign when I get back out there," he concluded.
College Europa's president Peter Cabuzetto says being part of Europa League qualifying is massive for the club, stating it will be boost finances while also increasing their ability to sign players.
Qualifiers begin early in July, although the club will not know who they will be facing until the draw for the competition is made on June 23.
The club is steeped in history, but it will be the first time they will have played in Europe in their 89-year history after Gibraltar recently became a Uefa member.
"We have a history from 1925; we've come from being second division, winning the league last year and playing premier league this year. We came fourth in the league and we got into Europe through the cup in the final," Cabuzetto told Sky Sports.
"Since Gibraltar joined Uefa football here has changed totally, everything is a lot more professional. It's come on leaps and bounds, from having teams just playing for pleasure, to having professional players getting paid to play games.
"Getting to Europa obviously brings in more money and that hopefully gives us the jump in players that we can bring to Gibraltar. Being able to play in Europe is good as we can offer that to players wanting to play in the Euro League.
"We are the underdogs obviously, like teams from Andorra and Malta places like that. Obviously there are teams like Aberdeen and Gothenburg, £20million-budget teams that have played Champions League. It will be interesting to play them, difficult to pass, but it will be a learning curve for us."