Euro ambition
Liverpool midfielder Jordan Henderson gives his thoughts on Liverpool's Europa League campaign ahead of their round of 32 tie with Zenit St Petersburg.
Last Updated: 14/02/13 11:52am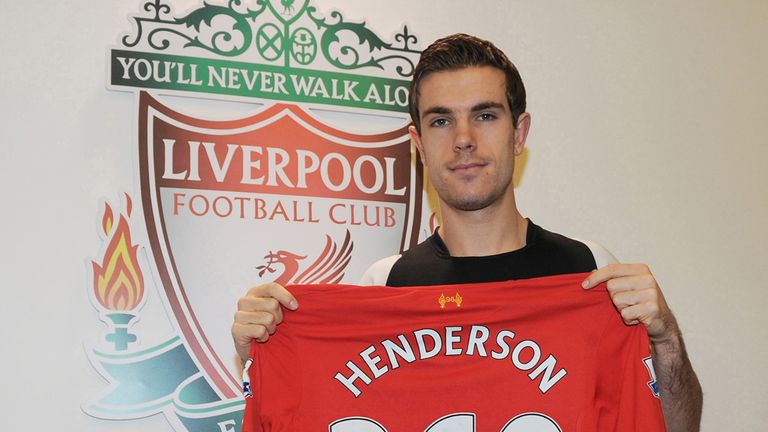 For Jordan Henderson, the UEFA Europa League is a competition to be taken seriously as Liverpool bid to go all the way in the tournament.
The Reds will continue their hunt for success on the continent on Thursday night when they travel to Zenit St Petersburg in the round of 32.
Henderson, who has completed 369 passes in Liverpool's European campaign so far, is looking forward to bumping heads with the Russian giants.
Speaking as part of the Western Union PASS Initiative, the 22-year-old midfielder shared his thoughts on his hopes for the tournament, who Liverpool need to watch out for and the influence of talismanic captain Steven Gerrard.
How important is the UEFA Europa League this season?
I think that it's very important for us; the Europa League is a massive trophy, so for us to be in the next round is very important. We are taking it very seriously so hopefully we can keep playing well and keep pushing on through the tournament.
How is the club feeling?
We are feeling good. We have got some good results playing at home and away in the tournament, so I think we are very confident and very positive, we now just have to stay that way and hopefully we can get some good results in the next round.
Who are the most dangerous teams left in the competition?
Everyone to be honest. We have Zenit in the next round and I think they are a very good team, they've got some brilliant players. So we've got to go into the game positive and play the way we can then I know we'll do well.
Is there a different atmosphere playing in Europe as opposed to your domestic competition?
Yes, I think the atmosphere in Europe is very good but so is the Premier League as well - it's probably a bit different, what with night games and stuff. I think overall the support from the Liverpool fans is always brilliant.
What's it like playing European nights at Anfield?
The European nights at Anfield are amazing, the crowd and the atmosphere is very special, hopefully it will be special again against Zenit.
How important do you think it is for fans to get a taste of the European Trophy?
I think it is important that we do well in the tournament, and every tournament that we are in really. The Europa League is a massive competition, but we've just got to take each game as it comes and hopefully keep progressing.
Who are the most dangerous plays in the Europa League this season?
Again I can't really pick out a few, there are lots of good players and lots of good teams so it would be hard for me to choose any specific ones.
If you had to pick the most dangerous player Liverpool?
(Luis) Suárez
You're Liverpool's top passer this season is this something you and Liverpool as a team can focus on?
Yeah I think as a team we do focus on keeping position of the ball, but also going forward with it. We don't just want to keep it for the sake of it, we want to keep it for a purpose to go forward and create good opportunities. So yes I definitely think we are focused on that.
How does it feel to have Steven Gerrard showing his support for your recent performances?
Obviously it's a good thing when Steven Gerrard says good things about you. But he has been brilliant since I've come to the club, he's a leader and he is definitely a good role model to the younger players.
What do you think of the Western Union PASS Initiative, which is raising funds during this season's Europa League for young people around the world?
I think that the Western Union PASS Initiative is a brilliant fund foundation. I think it's brilliant to help the younger children in their education and I think it's really important.
How important was education to you growing up?
I think education is important to younger people, and they need to do well in school and colleges to have a successful life and do what they want to do. So I think it is important, and you've definitely got to stick at it when you're younger.
How does it make you feel that what you do on the pitch is helping children around the world?
Yes, it is a good feeling when I know that we're just doing our job on the pitch and playing football. It's good that with PASS it helps younger people around the world with education off the pitch and I think that's very important.
For more information, visit www.wu-pass.org or join the Twitter conversation @wu_PASS.