Chase & Status
Worshipping Michael Thomas and loathing Emmanuel Adebayor, Chase & Status talk football firsts.
By Peter Fraser - Follow me on Twitter @SkySportsPeteF
Last Updated: 27/04/11 12:05pm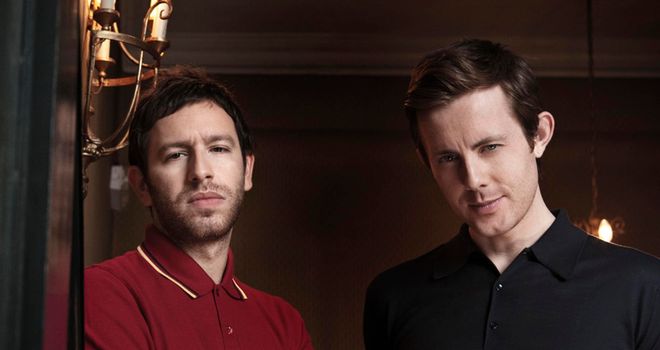 Will Kennard of Chase & Status is an Arsenal fan. He was therefore as excited as most Gunners followers when told at the start of our interview that Jens Lehmann had agreed a return to Emirates Stadium earlier that day.
"You're joking? That's ridiculous! What a big step backwards," said Kennard on a day off in Bristol during his group's ongoing European tour of their latest album 'No More Idols'.
Like most Arsenal fans, it had been a rough couple of weeks after the Carling Cup final heartbreak, UEFA Champions League disappointment, FA Cup elimination and wobbles in the Premier League title race.
But Kennard, who is one half of drum and base/dubstep duo Chase & Status - alongside Saul Milton, can also remember the good times, having been a Gooner since childhood trips to Highbury with his best friend's family.
Collaborating with the likes of Tinie Tempah and Plan B, remixing for Jay Z and The Prodigy, and producing for artists such as Rihanna proves that Chase & Status are experts in music.
However, skysports.com discovered that Kennard is also a knowledgeable sports follower and his football firsts, including a wonder-goal for St Paul's secondary school in Barnes and hero-worshipping Michael Thomas, were an interesting story.
Arsenal
I'm not a Gunner in a sense that I don't live in North London. I'm actually from West London, so really I should be supporting QPR or Fulham, because they are my local team. But when I was growing up, my best friend's dad, Will Toye, who used to be on Arsenal's books in the Sixties or something, used to take us to the odd match after he had retired. He was a bit of a legend to us as six-year-olds. He still gets us tickets now and I go back and see him.
Loftus Road
It definitely wasn't an Arsenal match. The first match would definitely have been QPR in about 1986, because the dad of one of the local kids took us. It might have been against Fulham, a local derby, maybe in Division Two. It was all standing and we used to run up and down the aisles. I didn't really know what was going on, but I was amazed at all the swearing! It was crazy that there were a lot of hard-looking men and they were shouting and swearing. I think the adults could drink booze and it was all a bit rowdy. So it was a bit exciting, it was great fun. We used to go to QPR quite a lot.
Michael Thomas
He is an Arsenal legend, obviously, for scoring the famous goal against Liverpool to win the league in 1989. That meant absolute stardom in the eyes of most Arsenal fans. He was always charging ahead from midfield and was always an amazingly athletic player. It's weird that you don't hear his name mentioned that often these days. That was an era before players got into the big-time money and I wonder what he is doing these days.
Emmanuel Adebayor
Recently, the player who I came to despise was Adebayor after he charged around for Manchester City. I thought that was two-faced. I absolutely despised him after that and I'm quite happy that he has moved to Spain.
Rolling stones
We weren't allowed footballs or tennis balls in my primary school, St Paul's in Hammersmith, so we used to have to play with a stone. It was always a big deal if you found a big, round stone. We used to play epic matches with a stone on a concrete playground in inner-city London. It was absolutely mad. I was thinking recently, 'what amazing training'.
St Paul's secondary school
It was another school called St Paul's. This time a secondary school in Barnes. Playing in the school team when you were about 12-years-old was big news. I remember scoring my first goal, which was a fairly monumental moment. The goal came out of nothing. I wasn't really a confident, arrogant player, I used to pass the ball around. But I will never forget my first goal. I got the ball on the halfway line, moved up the pitch, very unlike me, and cracked a shot off from outside the area which looped into the top corner. I didn't even know I had scored. It was a bit of a mad moment. I think we went on to lose the game about 8-1! I was in shock after scoring and played the worst game ever. I was singlehandedly responsible for us losing the match. But I was happy I scored the goal!
Arsenal away - 1989
It would have been the 1989 away kit, the yellow one with JVC. Straight into it. I think I still have it tucked away somewhere. It's about 10 sizes too small, but I still try and put it on. I haven't really bought many kits since then, bit pricey. It hasn't quite been the same since we don't have JVC on the front, anyway.
Substance - New Order
.
I was a massive fan and it was my first insight into electronic music. Obviously, they went on to sing the World Cup song in 1990, which was a great song.
Chase & Status' album, 'No More Idols', is out now and available to buy at www.play.com