Wide open race
reflects on a title race blown wide open by the weekend's results in the Premier League, which saw United lose their mojo in north London and Chelsea win in the most controversial of circumstances.
Last Updated: 03/05/11 11:38am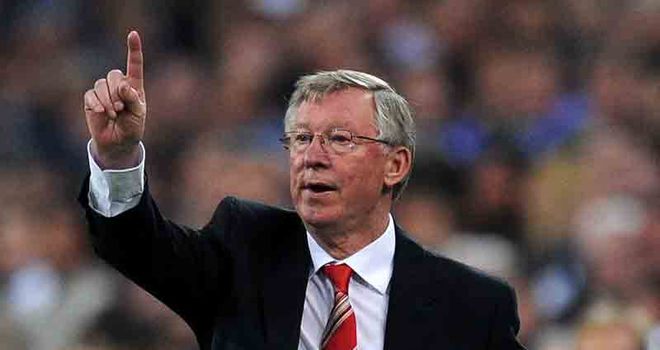 Such is Carlo Ancelotti's phlegmatic character he's more likely to arch an eyebrow than launch into a 'love it' rhetoric, but after a weekend in which the title race was blown wide open it was Sir Alex Ferguson who in its quiet moments must have contemplated a collapse which will match that of Kevin Keegan and his Newcastle side of 1995/96 if Manchester United fail to claim a record 19th title.
Last week one bookmaker broke its professional code of conduct in being overeager in paying out, with one fortunate punter basking in the knowledge winnings had already been banked despite the fact a victory for Chelsea at Old Trafford on Sunday would take the Blues to the summit on goal difference with two matches remaining.
Rewind to the start of March and Chelsea were a club in crisis. As they trailed United by 15 points in fourth place their greatest concern was securing Champions League football for next season rather than a title race that looked further away than a convincing Fernando Torres performance in blue. There was more chance of Osama Bin Laden being captured than Chelsea topping the table...
As Ferguson stated at full-time at the Emirates the title remains United's to lose but he was also willing to concede that Aaron Ramsey's goal 'gives Chelsea a major chance now'.
Shorn of talisman Cesc Fabregas to a thigh injury picked up in training it was left to Ramsey and Jack Wilshere to make light of tender years to put in performances that may just stop north London pharmacists running dry of anti-depressants should, as expected, Arsenal's skipper come over all George Orwell in the summer to launch his annual homage to Catalonia.
Talk that Arsenal are in some way inhibited by their on-field Napoleon and the pressure he puts on both himself and his team-mates is an abstract fallacy that bears little resemblance to statistical analysis, he has created more chances than any other player this season, but nonetheless before his horrendous injury and again yesterday, Ramsey looked the real deal. The future is bright for Arsenal, but then we knew that already, right?
Guilty of making more passes than Warren Beatty at a wrap party for much of a campaign characterised by overplaying and choking at key moments, there was a briskness and determination to Arsenal's play yesterday that, admittedly aided by a lack of real pressure, suggested they've grown tired of being bit-part players and could finally be ready to step up to the mark next season.
Too often when Arsenal fail to find an early goal amid incessant pressure at the Emirates the crowd become restless, players agitated, manager defensive but on Sunday, mainly through the focused drive of Ramsey and Wilshere, given licence to roam by the disciplined holding role of Alex Song, the football on show was as much proficient as it was polished. And for Arsenal, that's a good thing.
In comparison United's midfield looked hamstrung by a lack of energy at its core, with Michael Carrick's pedestrian promptings - majestic in Europe but archaic at times in the Premier League - badly in need of being twinned with an engine capable of more than Anderson's languid ineffectiveness. Ferguson better hope Ryan Giggs doesn't mislay his yoga DVD in the next few weeks or United will be in the real trouble.
That Ferguson has not yet given up hope of seeing Owen Hargreaves in a United shirt again, when other managers would have been thumbing the pages for glue factories in the north West, is testimony to the fact he is aware of his side's shortcomings in this area and it will surely be a bone of contention addressed in the summer.
Just five wins from 18 away from Old Trafford is an even more remarkable statistic given United have not conceded on their travels in Europe this season, with domestic away days proving considerably more troublesome that foreign sojourns.
Arsene Wenger insists Arsenal are still playing for first place but while a six-point deficit to make up in three games will ultimately prove prohibitive in ending a six-year silverware drought, breaking a seven-match winless run against United that stretches over two-and-a-half years is an ideal fillip ahead of what is surely the most important summer of the Frenchman's reign.
That Chelsea's win over Tottenham a day earlier arrived courtesy of a 'goal' that never crossed the line and a winner from Salomon Kalou from an offside position was strangely in keeping with a campaign that has flirted from one crisis to another but could yet culminate in the west Londoners retaining their crown.
Such is his class and gregarious nature Ancelotti has made light of having a noose around his neck for the past six months but while his attitude towards his future at Stamford Bridge appears indifferent at times, should he deliver the most unlikely of titles he'd rightly consider it his finest hour in the dugout.
The title race that no team seems that desperate to win will reach a crescendo in Manchester on Sunday, with a victory for either side likely to determine whether it is north or south rejoicing in three games' time.
Should United claim the title, maybe even the Champions League too, it should not be seen as a death of football as scintillating spectacle but rather a victory for when a bond between team-mates ensures the whole is so much more than the sum of its parts.
Chelsea too, as Ferguson recently attested, are a better team than Arsenal despite inferior players. That they have kept a together dressing room amid Roman Abramovich's predilection for soap opera dramatics off camera is testimony to a set of players that in striving for a common goal have kept egos in check for the greater good.
While the argument procured by many is that there is no outstanding team in England at present, that United lost the wow factor when Cristiano Ronaldo upped sticks for Madrid and Chelsea are suffering from deploying too many pensioners, it could instead be read that this season will be remembered as a celebration of teamwork over the individual.