A day in the life...
The shadowy world of the football agent is one that is cloaked in secrecy amid accusations of greed. Thankfully, we've got one of the good guys on board to lift the lid on what life really is like at the sharp end of a notoriously cut throat business.
By The Secret Agent - @SSSecretAgent.
Last Updated: 28/02/12 12:01pm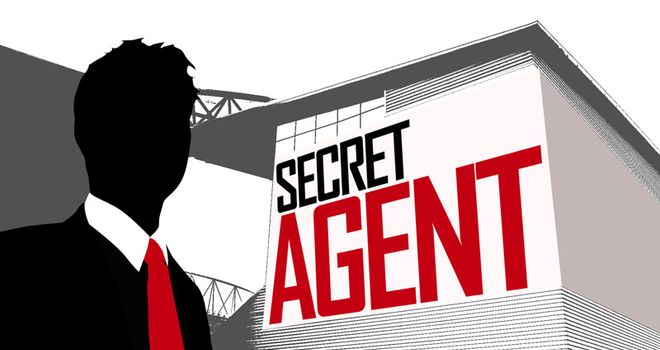 The world inhabited by the football agent is colourful, invigorating and exciting. What can beat watching football as your job for free? Who wouldn't want to spend their time talking to well-known footballers, ex-pros whose posters adorned your bedroom wall as a kid, managers you watched on the box and now have on speed dial?
As for completing deals, a flash of yellow via SSN's breaking news strap confirming a transfer you've negotiated is as close to scoring a goal as it gets for an agent.
Simple you say - people like me have the life of Riley. Well I don't know this Riley bloke, but I bet my next signing on fee he's not a football agent! And any agent who tells you otherwise isn't worth the price of the cigar he chomps on.
People have been asking me via my Twitter account @SSSecretAgent; 'what's it like to be an agent, how do you get into it, how can I get involved in the industry?'
The simple answer is there is no simple answer, but I'll do my best to paint as illuminating a picture as I can to best describe my experience in an industry more cut throat than a close shave at Sweeney Todd's.
There's no tried and tested path to becoming an agent. First and foremost you've got to have a certain way with people. An average day can involve talking to players from an age range of 16 to 36, softening the fears of anxious and often pushy parents and attempting to strike up a workable rapport with managers and coaches. And scouts. And chief executives. And the odd hanger-on. And...
It's a tough business and if you haven't got a stomach for a fight, a personality that is likeable to everyone but contains within a ruthlessness to get the best deal for your player, then it's probably best if you step out of the ring before the first punch is thrown.
Firstly, players don't just suddenly arrive at your office begging for you to look after them. There are some 444 licensed agents in England alone, along with our contemporaries across all the other footballing nations. Then there are the solicitors and lawyers who fancy a piece of the pie and let's not forget the people who aren't any of these, the unlicensed agents acting as middle-men. These are the people who cause the complications for the rest of us - all trying to get players under their wing, unclipped as they are by authorities unwilling or afraid to lift the bonnet on football's secret industry.
Getting a player to sign for you can be easy. Getting a crap player that is. Any player must have some sort of ability and potential if he isn't already an established name, otherwise, you'll be working for him almost full-time - travelling around the grounds, spending money on petrol, a pair of boots here there and within a year he could be on the football scrapheap earning you nothing at all.
So an eye for a player is essential, he may be able to run as fast as Usain Bolt but if he can't trap a bag of cement and his second touch of the ball is always a tackle then you can save a lot of time for yourself. Never has the adage 'cruel to be kind' been truer.
Getting a player that is already established is almost impossible; mainly due to the fact that he is likely to already have an agent, and you shouldn't (but it happens) approach a player already under contract with another agent.
So, in short, it's incredibly hard to get established and a number of rookie agents soon realise that they can't make enough money to pay the bills at home, never mind spending time and petrol following one of their younger charge's progress. You're not going to see a return on investing in youth for at least a year or two and that's far from guaranteed in any case. Life's often a gamble as a football agent.
OK, so you've found a potential star in the making, but can you make any money out of it? Probably not a fortune unless you're looking after Cristiano Ronaldo or the like. With this in mind you take on a few more clients (I hate that word) and before you know it you're managing a dozen or so players. You have to talk to and watch them all in action, somehow, maybe try and get some sort of deal with a boot manufacturer, not often in these times unless the player is pulling up trees already, but probably the best way to keep your players happy is to keep them in work and then negotiate the best deal at the end of a contract. And if they've got any personal problems, get braced to play Claire Rayner every other night.
Unless your player is hot property and clubs are falling over themselves to sign him then you're beating the doors or mobile phones of managers, assistant managers and chief scouts. The worst option is 'to go on trial', hoping that after a couple of weeks and a friendly match your boy performs and the manager doesn't come back with the oft used and always dreaded phrase: "He's no better than what we've got ..."
All the while you're doing this in competition with hundreds of other agents trying the same for their clients.Don't get me wrong, there are perks financially, and I'm shallow enough to enjoy a few free trips overseas, compliments of a Premier League club. Enjoying a few beers in the airport business lounge and having Michelin star food while overlooking the olive plantations in the hills above Milan, sipping a nice bottle of Brunello di Montalcino, is a perk I don't often recall in my previous job!
Enjoy the good times though, as the chances are the very next day you could be eating at Little Chef at a wet and miserable service station near Accrington!
In the last week I've had a mixed amount of success and despair, while I've also been 'had' by those pesky Turkish agents my mum had warned me about. The Turkish incident involved a Premier League striker who myself and another agent were a long way down the line negotiating his move to Turkey on a nice salary for three years, at a good club just outside of Istanbul.
All was going well; the player's agent was looking forward to completing the deal while the club was preparing the well-rehearsed mobbing of the player upon his arrival at Istanbul Airport. Saturday arrived ready for the final bits of the jigsaw to fit into place. A quick call to the player's agent to make sure the player was Turkey-bound was made. All was cushty Rodney - he's on his way to Turkey.
Unfortunately, he wasn't on the scheduled flight we'd organised. A mysterious agent from North Africa had somehow sabotaged the deal and arranged for a private jet from Heathrow to take him to the Turkish capital and cut us out of the deal completely.
"C'est La Vie" as those lovely Irish popsters B*witched use to say! You have to be careful and, unfortunately, the player's agent didn't have an official agreement in place with his client, only his word. And unlike in the film Jerry Maguire the line "my word is as strong as oak" proved more like balsa wood!
This week's success stories for me were a move up a league for a very highly thought of central defender I've got on my books. It was a nice move for him and a few pennies (literally) for me. Another bit of success for me was a deal I negotiated to keep in the Football League a lad of mine who'd been released by a League Two club over the summer. Again, the financial gain was negligible but the appreciation from the player at staying in the professional game was just as rewarding.
On the other side of the coin, I also had two nice offers for my players from the SPL; offering the chance to play in front of big crowds at Celtic, Rangers, Hibs and Hearts, but they preferred to stay closer to home. The pull of playing regularly on television, against international players and a shop window to better things wasn't enough to prise them away from their mother's apron strings. So instead of 55,000 crowds at Ibrox and Hampden it will be 1,000 watching at Barnet on a cold Tuesday night. I'll probably be amongst them. Cheers lads!
I would never force a player to move against his will, some agents would to make sure they got a few quid in the pocket even if it isn't the best move for the kid's career, but that's not the way I work.
I make sure they understand what I think they should do and then ask them to weigh up the pros and cons of all the scenarios themselves. The final decision is theirs in the end though. If they go against the option I advise I keep schtum and then say "told you so" in six or nine months' time. Maybe. Perhaps not to their faces!
I'll be blogging throughout the summer for skysports.com so if you've any questions or feedback fill in the feedback form or catch me at @SSSecretAgent and I'll look to address them in my next column.