Get with the program
The shadowy world of the football agent is one that is cloaked in secrecy amid accusations of greed. Thankfully, we've got one of the good guys on board to lift the lid on what life really is like at the sharp end of a notoriously cut throat business.
By The Secret Agent - @SSSecretAgent
Last Updated: 28/02/12 11:59am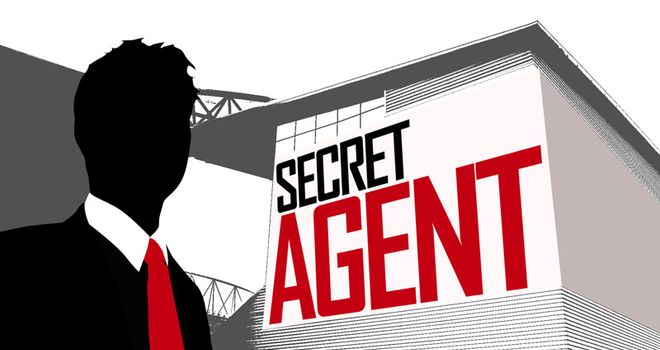 The fellowship of agents never fails to disappoint. Since my last column I've been privy to some ludicrous posturing on the behalf of a number of players looking to prolong their professional careers in the lower leagues. There's a track on the first Badly Drawn Boy album called 'p****** in the Wind' and I've adopted it as the theme tune to my bid to change the perception of us apes!
When, as an industry, will agents realise that clubs in Leagues One, Two and Scotland, except for the odd exception, have a choice of two, three or even four players per position to choose from? They don't have to put up with the car-salesman agent on the phone cocking a loaded gun and saying: "Look you need a right-Back, pay me 'X' and him 'Y' then we'll get it done, OK?"
It's an equation that in these austere times just doesn't add up.
Let's look at the facts. Right-backs are ten a penny. It's probably the position where anyone can play, no offence Mr Neville, so invariably supply more than outweighs demand - especially in League One and Two. So when an agent demands a couple of grand for himself to supply a right-back, that's a right-back without a club remember, and then asks for a couple of thousand for his client as a signing on sweetener, what do you think the club says? Exactly! 'Do one.'
The player is back on the dole and the agent gets 10 per cent of his client's earnings - zero.
In this particular instance the club involved contacted the PFA, got the player's number, spoke to him directly, set up the deal between themselves and everyone, or so it seemed, was happy. Except salesman of the year, Mr Mouthy Agent that is. When the big-shot got wind of it and suddenly his couple of grand was down by 75 per cent and the player's wages down 50 per cent he hit the roof and tried to scupper the deal. Looking after No.1 is rarely a problem when the boot's on the other foot.
Great story, it made me cringe, but at least the club had the foresight to use their initiative and save themselves a few quid and get a decent player in the process. The player ditched the agent for not looking after his interests. An all too familiar story I'm afraid. Unfortunately not all clubs can be mithered to use these tactics and often pay over the odds for agent fees and players' wages when they could drive the prices down. I'm not trying to talk myself out of business here but longevity is the name of the game and my priority is getting my players on the pitch. The rest of it will look after itself.
An intriguing transfer this week was Robert Bernard Fowler's decision to quit Australia's A League, citing the family as a reason to leave and go to . . . yes, Thailand.
Now call me Mr Cynical, but what exactly did the Fowler clan say to convince Robbie that a longing for fish and chips, red telephone boxes and bendy buses could only be sated by moving to Thailand.
Did Mrs Fowler really watch Corrie on a hooky cable channel and after concluding she'd like nothing more than a pint of Newton & Ridley and a portion of Betty's hot-pot say....
"Rob, la, let's leave this country where everyone speaks English, eats regular food, the weather is great most of the year, the football is not bad, and we know a few of the opposition like Harry Kewell and Liam Miller. Let's pack it all in and move to Thailand, where hardly anyone speaks English, especially the coaches, the food can be a bit hit and miss, the weather ranges from monsoon to typhoon and there's not a player here who we've heard of. It's just I really miss home. We'll do it for the sake of the family."
Robbie, please don't take us all for mugs. We know why you're going there - the family comes a second best to another big pay day. I think the word for it is mercenary and that's fine. You're in the autumn of your career and fancy making a few quid. Be honest and say how it really is, you may get the respect we all had for you when you were a very good striker before you left Liverpool the first time, 10 years ago.
"Don't chase the money, the money will come to you."
When I was learning the ropes as an agent the above was a phrase I picked up from my mentor and one I use often when I'm trying to explain to a player to join a certain club for career reasons and not totally for monetary gain. Well Mr Fowler you've just set me back five years, but good luck anyway, next stop the MLS in the spring citing a confusing incident with a Ping-Pong ball no doubt!
Back in the real world I've still got to find a few players new clubs for next season. All good pros, all with excellent experience and fitness records but to a man they are struggling to stay in the Football League. They are on trial and will have games this week. Hopefully it will be good news and they get offered a contract. It will be a huge relief for the player obviously to secure employment and it will be a massive relief for me too as I do feel under pressure and responsible for finding these lads clubs. They rely on me, which is hard to deal with at times, but I won't stop until they are playing in August. It's a bit like working in the recruitment sector except you know your clients as friends not just a name on a spread sheet.
I've not left it to the last minute to find clubs for these lads. I was jockeying managers well before the end of last season and during the early part of the summer. But it's a buyer's market at the moment, meaning clubs don't have to panic and get players signed straight away. They can wait, which will also drive the cost of wages down, as it will be a matter of take it or leave it for the player contemplating a life on the sidelines.
So this week I'll be watching a few pre-season friendly matches, hoping and praying that the lads on trial have storming games. The pressure on them is immense, they almost have to perform a faultless 90 minutes on the pitch, which just doesn't happen. Especially in the lower leagues.
As we all know hundreds of players are released and end up trying to find a new club. Budgets are tighter than ever and squad numbers are smaller as clubs look to cut their cloth to stay in business. On top of that experienced pros now have to contend with loan players from Premier League clubs arriving, with wages paid for by their parent clubs. So that's another place gone and the future may be a stint in Non-League.
The media are obsessed with the development of young players in this country and how best to get them experience. The problem with this is that for every young kid going from Chelsea to Chesterfield, there's an older pro being left out. The football scrapheap is skyscraper high with washed up 27/28 year-olds who've been pushed out for cheaper loan signings from higher up the football pyramid. It's a sad situation but one that won't change anytime soon.
Once in non-league it's hard to get out so it's a last resort for most, but mortgages and bills still need to be paid and with two going down from League Two these days there are some big clubs in the Blue Square Premier. With good pros dropping down it makes for a very competitive division this season. Well worth a watch if you've had enough of Premier League prices.
Just as I complete this week's blog I see that Tevez's old club Corinthians have offered mega-money to take him home, well Brazil. If Carlos is genuinely homesick then fair play, I hope he enjoys being back in South America, but I can't help feel that Europe hasn't seen the last of the little man. This time next year it will be happening all over again as he'll be saying that his home isn't safe or he can't handle living in a goldfish bowl environment.
After all, that's why his agent is of the 'super' variety.
I'll be blogging throughout the summer for skysports.com so if you've any questions or feedback fill in the feedback form or catch me at @SSSecretAgent and I'll look to address them in my next column.