I tweet therefore I am...
The shadowy world of the football agent is one that is cloaked in secrecy amid accusations of greed. Thankfully, we've got one of the good guys on board to lift the lid on what life really is like at the sharp end of a notoriously cut throat business.
By The Secret Agent - @SSSecretAgent
Last Updated: 28/02/12 11:57am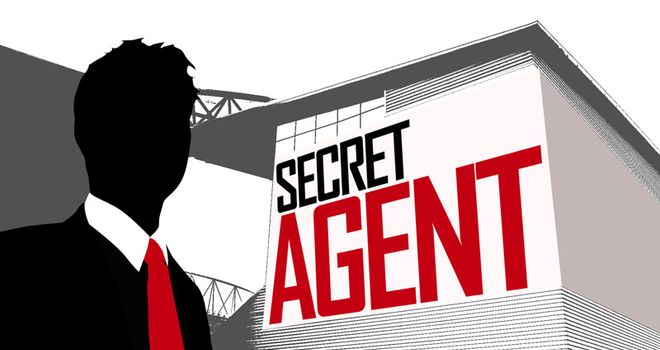 Fear not, the world's economy is safe. The share price of troubled North East bank Northern Rock has trebled on hearing the news Joey Barton will be making a huge monetary deposit in the next week or two.
Whether you love, loathe or simply slip into a nausea-induced coma at his very mention there can be no denying Mr Barton and his agent will be chuckling all the way to the bank before the next season of Geordie Shore is commissioned.
There will be no shortage of takers for the combative Scouser after he was hauled onto the transfer list by his current club Newcastle United for Twitter rants that were not quite Charlie Sheen-esque but candid enough to render Mike Ashley apoplectic. Expect a Sports Direct fire sale on Barton shirts any day now.
For a free transfer like Barton you may as well save everybody's time, weeks of posturing and several feet of column inches by gathering in an auction room a third of all Premier League clubs and a few from the Championship.
"Do I hear £40,000-a-week to get the ball rolling...thank you Sven. Anyone else... Arsene?"
Despite holding a rap sheet that would make P Diddy blush and a list of indiscretions that would match Oliver Reed's on a stag do, he is a talented player who would do a job in the Premier League for most clubs.
I'm putting an each-way-bet on Stoke City with a possible bid from Bolton. That said, Barton being Barton, he'll probably end up at Everton. If you recall it was the Goodison faithful who previously bore witness to his derriere when he dropped his pants when on Merseyside when visiting with former employers Manchester City.
From an agent's perspective Barton and his representatives will now be looking at all the options on the table - from both a sporting and financial perspective.
Barton is 28 now; a man of the world who comes across as being relatively articulate when the red mist doesn't descend. He'll be well aware this could be his last substantial pay-day.
I'd guess he'll be looking at a minimum four-year deal, on a basic of upwards of £45/50k-a-week. He'll take a signing on-fee as course. I don't know specifics but I'd be surprised if he came away with less than £250k after tax.
With a year left on his current deal at St James' Park, Barton will also be looking for a fair percentage of that ending up in his pocket as part of a severance package. He didn't ask to be put on the transfer list so he's fully entitled to it.
The club may try to use Barton's Twitter comments as good reason to hit him with a fine but even Ashley might baulk at that given a high number of Newcastle supporters have both feet firmly in Camp Barton.
The £35million Pardew was supposedly going to be handed after the sale of Andy Carroll has never materialised and let me tell you, it's not due to a lack of trying from the agent community!
Elsewhere, there was a spat this week between Barry Fry and an agent representing a young player from the League of Ireland. The clubs (Peterborough and Derry) had agreed a fee of £275,000 but according to Barry the deal fell apart because the agent was asking for his own 10 per cent instead of the five per cent that Fifa rules say he should receive, according to Bazza.
I don't know the in-and-outs of the deal but Barry's job is to get the best players his club can afford and at £275,000 that's quite a hefty investment for Posh standards. So for the deal to collapse because the agent was asking for 10 per cent, I can't blame him for getting a bit riled.
There is not though any Fifa or FA ruling in place to say that an agent should only ask for 5 per cent. You can ask for anything you want. Both ruling bodies suggest that 3 per cent is a good mark to work to, but there is no official rule.
In this case it's obvious that the agent was asking to be paid by the club, so 10 per cent would be a substantial amount. The lad's wages would probably be somewhere around the same amount per year they paid Derry, so the agent was likely hoping for around £30k. If this is the case then Barry has every right to be cheesed off, as does the player to be honest.
There's nothing wrong in expecting a decent pay day but that is excessive and Barry was within his right to stand his ground. If the player is reading this and wants some more realistic advice my phone is on all night!
With the Tevez saga having gone quiet of late it's refreshing to hear Super Mario using one of Carlos' favourite lines about the miserable, bleak industrial landscape that is the city of Manchester. I know the Hacienda closed a while back, but I'm sure the last time I looked Manchester seemed to be a decent place to live. Most of the residents are not dissimilar to Frank Gallagher but it does have some redeeming features and recently had electricity installed!
Talking of Manchester, the young lad who knocked at Sir Alex's front door with DVD in hand asking for a trial is still with the champions. He was again included in the reserve squad this weekend and has had a good few minutes on the pitch. All good experience for him and this week he should get to meet Sir Alex again, along with the first team squad as they return to Carrington after the pre-season tour of America.
I'd love to see his face as he joins in with the likes of Rooney and Giggs for a warm up tomorrow. It's real Roy of the Rovers stuff.
Even if he doesn't get an offer of a contract he'll get help from United to get a club and there are not many better references than that. You can never take away the three or more weeks he's had with them, priceless!
If I compare the like for like skills I possess, the closest I came to such an epic Roy of the Rovers moment in my life was a very drunken dance in an Ayia Napa nightclub with a famous(ish) soap star. Safe to say I didn't make it past the initial trial and the only reference I got was two bruised ribs from her heavily tattooed bodyguard. But that's a story for another column...