Kasabian
Kasabian talk Leicester City, Sven Goran Eriksson and filming adverts with Graeme Souness.
By Peter Fraser - Follow me on Twitter @SkySportsPeteF
Last Updated: 19/08/11 2:53pm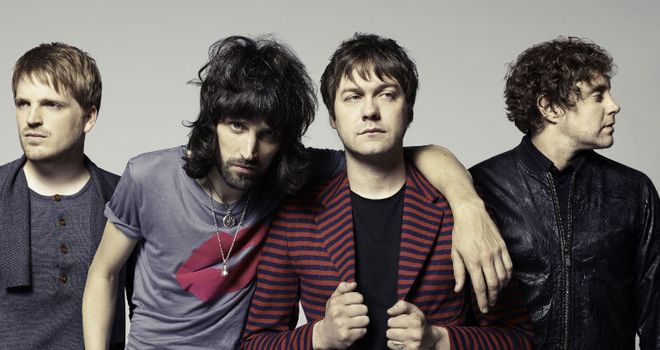 When skysports.com last spoke to Tom Meighan, the sun was shining, World Cup fever was in the air (England were yet to play Algeria), the rest of Kasabian were sound-checking in the background and on paper it may appear a dream combination.
But, to be honest, attempting an interview at the same time as a music session of one of the biggest and best bands in the business does create a bit of a sound barrier to a decent conversation about football.
Move the clock forward 13 months and the situation is much improved. We caught up with Meighan on his way down to London ahead of a flight to Japan, where he was set to promote new single 'Days Are Forgotten' and fourth album 'Velociraptor!'.
Conceived by Kasabian guitarist and songwriter Sergio Pizzorno, the new LP is by all accounts leaner and meaner than the break-from-the-norm-but-still-brilliant predecessor 'West Ryder Pauper Lunatic Asylum' and it is set to prove another instant success.
Meighan has already been praising his band's latest work and the one-of-a-kind frontman was understandably in a bubbly mood. This was good news.
We grabbed a word with him en route to England's capital and, even if he does have a tendency to go off at tangents, he was more than happy to give his thoughts on Leicester City, Sven Goran Eriksson, filming adverts with Graeme Souness, and...'Only Fools and Horses'.
Tom, it's now into double figures for how many players Leicester have signed this summer. Not bad?
Wow! We've been splashing the cash. But thank god we bought the white away kit back as well. I love that. It's traditional Leicester City and quite cool, actually. I like our kit. We have signed some really big players, like Matt Mills from Reading. We have got John Pantsil. We have got David Nugent. People forget Nugent is only 26. We have got Kasper Schmeichel in goal. It looks like we've sorted the back four out. We've got loads of midfielders. Apparently we were trying to get Shane Long. I would have loved it if we got Long, I would have loved it! We'd be frightening. So, yeah, fingers crossed. We want to win the league, that's the aim.
You were in League One, but now you are the Championship favourites and have a former England manager. What have you made of Sven?
He's a bit of a legend, y'know what I mean? The thing is, the board know what they're doing by bringing in Sven. He brings class players. People want to play for him. He has got a record. He even did well with England. He's amazing. It's great. I've met him. He's a gentleman, he's a really nice guy. The aim is to get to the Premier League, so if you draw someone in like Sven, it will happen.
You met Sven? When was that?
It was a charity thing at the football ground probably about a year ago.
Was he a Kasabian fan?
Naaah, not really, I don't think he knows. Hahaha. I'll have to talk to him next time about his music. I met the owners as well. It was nice.
If money was no object, who would be your dream signing for Leicester?
D'you know what, I'm not just saying this, d'you mean anyone? It's a ridiculous question, because it's never going to come true, is it? It's like me saying, 'I wish we were in the Champions League'.
Well, that told me, what were you saying about Shane Lo...
(Interrupting) There's Del Boy over there.
Pardon?
Sorry, man, I'm just looking at some guy in the sky. Y'know, it's like 'Only Fools and Horses' when Del Boy went in that thing.
The glider episode?
Yeah, glider, that's it. Hahaha
Anyway, you were saying about Shane Long?
I wanted to get him. Or Robbie Keane. They're Republic of Ireland, which is my dad's side of the family. I love it. Good Irish strikers.
Who were your Leicester heroes when you were growing up?
Well, there was Kevin Russell. He had a bald head and was like a super-sub. Tommy Wright is another of my favourites. We had great players. Steve Walsh, there's another. Neil Lennon was a hero. Muzzy Izzett. I've got loads of Leicester heroes. Most of them who wear the shirt are my pride and my heroes anyway. Gary Lineker is obviously a legend, of course. Emile Heskey. Alan Smith.
When was the first time you went to see Leicester play? It must have been at Filbert Street?
There were about 4,000 there. It was in the Zenith Data Cup, or whatever it was called. We played Port Vale and won 4-0, I think. I was about eight years old.
Would you like to still be playing at Filbert Street?
I would love to. I'd take Filbert Street over our new ground any day. There was something about it. It was the terracing and how old grounds were built and how they looked. English football has lost a bit of its shine with these new grounds, that's my opinion. It has taken the edge off it and how working class the ground looked, if that makes sense. We've got a great ground, but they all look the same and I would take Filbert Street.
What about the advert you have done for Sky Sports, when Kasabian play against the TV pundits?
We were all involved in it, the whole band. It was alright, a bit weird. The first 10 minutes were quite serious, but we nearly scored! I put a ball straight past Gary Neville, left him for dead, hahaha, and Serge got through. He rounded the 'keeper and just clipped the outside of the post. It was a weird one, but it was fun.
What is Souness like? Is he as intimidating as his reputation?
Lovely, lovely. He said I was an alright player! When Michel Salgado was doing his little thing, his keep-ups, I put my body in the way. I put my body in loads of tackles and Souness said (diabolical Scottish accent), 'that No.5 is alright'. Ray Wilkins as well, what a lovely fella'. Jamie Redknapp is a gentleman as well. Dwight Yorke is a strange one, isn't he? He's out of it. He's a great guy, though. Nice guy, but, wow! Hahaha.
Why do you think there is such a strong connection between Kasabian and football?
I don't know. Maybe it's because it is such a universal thing. It's crazy. It's just the way it is. Football fans probably relate to us, because of who we are, the band, we are very human. It is for everyone.
We've heard a couple of new songs from 'Velociraptor!' and they sound fantastic. What would you say of the style of the new album?
Style? I don't really know. I can't put my finger on that one. It's just a bloody good album, that's about it. The album comes out in September and we have got gigs, gigs, gigs. It's all good.
New single 'Days Are Forgotten' is released on 11th September. New album 'Velociraptor!' is released on 19th September. For more information, visit www.kasabian.co.uk.