Quotes of the week
Mick McCarthy is desperate to avoid Europe, while Arsene Wenger reflects on a nightmare weekend.
Last Updated: 07/09/11 3:51pm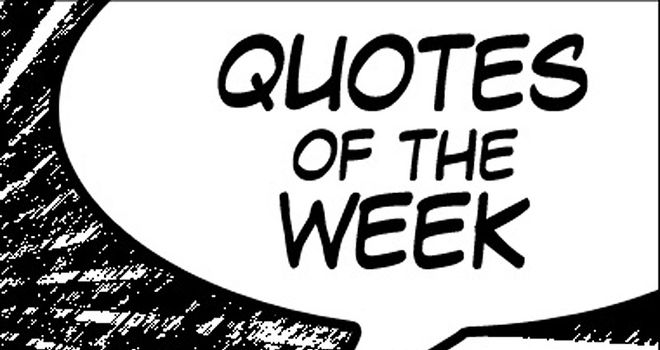 "I can only apologise for the score. It hurts very much." Arsene Wenger won't be forgetting Arsenal's 8-2 thumping at the hands of Manchester United in a hurry.
"It is (a surprise) because when you play Arsenal you expect a difficult game." Sir Alex Ferguson twists the knife in a little deeper.
"It was 1-0, we'd missed a penalty and I thought, 'OK, I'll go to bed'. I couldn't believe it when I woke up!" Arsenal fan Mo Farah did the sensible thing and snoozed through Sunday's thrashing.
"If we ever get anywhere near the Europa League, I'll be horrified. I'll even go out and kick a few opponents to make sure we don't qualify." Wolves boss Mick McCarthy is not in the mood for any European adventures.
"You see grown men like Joey Barton dropping to the floor. They must do football in the morning and acting in the afternoon. If a bloke did that in rugby he'd have 20 blokes in the tunnel waiting for him." Wigan Warriors youngster Sam Tomkins doubts whether Barton's theatrics would last long in rugby league.
"He's the best player in the world forever. Is he playing well right now? No." Fred Couples offers a confusing insight into Tiger Woods' game.
"I wonder if we'd been relegated at the end of last season, whether West Brom would've come and got me." Mick McCarthy again, this time voicing his confusion at Alex McLeish's Aston Villa appointment.
"Arsenal doesn't have the same funds. They can't make the same coups as before in the transfer market. They are rather forced to sell their best players and bet on young ones." Samir Nasri endears himself further to the Gunners fans following his exit to Manchester City.
"Maybe they will get some joy from it and realise how important we are to England instead of treating us like s***." Sir Alex Ferguson is not striking the Football Association off his grudge list anytime soon.
"It shows you how difficult it is up here. The mass hysteria, I find some of it pathetic, to be honest." Sunderland boss Steve Bruce refuses to let the pressure get to him.
"Wazza (Wayne Rooney) made a few comments saying 'I bet you thought you were going to be the team of the weekend' then they go out and score eight. So there was a bit of banter but it was all professional." There's still room for Manchester rivalry in the England camp, according to Joleon Lescott.
"I am decidedly unfriendly during a golf game, from the first hole to the last." Rafael Nadal insists there is no more Mr Nice Guy when he gets on the golf course.
"I had a good race, so overall a podium is pleasing, but to see a Red Bull one-two is very disappointing." Third place doesn't quite cut it for Jenson Button at the Belgium Grand Prix.
"You need someone to grab people by the throat - in a nice way - and get people going." Don't give Joey Barton ideas, Neil Warnock.
"They don't have (Lionel) Messi but man for man, they certainly have a stronger squad than Barcelona." - Harry Redknapp rates Manchester City's squad among the best in the world.
"I feel like I want to cry. I've been praying for this moment. It feels like a dream." Yohan Blake gets teary-eyed after knocking Usain Bolt off his perch to become the new 100m world champion.
"He's a physical specimen who can create anything from nothing." England's Mike Tindall lauds team-mate Manu Tuilagi.
"The one thing you need in this game is earplugs." Sir Alex Ferguson advises Arsene Wenger to ignore his haters.