Taking stock
The shadowy world of the football agent is one that is cloaked in secrecy amid accusations of greed. Thankfully, we've got one of the good guys on board to lift the lid on what life really is like at the sharp end of a notoriously cut throat business.
By The Secret Agent - @SSSecretAgent
Last Updated: 28/02/12 11:54am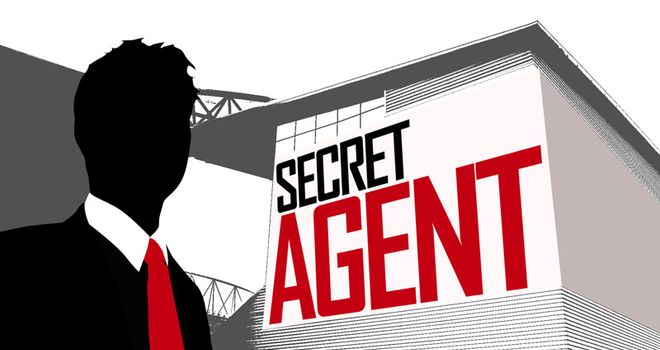 The old adage is that the calm comes before the storm but life as an agent invariably means it's the other way around in our game. The hype and hysteria of Deadline Day seems to get bigger for every window that passes and as an agent, as I'm sure it is for a fan, it is difficult to not become entirely engulfed by the drama.
Now, two weeks on from Sky Sports News screening footage of master of ceremonies Jim White arriving in the car park just before his shift, the dust has just about settled. It's time for me to take a moment to take stock and assess not just how well my players are performing but also myself as an agent.
It's at this time of the year that people like me have time to do the things I'd put off for weeks when the window was open. Shower, eat, sleep etc...
To be fair I don't mean I'm going to be repainting the living room or sanding down the dining room table before giving it a new coat of varnish. The wife had the decency to wait a full day before passing me a list of jobs to do over the coming months, but before I attempt any of that there is plenty to do for a proactive football agent.
The first and most pleasurable job of all is when I go around to where my players are training or playing to make sure they have settled into their new surrounds, are getting paid the correct wages as promised and being looked after in terms of where they are living.
Regular personal contact is important. Phone calls and texts are of course part of it but to meet and chat in the players' lounge after a match or maybe to take a bite to eat after a game is also very important. Personal relationships are vital in a player/agent understanding and having the personal skills to hold an engaging conversation with a player's family, to discuss how things are going and come up with plans and solutions to varying problems is as important as having negotiating skills in the boardroom. As I have said in previous blogs, the role of agent is often twinned with that of a social worker at this time of the year.
Let's not forget that however charmed a life a footballer leads it's often one not free of difficulties and upheaval. Players who aren't getting regular football are often slated when they appear content to stay at a club and see out their contracts but let's not forget these lads often have families and commitments that go beyond kicking a ball around. I always remind my clients that it can be a short career but it's not always easy to wake up in Blackpool on a Tuesday morning and then out of the blue be expected to move your wife and 18-month old-daughter to Plymouth on the Wednesday for a six-month loan spell.
The shrewdest managers, like Kenny Dalglish and Sir Alex Ferguson, completed most of their deals or renegotiations well before the August 31st deadline. It pays to be organised and in control of the situation, especially before the actual season has started. There's nothing worse or more stressful for a player than to up sticks and relocate to the other side of the country or even a new country with the season already underway.
There were a couple of players dropping what seemed to be dramatic last minute bombshells, in the final half hour of the transfer window, like Raul Meireles from Liverpool to Chelsea and Mikel Arteta from Everton to Arsenal. These deals weren't really left until seemingly the last minute. All parties involved (except the selling club) would have been well aware of a potential move days or even weeks beforehand. You couldn't leave a multi-million pound transfer until the last half an hour. Logistically it just doesn't work.
How often do you hear managers saying it takes the best part of a full season for a new player to adapt to Premier League football if they come from abroad?
Edin Dzeko is one player that springs to mind. Last season when he joined Manchester City in the January window he looked like a poor man's Ade Akinbiyi. This season he looks a different player - a good one. That's why it makes sense to get a player in the door of a new club well before deadline day; otherwise money spent may be wasted short term while the player plays catch up.
In the lower leagues contracts are invariably kept pretty short, with a number of my clients having to move around the country pretty much on a year-to-year basis. 'Have boots will travel' is a phrase often banded about but let's not forget these guys have lives away from the game and often they have to make pretty big personal sacrifices in the pursuit of regular football.
There's also always plenty of paperwork to complete following the summer's activities and contracts to be lodged with the FA. Then there's the dreaded meeting with the accountant to see if we've made any money and check whether my agency is keeping its head above water and then of course the hard work of chasing up payment.
Once all that is done it's time to look at some commercial work for players to help them get a few extra quid in, especially for the younger lads in lower divisions. A few free pairs of Nike Mercurial Vapor Superfly boots, normally costing £280 a pair, always goes down well with lads earning a couple of hundred pounds a week.
For the marquee players there are always personal appearances and product endorsements to set up, especially with Christmas fast approaching. This summer I've agreed to work with a top flight international player on his commercial image rights. These gigs are hard work and long days and initially for little financial gain, but do a good job with him and he will tell his team-mates for club and country. Before you know it you're managing a select bunch of players with their faces on the new cover of FIFA 12. Here's hoping...
Now is also a good time to start scouting for new clients - whether they are young or old, established or up-and-coming. I'll be taking in some youth team games including internationals and you can add to that a few afternoon reserve matches. Oh, and then there's a few non-league games I'll be attending. There are a few hidden gems down in the part-time leagues who could turn out to be a Chris Smalling in waiting.
It's never too early to start planning for the next window, any players who missed out in the summer transfer market will be either looking for a new contract or a move to a new club. So setting up meetings with the key decision makers at clubs will be higher up the list than cleaning out the hamster cage. Before you know it we'll all be singing Auld Lang Syne and counting the days down until we see that cheeky grey haired Scotsman all over again. I love it.
I'll be blogging throughout the summer for skysports.com so if you've any questions or feedback fill in the feedback form or catch me at @SSSecretAgent and I'll look to address them in my next column.