Reality check, really?
feels Manchester City deserve more praise for a creditable bow in the UEFA Champions League than they have been afforded by many.
Last Updated: 15/09/11 6:09pm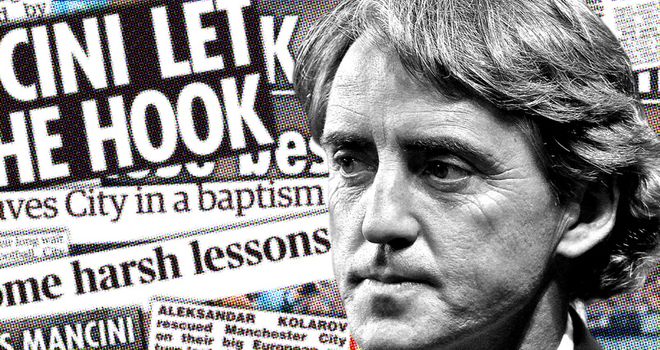 The ink is black. The page is white. There is no in-between. Scanning through this morning's written press it would appear football is just as straightforward. The need to cast definitive judgement after 90 minutes has become absolute. In this sense football is becoming no more rational than Heat magazine. The age of circling Tevez's thighs to expose cellulite is nigh. Hot or not - there is no in-between.
Only the churlish, Manchester United supporters or those predisposed to loathing the mega-monied would have enjoyed Manchester City's return to Europe's premier competition after 43 years. Napoli were cast as Simon Cowell in puncturing the inflated ego of a deluded wannabe as City were put to the sword with a ruthlessness normally reserved to Camorra hit-men.
Except this didn't really happen, did it? It makes for an interesting news angle but were City really inferior to Napoli? Do they really need to improve drastically if they are to dine at Europe's top table without embarrassing themselves? Is Roberto Mancini currently sat in a box questioning his very existence with only a borrowed copy of Joey Barton's boil in bag cod-philosophies for company?
Hesitant City given worrying taste of life in the fast lane - The Daily Telegraph
City learn some harsh lessons - The Times
Europe's top table provides a harsh reality check for Mancini - The Independent
Reality check for the pretenders to Europe's crown - Daily Mail
For those City fans who decided the potential of Kirsty and Phil's unsated sexual banter finally being consummated on-screen justified empty seats inside the Etihad, flicking to the back pages must have made for grim reading on the morning commute.
The problem is that the spectacle is no longer enough. That a game at the normally pre-ordained group stage baulked tradition in being genuinely absorbing has largely been overlooked in favour of a dissection that sees fans and hacks united in waving the scalpel with abandon. God knows why Norman Mailer dedicated a whole book to the 1975 World Heavyweight Boxing Championship in Zaire when he could have simply surmised 'Ali King, Foreman stick to your grill'.
There is no doubt the game raised the odd glitch in Roberto Mancini's masterplan but on this evidence, City are undoubtedly heading in the right direction. In fact, it would be fair to say it is us, the media, more in need of a reality check than Mancini. For is it not he who has ridiculed early approximations of his side as being an English Barcelona? It is not the atypically staid Italian who has always spoken with unerring good sense when the rest of us have been left with a well-thumbed thesaurus in the search for that elusive adjective which best describes avalanches of goals against Swansea, Bolton and Tottenham respectively?
That Napoli were excellent is not up for debate. City can learn much from the way they set out to play a counter-attacking game away from home, whilst simultaneously taking the contest to their hosts. It's a tough tactic to pull off but the brilliantly animated Walter Mazzarri - replete with the best bomber jacket since Steve McQueen's in the Great Escape - orchestrated it with aplomb. At the back Napoli's three centre-halves were typically Italian; at times brutal but every hatchet job was followed up with a wide-eyed expression of innocence that suggested they were good Catholic boys at heart. Sergio Aguero's shins may beg to differ.
It was further up the field though where they really impressed. A much-feted front three of Edison Cavani, Ezequiel Ivan Lavezzi and Marek Hamsik were as interchangeable as they were excellent all evening. The astuteness of the former's movement was matched by his team-mates' capacity to find him and when Cavani broke the deadlock after a counter-attack that saw Christian Maggio punish Gareth Barry's profligacy with a lightning raid and perfectly weighted pass, it looked as if only Diego of the Aguero/Maradona clan would end the night with a smile on his face.
Here was the lesson then. A £50million+ rated striker, who scored 34 goals last season, will punish you if given the chance. Why didn't Mancini think of that?
In reality neither Mancini nor City need a reality check. For all the money, characters and egos that make up City's dressing room there has been precious little noise about how they'll fare in Europe this season. Mario Balotelli is too busy on his iPad these days and Carlos Tevez seems to have cried himself out.
The reality is that this was an entertaining game between two good sides willing to trade blows. It was a game that again dispelled any lingering doubt that Mancini might be tempted to resurrect his disciples of dour mantra of last season. And for that we should all be grateful.
Much has been made of whether City overplayed in the final third, with Samir Nasri's presence raising suspicion the Frenchman has brought a dose of the 'tippy-tappy' lurgy with him from Arsenal. It didn't seem to be a problem when they stuck five past Tottenham on his debut but that won't stop calls for him to wear a bell in his boots at the weekend.
There's a thin line between overplaying and patience and in the first half especially they were on the right side of it. There was the odd superfluous pass on the edge of Napoli's box but City will not be alone in becoming frustrated by a well organised Italian backline. I'm sure if it were at all possible one of City's players would have stopped all the fannying about and raked it in from 30-yards but apparently that's quite difficult too.
The easy option would have been to go longer to Edin Dzeko but given the short passing style they employed presented openings for 11 attempts on target and two crashing efforts against Napoli's crossbar, there seems little overtly wrong their approach.
Adam Johnson's bright cameo off the substitutes' bench provided City with a lift at a time when in fairness Napoli appeared to have worked them out but to suggest they are 'too narrow' when using Nasri in tandem with David Silva is as premature as the claim they are the new Barcelona. Of course at times City will need width, in the same way that away from home they might have to employ a lone front-man to accommodate an extra holding midfielder or go for Pablo Zabaleta's defensive stability over Micah Richards' buccaneering spirit, but these are choices that should be viewed in isolation rather than drawn as overriding conclusions.
Had either Aguero or Yaya Toure directed their efforts an inch lower the headlines would have been of City setting down a marker - 'Watch out Barca, City are coming for you!'
Maybe the only lesson Roberto Mancini needs to learn is that an inch goes a long way in football.