Tweets of the Week
We bookmark the finest sporting banter possible in 140 characters over the past seven days.
Last Updated: 22/09/11 2:43pm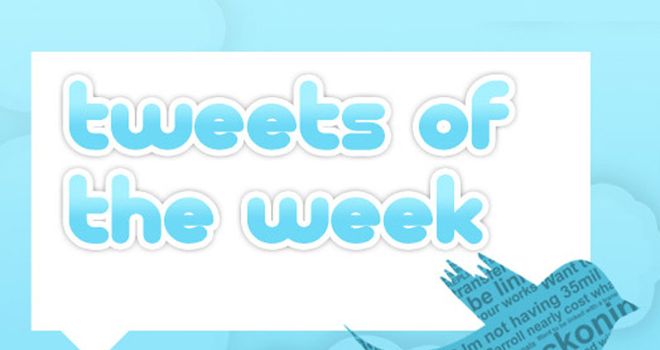 Social network sites landing footballers in trouble is not new news but Twitter as a mode of communication that breaks down traditional barriers between punter, pundits/journalists and players has never been more so omnipresent. Here's the best of the past seven days in 140 characters.
@Joey7Barton
Going officially on record, as saying Lee Dixon is crap, on Motd. Hansen is brilliant. Dixo and Colin Murray are really bad! P45's please
@Joey7Barton
"Wolves snubbed me" I read in this morning papers hahahahahaha....don't know what Mick's been smoking......#hesoffhisbarnet #porkypies
@Joey7Barton
I bet u Kelvin Henry feels like an idiot again today. He should just keep his trap firmly shut. #sundayleagueplayer
@StuffMickSays
Had someone go thru @Joey7Barton's bags in changing rooms. He might quote Nitsche & Orwell but all they found was "The Hungry Caterpillar"
@TheBig_Sam
If there's anyone who can manufacture more beautiful sounds from a lute than Papa Bouba Diop, I'd like to meet them. Just sensational.
@jimmycarr
Zara Phillips hubby Mike Tindall seems to have got married & had his stag do in the wrong order.
@rwiggy9
In other news got de-kegged (pants pulled down) by @ChrisAshton1today.He's a funny lad which is a good job cos he's no looker
@joesimpson9
100kg (literally) of confectionary sent from a 'source' in England has been confiscated as contraband by the England fitness team!
@rwcbrianmoore
#Dwarfgate; A local NZer's quip over breakfast - 'You Poms should be asking 'If Tindall can toss a dwarf why can't he pass a ******* ball!'
@OllieHoltMirror
Bored of the tired old stuff about @themichaelowen only being at MUFC because of the money. Suspect he could get lot more money elsewhere
@themichaelowen
@OllieHoltMirror Must admit, you get some odd things said on twitter but that has baffled me ever since I joined the twitter club. How can
@themichaelowen
@OllieHoltMirror greed ever be labelled at me? Greed for success maybe but if I wanted money the last place I would of signed for is United.
@themichaelowen
Our fans in stadium 45 mins after game singing their hearts out. When I emerged from dressing room they sang 'you scouse b*****d'! #magic
@henrywinter
Rough poll of tweets: 60-40 against @themichaelowen going to Euros as #eng wild-card. Closer than expected; still enduring respect for Owen
@WayneRooney
Great win against a good team in Chelsea today. Just seen my pen back and only now we have won I can laugh. But seriously happy with win
@greypeacock
(aka Shaun Derry)
Victoria station-30p to use the loo!!
@greypeacock
Got my moneys worth though!!!
@rioferdy5
Got to give my man Owen Hargreaves a shout out, great to see him ballin again even tho in the wrong colours!Deserves some luck with injuries
@clintonhill3
You know what bore off phil Neville#unfollowed
@MikeTyson
I will never get in the ring again. No way, I'm so glad its over. I was a wild man.
@MikeTyson
I bit Evander because I was undisciplined at that moment. I had nothing to lose then. I had no wife, I didn't have my kids.
@PaulHayward_gnm
Gus Poyet: "I go back to Uruguay and youngsters don't believe I played for Chelsea. This Chelsea are worldwide. They say - nah, you didn't."
@Joey7Barton
Am not going to be drawn on PHW's comments, he obviously needs to open a dialogue channel with Wenger, Pat Rice and Steve Rowley......
@Joey7Barton
....I feel I made the right move for me, am very happy at QPR and wish Arsenal, the best of luck. Everything happens for a reason, I believe
@Slash
on Soccer AM's Tubes
Ha! Funny how stuff gets exaggerated on Twitter. No one threw anything at me. Just a prat w/a face full of mashed potatoes. Iii|; )'