Prima donna, not Maradona
The shadowy world of the football agent is one that is cloaked in secrecy amid accusations of greed. Thankfully, we've got one of the good guys on board to lift the lid on what life really is like at the sharp end of a notoriously cut throat business.
By Secret Agent - Follow me on Twitter @SSSecretAgent
Last Updated: 28/02/12 11:52am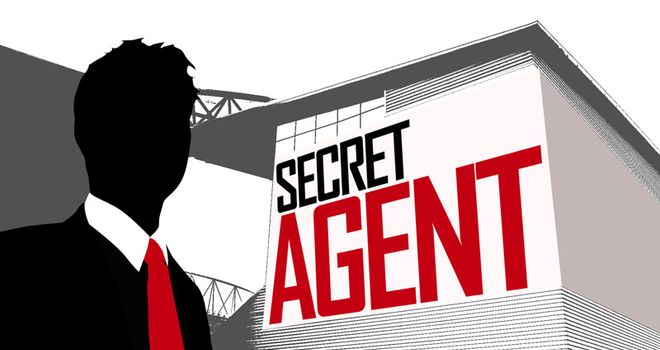 Carlos Tevez's behaviour this week reminds me of a few players I've looked after in the past and indeed, some I currently represent. It's not just the marquee players that have their strops and tantrums.
The perception tends to be that it's always the Premier League stars who are the prima donnas, with the common man best represented by those players that ply their trade further down the football pyramid. However, as in all walks of life, at whatever level, there are good and bad apples. Just ask Graeme Souness.
That's not to say Tevez's behaviour wasn't indefensible. When most of us earn in a year what Carlos earns in a couple of days, it's difficult not to question his moral compass and even if he has one at all. But even players earning a modest salary have their moments and I've had first-hand experience of it as an agent.
Around three years ago I was approached by a manager to try to help a player who had gone off the rails. Gone off the rails is an understatement. He was actually in the middle of a six-month ban from the game.
I knew of the player as he was very talented and was being courted by a number of high profile clubs prior to his misdemeanour. I had seen the player a number of times in the flesh; he was young and gifted but you could tell by the way he conducted himself on the pitch that he had his demons.
Being a good judge of character is an important part of being a football agent. If you can gauge what makes managers and chairmen tick it can help build a rapport and enable you to secure a favourable deal for your client. Building a relationship with a player is usually easier as you're both on the same side but that's not to say we, as an agent body, don't get it wrong from time to time. It's this need to understand different mindsets which leads me to think all agents need to study psychology never mind the FA exam!
To this day I still fail to understand how some of my players think and act. It gets to a stage where I'm fire-fighting more often than not. After a while you have to make a decision; is all this hassle worth it? Will the potential loss of my reputation be worth what my client brings to the table? Is the player earning me a Tevez-style commission or is it better to cut him loose?
Anyway back to this player of mine.
We met and talked for a long time before finally arriving at the conclusion that as soon as his ban was over we would restart his career overseas. A fresh break and all that. I still had my doubts about spending a lot of time looking after this kid as even though he was adamant he was going to turn his career around, I couldn't help but think 'what have I left myself in for?'
I should have listened to those voices...
With a few weeks left of his ban to run I started to speak to a few low profile clubs in Europe. I deliberately chose smaller clubs so the player could slip back into the game quietly with little fuss. I found a suitable club and fair play to the lad he settled in quickly to his new surrounds, a different language and alien football culture. Double training sessions kept him focused and more importantly, out of trouble.
For the first month the main priority was to regain his fitness and sharpness after six months out the game; play a dozen or more games and take stock of the situation.
It all started brilliantly as he proved an instant hit in both creating and scoring goals to take his new club to the top of the table. There was the occasional run-in with the coach and a few late night binges in the local wine bars, but whilst he was playing well and scoring the occasional blind eye was turned.
'You can take the English out of England but you can't take England out of the English!' was the phrase I repeatedly told the foreign coach.
How long would I get away with using that as an excuse was something that troubled me constantly, as my pleas to my player often went unheeded. His rehabilitation continued to go well though as he was fitter than he'd ever been when in England and his undoubted talent was really shining through. He was even enjoying himself and surprisingly, given he was a bit of a Neanderthal, he actually started to embrace the culture of the country.
The club's results and the player's performances were starting to get noticed by clubs from the top tier and before we knew it he was on trial (in a football sense thankfully) at a club with a good European pedigree.
An 18-month contract was offered, as was a significant pay rise, a car and a flat in the capital. All within six months of moving. It couldn't have gone any better even if I'd dreamt it. We would have been both happy if he'd played a season in his adopted country, kept a low profile, moved back to England in the summer and secured a club in League Two. That would have been a happy conclusion to a well-planned project.
To sign for a top flight club with European history was a bonus neither of us had anticipated. The time and effort spent seemed to be paying dividends. Did I have my own Englishman abroad a la Owen Hargreaves or was it going to turn into Karl Pilkington's idiot abroad? I think you all know the answer to that one!
The first few weeks at his new club started well enough. We didn't expect that he would be starting in the first team for a while yet. He was some way off the level of the first team in terms of fitness but he got his head down and worked hard.
It was a very strict football club, professional to its core, and they didn't stand for any lateness or larking around inside or outside of the business. The player was finding it hard to fit in with a regimental way of life and before we knew it cracks started to appear. He didn't go off the rails or cause undue problems but he wasn't enjoying himself.
It was when he was loaned out for the rest of the season to play games that it all started to unravel. He had arguments with the coach and frequently turned up late for training. That's if he actually turned up at all after heavy nights out on the beer. The season ended and he was given a warning to his future conduct and told to return for pre-season fit and ready to work.
Pre-season arrived but he didn't. I tried to get in contact with him with no joy. I visited his mum's house to no avail, while numerous text messages and voice mails were left answered. A week after pre-season was due to start he finally got in touch and the excuses started.
He said he'd crashed his car and had been in hospital with broken ribs. After some detective work I found out that wasn't the case at all. He was holed up in his new girlfriend's flat refusing to go back. It didn't take Ironside to work out he was full of...
Obviously he wasn't getting paid by his club and the money had run out. He then asked me to find him a club in England League Two, anywhere. He was still under contract and quite rightly his club refused to cancel his registration. Eventually the player went back to the club but they dug their heals in and only cancelled his contract after three or four months of protracted arguments.
I had already decided enough was enough and said good luck to the lad but for my reputation I couldn't keep grovelling to clubs to take a chance on him, only for him to do it all again.
It was a lesson learnt for me. Sometimes you have to go with your gut instinct and say no when you look after a 'tainted' player. The things is, and the same can be said for managers up and down the leagues, sometimes you can't help but think with a talented player it's worth the gamble. In my case for a while it looked like a good decision and I was proud of how I'd helped turn his left around but when the demons returned we were back at square one. And I was left with the square root of nothing for my efforts.I'm glad to say the player is now back in England and playing at a very good level of league football and doing well. I hope he continues to progress and uses the talent that he has undoubtedly got to good use. I hope one day he feels that I helped in his career. He's still got a way to go to convince everyone that he's turned the corner for good, but for now it's going well.
That said, if he ever pulls the same stunt as Tevez did in midweek I'll be on the blower giving him my two-penneth. He'd expect nothing less. I wonder if Kia will be doing likewise this week?
I'll be blogging throughout the season for skysports.com so if you've any questions or feedback fill in the feedback form or catch me at @SSSecretAgent and I'll look to address them in my next column.