Between a rock and a hard place
The shadowy world of the football agent is one that is cloaked in secrecy amid accusations of greed. Thankfully, we've got one of the good guys on board to lift the lid on what life really is like at the sharp end of a notoriously cut throat business.
By Secret Agent - Follow me on Twitter @SSSecretAgent
Last Updated: 28/02/12 11:50am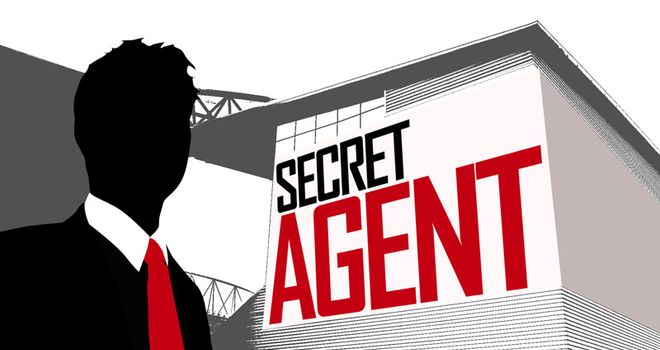 Being a football agent is not all about negotiating transfers, renegotiating contracts or working on commercial deals for your clients. And it's certainly not about drinking Cristal on-board yachts or hanging around in Chinawhite with your boys (I'm saving that for retirement). No, the singular most important part of the job is managing relationships.
At times it's a juggling act as you look to keep both your clients and their clubs sweet. An agent is usually the go-between for the two, who more often than not gets it in the neck if either party aren't happy. I often find myself caught in the middle playing devil's advocate. Your priority is always your client but maintaining a good relationship with the player's club is just as important. Often you'll get on with their manager too, so it's not easy to say 'Sorry Arsene, I know my lad is a bit of a d***, but can he have an extra 20k a week?'
The more clients you have as an agent the greater the likelihood that one of them will have a problem. It could be that they are not happy because they don't feel they are earning enough or they may not be getting selected for the first team. Players are often criticised for not caring enough but in my experience, even with a few of the nightmares I've looked after, they're all united in loving to play. When that's taken away from them, that's when they start to act up.
This is where as an agent you have to be seen by your client to be playing hard-ball with his club. He's expecting you to be on the phone shouting and swearing at the manager or thumping your fists on the boardroom table demanding that he plays or gets a pay-rise. You'd be amazed about how vocal players become when they're telling you what to say to their boss or chairman and yet when word gets back to them, it's a case of butter wouldn't melt as they come over all wide eyed and innocent.
Unless you're a Wayne Rooney or Sergio Aguero it's a fallacy that making demands will be anything more than hugely counter-productive. Bull in a china shop histrionics are only likely to end in tears, with the club informing the player to train with the youth team and the agent told not to darken their boardroom any time soon. It's a lose-lose situation in most cases.
It takes time to build up a good relationship with a club and all the work you've done in the past by finding them a player can quickly go down the pan. To avoid alienating yourself, and potentially losing a source of revenue from the club in the process, you have to understand why your player isn't being picked or why he isn't worth a pay rise. This process can be tough in itself as you grow close to your players, often having guided them from a young age, so being objective isn't always easy.
Of course you shouldn't just play lip-service to the club but you need to prepare yourself with facts to counter their arguments. It's essential that you do a bit of digging and find out how much other players are earning at the same club and check the results and performances of the team against when your player was in or out of the side. Get on the phone to Opta!
If your research with regards pay to performance doesn't look favourable and your argument holds less water than Heurelho Gomes holds crosses, the best policy is to listen to the reasons why your client doesn't deserve to be picked. Tell the club you will give the player the feedback and end the conversation politely, wishing the manager good luck for the weekend's game. But as soon as they lose a couple of games on the bounce you'll be back on the phone. That's the game and they've all played it at some point.
If you watch and follow how your client is performing then chances are you will already know if the reasons a club feeds you are correct or not. If the player is regularly late for training or doesn't put a shift in then you're on a hiding to nothing.
You would think the best plan would be to have a word with your client, advising them to pull their socks up otherwise they'll be out on their ear.
Except, these days a lot of players, especially young ones, don't take too kindly to being told what to do. It must be a generation thing. They don't listen to parents either, but that's an issue for Jeremy Kyle to deal with!
So unfortunately sometimes it's best to tell your client a few well-judged pork pies, along with some subtle dampened down home-truths about general performance and attitude.
I know... an agent lying, who'd have thought it!
It's a delicate balancing act of complimenting them when they're playing well and getting the important message across when they need to pull their finger out. Get it wrong and before you know it your client thinks you're taking the club's side and they're off to sign with another agent who says all the right things.
In many cases you've got the parents of the player to answer to as well. If the conversation with the player doesn't go well you can be sure that within 10 minutes the phone will be hot again with dad wanting to know why his pride and joy isn't paid enough or starting games. They will only get the player's version of events so you're back to square one and if the parents think they know a few things about football, then you're well and truly p****** in the wind.
I think I'm getting the hang of it after all these years. I prepare myself at the weekend by checking to see which of my players hasn't played or has been subbed and ready my responses for the impending text messages and phone calls from players and parents.
I dread it, I look at the caller's name on my phone and it's a tough call, do I answer or ignore?
As an agent not only do you need to be a social worker, a tough negotiator, a better peacemaker than the United Nations and a relationship expert but you must at all times sport a bullet proof vest with a Teflon jacket. You all wonder why we get paid well - it's because we do about six different jobs.
I love it.
I'll be blogging throughout the season for skysports.com so if you've any questions or feedback fill in the feedback form or catch me at @SSSecretAgent and I'll look to address them in my next column.