Santa's coming
The shadowy world of the football agent is one that is cloaked in secrecy amid accusations of greed. Thankfully, we've got one of the good guys on board to lift the lid on what life really is like at the sharp end of a notoriously cut throat business.
By Secret Agent - Follow me on Twitter @SSSecretAgent
Last Updated: 28/02/12 11:49am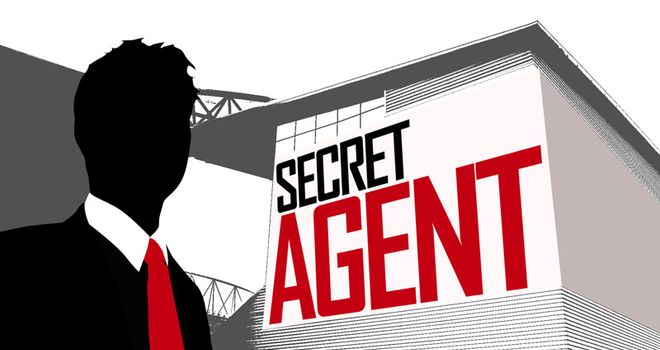 If Marks and Spencer are to be believed Christmas is coming tomorrow but for the rest of us back on planet earth it's 44 days away. More importantly, it's 51 days until the January transfer window opens.
It seems like just yesterday that we were watching Jim White on Transfer Deadline Day hyperventilating on Sky Sports News as Shrewsbury completed the signing of a Slovenian left-back, but the silly season will soon be upon us. I can't wait.
Agents up and down the land are now cajoling with each other, while at the same time having numerous conversations and meetings with club officials to see what they will be wanting in the New Year.
The gossip columns kick into gear at this time of the year as well, with perhaps only that X-Factor elf with a hedge on his head garnering more column inches than the future of Carlos Tevez. Most rumours come to nothing as often the stories are put out there by agents trying to stir up interest in their clients (guilty as charged my Lord), or by clubs trying to move on a player earning silly money.
The January window is probably more important than the summer window, as a key signing or two can mean the difference between a mediocre mid-table finish or a place in Europe. At the other end of the table - survival or relegation, the sack or a new contract.
Players' names are already being circulated between agents and clubs, while chief scouts are checking out potential new recruits up and down the country. If you find yourself sat next to someone on a flight in the next few weeks who looks physically and mentally exhausted it's probably because they've been on a wild goose chase across South America courtesy of an agent's over fertile imagination.
Personally, I'm working on three possible moves within the Premier League. One is for a player who is currently playing well in the top flight. His current club are desperate to keep him but with his contract up in the summer, he holds all the cards and is in no rush to make a decision. Bigger and better teams are already circling so there's plenty to weigh up. Unless they aggressively look to cash in now, it could be he leaves it until the summer before saying his final farewells.
Another player I'm working on moving to the Premier League had a brief spell in England a few years back. The player struggled at his first attempt to crack English football, but since returning to play on the Continent he has been scoring goals for fun. I'm talking to two clubs at the moment about him and hopefully, one of them will make a decision soon. The early bird catches the worm and all that - at least that's what I'm telling them!
I get inundated with requests from around the footballing world to move players to the promised land of the Premier League. My inbox is full of player details that on the face of it look decent. I'm not a football scout but I feel I have seen enough football over the years to be able to judge if a player can survive in England. Often what's in the head is more important than what's in the feet.
I have to see if they have the necessary skills and attributes to play here. As many managers will attest, buying a player from a DVD alone is like picking a wife on the quality of her Tweets. It's not to be recommended.
A player may well be scoring 30 goals every season in Argentina's top division, but it's a hell of a jump to playing in England. I watch hours of grainy YouTube footage that invariably accompanies a player's CV. My missus will often look suspiciously over my shoulder as I log on the laptop in the small hours but soon falls back to sleep when she realises I'm putting together a compilation of Nobby Solano's finest moments.
Pace, strength and a good first touch is essential and while it's sad to say, height is always something clubs want here. It's fair to say not all Premier League bosses are convinced the current success of Iniesta, Xavi and co is something that will easily be replicated in England. As the saying goes, 'a good big 'un, beats a good little 'un'.
If I think the player has something then I will send it on to the chief scout of a Premier League club who are looking for someone in that position. Before the scout steps on to a plane to watch the player, he and the manager will need to have seen the video footage. Even then, convincing them to stump up the necessary readies to board a plane to Peru isn't easy.
You have to know your football and if a player can cut it in England; otherwise your credibility can take a blow. Of the hammer variety. The next time you send a player's video to the same club they will remember the carthorse you sent them last time and bin your email quicker than Fergie got shot of Massimo Taibi.
On the flip side, if you gamble and get it right you could be onto a real winner. Find a club a real talent and not only will you receive a nice pay day but you will become their 'go to guy' in the future. It pays to do a thorough job as not only are you battling to build your reputation with clubs, you also have to battle against other agents in this country and abroad. It's a cut-throat world out there and I've swam with sharks for so long I'm starting to grow fins.
For the punters amongst you, my outside bets for transfers in the January window are David Villa to Chelsea and Nemanja Vidic to leave Manchester United. Oh, and Cocozza to start a relationship with someone off TOWIE. Yawn.