Racism row simmers
With Sepp Blatter having suffered a proverbial case of foot in mouth disease the football fraternity have been quick to have their say. Here, we round-up what a variety of players and managers have opined on the issue of racism within football.
Last Updated: 18/11/11 3:56pm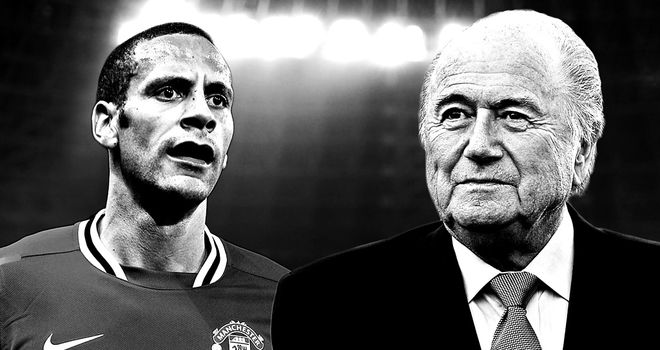 Sepp Blatter kicks it all off: "There is no racism, there is maybe one of the players towards another, he has a word or a gesture which is not the correct one. But also the one who is affected by that, he should say that this is a game. We are in a game, and at the end of the game, we shake hands."
Neil Warnock: "Racism does happen on the field of play and the shaking of a hand just doesn't put it right. But who is going to sack him? I don't see that anybody is going to sack him. I think the only way we could get him out of the situation that he is in if every black player in the country, in every country, refused to play in the next international game."
Mick McCarthy: "They are outrageous comments from Blatter. I would expect better from a man heading that organisation, that's for sure. It is doubtful whether he can remain. I say doubtful, but he runs the place. I think he should go, personally. His comments were barmy and at best misguided."
Mark Bright: "This is what Blatter is saying: at Hackney Marshes on Sunday morning you can say whatever you want to your opponent - whatever race, creed or colour he is - and at the end of the game when you shake hands it should be all forgotten - go to the bar and have a drink. Those days are over. It would be carnage at every football park across Britain where any ethnic playing in one team against a white person on another team, and (if a player) can say whatever he wants and say 'it's just part of the game'. It's an old-fashioned view, it's archaic, it's illegal."
Kenny Dalglish: "It (racism) has to be proved before you accuse. I don't think it's prevalent in the game here and certainly not at this club."
Tony Pulis: "One thing it proves is that he is miles away from actually what is happening in football and what is happening in the world. There's been quite a few things over the years where people have said that he can't be in his right mind, he's just proved again that he is miles away from reality. Who holds him to task? Who is above Blatter? Is he all powerful? That's the big question, who does he answer to?"
Gus Poyet: "I played for seven years in Spain and was called everything because I was from South Amercia And I never went out crying like a baby, like Patrice Evra, saying that someone said something to me. I believe Suarez. It's simple. I am surprised in a really sad way that he has been charged. "Why are we going to take one person's word over another's?"
Sir Alex Ferguson: "I'm more surprised by Gus Poyet's remarks. I think that's inappropriate at a time when people throughout the world are condemning racism. I think he's chosen the wrong time. I can understand why he wants to support somebody from his country but he's got to think more about it. I don't know how the question has been loaded but it seems his criticism of Evra is a bit silly."
Arsene Wenger: "I personally think we have a lot of work to do in football. Outside of Blatter's comments I think there's too much talk on the pitch. Our sport is watched by billions of people and we cannot accept what's happening on the pitch. Overall I think England is taking the right step. It's doing well on that front, but there's still some work to do. Racist comments are unacceptable. Any discrimination for me is unacceptable."
Chris Hughton: "For the top person in world football to make the comments that he has done is totally unacceptable. It can't be dealt with a handshake because it is unacceptable. Of course, he almost seems untouchable. So I think that is a big concern for me, that someone in such a massively important position is able to (make such comments) and with almost no recourse."
Dave Whelan: "If a white man insults a black man, that's big, big news. If, if, a black man insults a white man, that's nothing, and it's expected. So I just think we should forget colour, and, you know, it doesn't bother anybody, I'm sure, colour and.... sometimes a footballer... erm, when they're playing at such a level... you know the stress is there. And if, if, they call somebody white, if they call somebody black, you've just got to get on with it. You know I think the players who come and complain sometimes, they're a little bit out of order."
David Beckham: "I think the comments were appalling. A lot of people have said that. I don't think the comments were very good for this game. [Racism] can't be swept under the carpet and it can't be sorted out with just a handshake. I do think, especially being around the England team and being around the FA - the FA do a lot of work in kicking racism out of the game. They've have made huge strides in the past 10-15 years - but it is still there."
John Barnes: "I think Blatter should resign over many things, and this is just one. But those thoughts are based on stereotypical views drummed into us over a long period of time. People have been told for 400 years since slavery that black people aren't as intelligent as white. White players always said to me: 'You can call me 'a white so and so', I don't mind'. But that's because society has indoctrinated us over the past 400 years to think that that's like saying 'you handsome so and so'. That's why white players aren't offended. They're empowered. Black people aren't empowered; 99 per cent of black individuals would be offended being called 'a black so and so' because we've had 400 years of being dehumanised."
Rio Ferdinand: "To say what you said about racism in football spoke volumes of your ignorance to the subject. I guess you now have the full support of all the women, gay community plus people against racism in football. If we want to stamp out racism in society a football pitch is a good place to start- loved by billions of people around the world."
Gordon Taylor: "He should move aside for Michel Platini, it is embarrassing - if one person should get it about racism it is the head of FIFA, which has 200 countries in the world, is so diverse with different cultures, creeds and colours."
Jim Boyce: "I was very surprised to hear the president's remarks but have been pleased that both he and FIFA have come out to try to clarify the situation. Personally I believe there should be zero tolerance regarding racism, sectarianism and discrimination in any shape or form and I do know that many people at both FIFA and UEFA are working to eradicate this cancer from the game."
Roberto Martinez: "When there have been a few problems probably it is because comments that people understood as racist, when probably they are not. The cultural aspect plays a big part in that. But I don't think there is racism in the game - at least from the experiences we have experienced."