Loyalty - a lost quality
The shadowy world of the football agent is one that is cloaked in secrecy amid accusations of greed. Thankfully, we've got one of the good guys on board to lift the lid on what life really is like at the sharp end of a notoriously cut throat business.
By Secret Agent - Follow me on Twitter @SSSecretAgent
Last Updated: 28/02/12 11:48am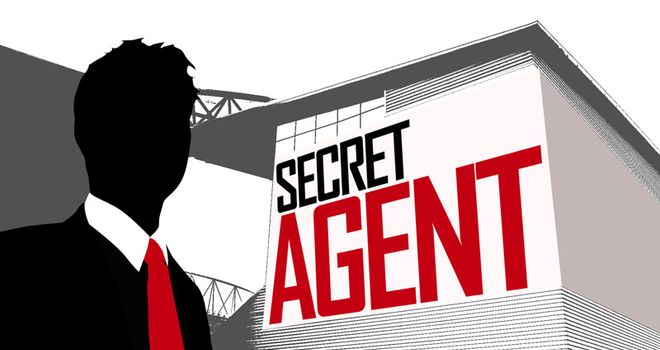 It's been widely reported in this week's papers that one of the country's leading centre-halves has dumped his agent of many years in favour of one of the industry 'big boys' and it's a murmur I've heard on the grapevine too.
That he's still kicking around at the Premier League's basement instead of living it up at a top four outfit is seemingly the grounds for divorce, but I'm not sure that's exactly what Guy Garvey was getting at.
It would be remiss of me to go into too many details as I'm working largely on hearsay but going off my own experiences in the industry I'm pretty sure that his previous agent did his utmost to secure his client a move to the Emirates, White Hart Lane, Anfield, wherever? Why exactly wouldn't he?
Let's cut to the quick, the lure of regular Champions League football and playing with Robin van Persie or Rafael van der Vaart every week appeals not just to players, but agents too. I know where I'd rather be tucking into my pre-match meal; don't shoot me for being a schmoozer!
If reports are to be taken as gospel Arsenal were his primary suitors. I've heard about the numbers being bandied about and to be fair, they weren't much better than he was already on. You can't blame the agent for that.
Arsene Wenger and his board are known to be able to peel an orange in their pocket courtesy of a rigid wage structure and for that, at a time when financial austerity is the exception rather than the norm, I have to commend them.
Whichever way you cut it though the player's failure to win a move could only be due to one of two factors. Either there was no offer on the table, or the deals in the offing were not at a level that financially met his expectations. Unless the agent was making ludicrous demands on his client's behalf then it's difficult to see how the representative becomes the fall guy in this transaction.
The phrase most often trotted out in negotiations is 'he's too rich for us', which essentially translates as 'he's a decent player but needs to wind his neck in - he's not worth that much!'
Of course there are occasions when agents don't know when to shut their mouths and trappy talkers tend to antagonise chief executives, but while I've got a hole in my derriere, there's no way the player's representative won't have tried every trick in the book to get his client a big move.
Going off experience the new agent has probably promised him the earth: "I'll get you to Arsenal or Inter Milan, I'll get your wages tripled, I'll get you on the front cover of FIFA 13, Adidas will name a pair of trainers after you, maybe a suite in the Playboy Mansion?"
Moon on a stick - you got it!
Meanwhile, crying in his Cornflakes (most probably now Smart Price not Kellogg's) is the poor sap who's worked all summer for the player only to be told he's now surplus to requirements.
This is the guy who managed to convince an established Premier League club to take a punt on a then unknown stopper who'd been plying his trade in the reserve side of a club in one of Europe's less fashionable leagues. I saw the kid on a scouting trip back in the day and he was rawer than steak tartare.
And yet, such is the business we're in, said agent has been kicked into touch quicker than Freddie Starr was thrown out of I'm a Celebrity. FIFA should make the player eat camel toe and pig anus!
Keeping hold of your clients is as tough a job as there is being an agent, especially if the player starts to do well and gets noticed. Before you know it the shy player you spotted playing in the non-leagues is courting the attentions of league clubs up and down country. With success come predators and pretty soon every agent in the land wants a piece of him to fill their boots and not yours.
Securing a player on a representative contract, usually of a period of two years, helps put off the circling sharks to a certain degree. However when a player's head is turned by team-mates saying that he should be playing at a higher level and that his agent will get him a move, then that contract can soon be terminated, especially if the 'new' agent helps pay off the current mug. I've seen heads turned quicker than Linda Blair's when a few quid has been put on the table.
I had a situation where a client's loyalties were wavering after a similar changing room conversation with a team-mate. The player doing all the talking was in the latter stages of his career and obviously trying to get himself a nice bit of commission from his agent. It's an all too frequent practice.
I was forgiving to a certain extent. The lad was new to the business and he was getting carried away with some of the newspaper headlines. Six months previous he was playing against teams in the eighth level of the football pyramid, now he was being linked to clubs in the Championship.
Now I wasn't going to sell my soul to keep the player by lavishing presents on him to keep him; after all it was me who saved him from a part-time career in the game. I can't abide greed. I've fired off players who wanted this and that before they'd even played a game in anger.
I simply told him that my connections in the game were as good as the next man and when I thought he was ready and when I received suitable and genuine interest in him from other clubs, I would work on his next career move for him. Not a problem.
It's easy to throw the names of other clubs like confetti at a wedding but my rival for his signature didn't have anything to back it up. I, on the other hand, had helped the lad secure trials and eventually helped him to sign his first professional contract. His dad, who was a man of few words but obviously understood the ethics of loyalty, stood up during the meeting and said "You stay with your agent, he got you where you are today." Negotiations over.
I'm eternally grateful to the player's old man for that and if anyone deserves gifts lavished on him it's him.
To finish, don't forget the loan window closes this Thursday at 5pm in the Football League. I see Leicester being busy, along with Doncaster. A shrewd loan signing can make the difference for teams at either end of the table. It will be an interesting and busy few days ahead.
I hope!