Beware, vultures overhead
The shadowy world of the football agent is one that is cloaked in secrecy amid accusations of greed. Thankfully, we've got one of the good guys on board to lift the lid on what life really is like at the sharp end of a notoriously cut throat business.
By Secret Agent - Follow me on Twitter @SSSecretAgent
Last Updated: 28/02/12 11:47am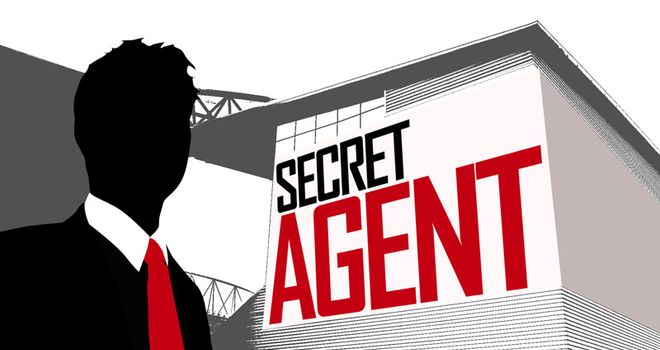 The work of an agent isn't just about looking after footballers. Your clients can also include managers, coaches and of course, football clubs themselves. This is something I thought was worth clarifying as I serve up a progress report on one of my potential transfer dealings this winter. Often people aren't aware that both sides are regularly represented by agents at the negotiating table.
Previously I have said to be an agent (at least a half successful one) you need to have contact with the wheelers and dealers, solid relationships across the industry, a good eye to spot talent, along with negotiating skills to snare your client a nice lucrative contract and of course your commission.
However, these are all worthless if you don't have a piece of paper signed by your client to say that they are working with you. And it's even more important when working on behalf of a club.
When a hot property becomes available for transfer as a pack we smell blood and begin to circle, vultures with BlackBerrys. The aim of the game is to secure an agreement (often called a mandate) to win an exclusivity clause to buy or sell a given player.
Trust is a word often preached in football but very rarely practised when transfers and agents are involved. If you don't have a mandate in place then you may as well work on a voluntary basis. I might not like Mondays but that doesn't make me Bob Geldof.
Although it's rare, in some cases I do work for a client (normally in the lower leagues) without a contract or mandate in place, as there is total trust between us. However, when it comes to the big deals when everyone and anyone (and I mean anyone) wants a piece of the pie, you have to cover your back.
Buying clubs will get agents calling them all day long saying they can complete the best deal possible for an available player. However, if you haven't got a mandate in place then save yourself a lot of time, money and potential loss of face by walking away. Without proof that you are in a position of control then you're on a hiding to nothing.
I have had my fingers burnt over this same issue. Earlier in my career as an agent I worked hard and spent a lot of time and money, mainly on international calls and travel, to set up a deal for a player to move from the Premier League to Turkey.
All was going smoothly. The player's contract had been agreed at one million Euros a season after tax for two years. The agent for the Turkish club was happy at his end, the player's representative likewise, while I was cock-a-hoop for bringing the two parties together. The wife had already spent the commission, in her head at least, and had even stopped asking me to get a real job.
The next morning when the player was due to fly from Heathrow to Turkey he was intercepted by another agent and bundled into a private jet. With more chutzpah than 007, Agent Espionage offered an extra year and my man was off quicker than the British Ambassador from Iran.
The agent for the player had negotiated his previous move to the Premier League and had assumed (on trust - there's that word again) he would be the man for the next deal, while the agent working for the club in Turkey had nothing signed. Neither of them had full control of either the player or buying club, so therefore had no claim to get paid.
Lesson learnt the hard way and not one I'm likely to forget. Once bitten twice shy and all that...
Securing a mandate to buy or sell a player is a tricky process in itself and once secured you have to work tirelessly to make sure you complete the deal within the figures agreed. Do the job right and you will become their 'go-to' guy for any future deals in and out of the club. Becoming that person, especially for a Premier League club, is like getting paid to eat out at the top restaurants every night. I'll never tire of steak and lobster for dinner over egg and chips.
That leads me on to an update on the progress of a sale of a player from a Premier League club I started to discuss last week. You'll be glad to know that the mandate is in place and early negotiations are already underway with potential suitors.
One club has already declared they won't be taking their interest any further due to the transfer fee demanded, as my potential buyer boomed down the phone in a Scottish voice: "...and for that reason I declare myself OUT!" I don't think it was Duncan Bannatyne but I wouldn't rule out my man pitching up in the Den over the New Year.
As I have a good relation with that specific club I gave them first option but with that declaration I have opened the floor to the next outfit in line, who I know are interested in the player too.
I'm trying to avoid an auction as there is nothing more that riles clubs than paying over the odds for a player. It could not only alienate you to the buying clubs but even kill the whole move, meaning everyone loses out.
Using the press to push the price up by claiming club A has made this offer or Club B in Italy has made another bid isn't the correct course of action at this stage. I do have to meet the expectations that my client wants in terms of the transfer fee, but throwing stories to the press is too obvious and smells of desperation. That's a stink a lot of agents reek of, but not me.
My method is to speak to the clubs who I have good relations with, the ones who have always been helpful with me in the past and vice-versa. These are the days where doing a good job the last time, no matter what it was, stands me in good stead - hopefully.
As the relationship is already built, they know you aren't an unscrupulous agent there to just rip them off. They are willing to work on a deal that works for them and also for your client, the selling club.
A deal may be a 'payments in stages' agreement where additional fees are made if the player scores a set number of goals, plays a stipulated number of games or helps them qualify for the Champions League.
Over time this agreement will see the selling club receive more than they originally hoped for but they receive a smaller initial fee upon initial completion. The buying club gets the player a bit cheaper but would be happy to pay more overall as their revenue would increase dependent on certain criteria being met, especially if they make the Champions League thanks to his goals/performances.
It's often more complicated than that and can mean late nights working on a solution that everyone is happy with, but that's part of the game and that's why I love it.