Le gossip
French correspondent Jonathan Johnson is back to deliver his verdict on who's heading where in Ligue 1's transfer window. With Paris Saint Germain emerging as a real European powerhouse in terms of financial muscle, expect plenty of business to be done on the other side of the Channel.
By Jonathan Johnson - @Jon_LeGossip
Last Updated: 30/12/11 4:12pm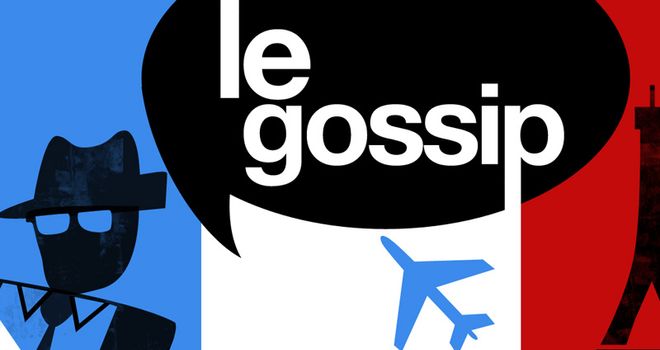 With the January transfer window almost upon us Ligue 1's annual mini-break looks like it could be busier than usual with a host of big changes and intriguing transfer rumours set to have a massive impact on French football. Paris Saint-Germain's big spending in the summer has bought them success as they currently sit top of le Championnat in the winter standings but incredibly the board have seen fit to replace manager Antoine Kombouare and have opted to bring in the big-name of Carlo Ancelotti in a move designed to lend more prestige to the capital club.
In addition to the Italian's imminent arrival, David Beckham could be following him through the arrivals door in Paris whilst a number of the league's top performers and most exciting talents have been linked with moves to the English Premier League.
Potential Transfers to EPL:
A host of Ligue 1's biggest names have been linked with the EPL in recent weeks and none come much bigger than that of Montpellier's prolific striker Olivier Giroud. La Paillade have astounded French football pundits and followers with their strong form over the first half of the season and nobody has contributed more to that success than Giroud. The author of 13 league goals and five assists so far this campaign, the versatile front man's hot form has seen him attract the interest of a number of Europe's top clubs and Newcastle United in particular have been heavily linked with a bid for the marksman.
Despite the intense speculation regarding his future, Giroud insists he is happy in France for the moment.
Speaking of Newcastle's interest he said: "I am in good form and good physical condition so I am enjoying my football. It is normal to be linked with clubs when you are scoring goals. I like the EPL and Newcastle are a good club but at the moment I am thinking about putting Montpellier on the European map this year."
Giroud's chairman, the outspoken Louis Nicollin, went further than that and told RTL Radio: "Newcastle? They are too small for him. €10m? He won't go for that. He still has over two years left on his contract, he'll cost a lot more, either €50m or €60m."
An ambitious sum perhaps but there can be no doubt that the rangy striker deserves to command a greater fee than €10million and with Newcastle's search for a striker this January already over following the collapse of Sochaux's Modibo Maiga's switch to St James' Park, it seems a move to join the Magpies is unlikely for the moment.
With Alan Pardew's focus switching from attack to other areas of his team, another Montpellier star this season has also been linked with a move to join Newcastle's growing French contingent. Mapou Yanga-Mbiwa, MHSC's indomitable centre-back and captain has seen his name credited with interest from the Toon army and admitted that he would be delighted to move to the EPL in the future. The powerful centre-back is far uncapped by France but has represented les Bleus at youth level and is thought to believe that a move to a bigger club will boost his international chances.
Speaking to L'Equipe recently, he said: "If we play Champions League next term, could I stay? Why not? But I believe I would not reach the level that I want to reach if I stay with Montpellier. The EPL is wonderful but nothing has been decided so far. Les Bleus? It would be a logical continuation. If I can't it would be a failure."
Club chairman Nicollin has already told the player that he will not stand in his way should he choose to leave at the end of the season but he has made it clear that he is not willing to part with the team's defensive rock at such a pivotal point in the season. Speaking recently he said: "It is very clear, no player we want to keep will leave during the winter transfer window."
Newcastle's interest in the Ligue 1 transfer window won't stop there though, according to rumours in France the club have also been running their eye over a number of other possible transfer targets. Struggling Auxerre's in-form and industrious creative midfielder Alain Traore and PSG's out-of-favour striker Mevlut Erding, whom the club courted in the summer, have been touted as possible targets and French media suggest that given their respective situations, both deals could be viable options.Another player who could see EPL interest from the summer rekindled is Sochaux's Ryad Boudebouz. The rapid Algerian wide man was linked with a move to Liverpool during the previous transfer window and with les Lionceaux struggling at the bottom of the table, the club could be tempted to cash in now before the player loses any more value because of the club's poor league form. The player leads the club's scoring charts with five goals and three assists in what has been a difficult campaign but if the Reds were to re-enter the battle for his signature they will face heavy competition, with PSG also said to be very keen on taking the talented winger to the capital.
One less-established name who has been linked with a move to the UK from Ligue 1 is Benjamin Corgnet of Dijon. The talented French schemer has enjoyed a breakthrough season with newcomers DFCO and despite their domestic troubles has shone and put in some admirable performances that belie his status as an amateur footballer just three years ago. The midfielder has recently been signed to Jean-Pierre Bernes' pool of talented French clients and believes that he can now target a career at the top under the super agent's guidance.
Speaking to the French press of the recent rumours he said: "I now have a lot of ambition. With Bernes I can go to the highest possible level. If I go on this way and Dijon get salvation, the best solution would be for me to leave. Chelsea? Everyone is talking about that considering the special links between Dijon and the Blues. But there is nothing so far."
Having contributed seven goals already this season, he and striker Brice Jovial have between them accounted for 90% of the club's goals so it is unlikely that they would want to sell him at this point in time. However, if the offer was right then the club would probably be unable to resist a bid from outside of Ligue 1 but whether Chelsea are prepared to firm up their interest after only half a season of top flight action remains to be seen.
Finnally, one other player who has been casting glances towards England from the bottom of Ligue 1 is lowly Nice's talented attacking full-back Fabian Monzon. Despite only having joined the club in the summer, the Argentine has admitted to having a soft spot for EPL football and would be keen to test himself there in the future after an impressive showing in the first half of the French season, netting four times from defence.
Speaking to L'Equipe recently he said: "I have always loved English football. But I am fine at Nice and I would like to help them avoid relegation."
Anticipated influx of players to Ligue 1: (The PSG Effect)
Following the recent events in the French capital you'd be forgiven for thinking that the circus was in town. Free-spending PSG top the league by three points despite disappointing exits in the Europa League and Coupe de la Ligue and still decided to sack their popular manager because he is not 'exciting' enough. Madness!
As far as they go, big names don't get much bigger than David Beckham and the former England captain has been courting intense interest from the ambitious capital outfit who are keen to raise their profile in world football and have identified Beckham as the man to help push the club into the spotlight. Despite his management insisting that a deal has not been agreed with PSG, the French media are positive that Beckham and his entourage will be arriving in France to mark the birth of 'a new era' in French football.
A spokesman for Beckham recently stated: "No agreement with any football club has been reached. Any talk of a deal is premature. David is presently considering his options." However, PSG's Sporting Director Leonardo admits the club have been in touch with Beckham and the LA Galaxy midfielder has refused to commit his future to the MLS outfit.
A host of other EPL players' names have been linked with the club over recent weeks including Chelsea's disgruntled winger Florent Malouda who played under Ancelotti at Chelsea, QPR's enigmatic midfield creator Adel Taarabt and Manchester City's outcast centre-back Kolo Toure. However, it would appear a striker is top of the club's shopping list this January and either Carlos Tevez or AC Milan's Alexandre Pato could arrive to give the club a high-profile boost.
Tevez it seems has set his sights on a move to AC Milan however, but his move to Italy would require PSG to sign Pato for in excess of a whopping €45million to finance the move and Leonardo himself has spoken of his desire to sign the Argentine should former club AC be unable to negotiate a deal for the forward. Therefore PSG appear to be holding all the cards for the moment.
Leonardo recently told La Repubblica in Italy: "I will not steal Tevez from Milan. I have not contacted the player and I will not get in between the Rossoneri's affairs. We are looking at him without disturbing anyone. But if Adriano Galliani changes plans, then we are interested."
Pato's agent spoke to the French press following a trip to Paris recently where he met with Leonardo and hinted that PSG had decided to approach his client, paving the way for Tevez to move to Milan. Gilmar Veloz said: "We received an amazing bid from PSG. Pato agreed this one. Now it depends on AC Milan.
"Ancelotti is a great champion, (sporting director) Leonardo is a top official, (David) Beckham would be more than just a team-mate and PSG is close to becoming a great club. All of that is attractive, but we won't be making the decision."
PSG aside, Ligue 1 could also witness the return of one of its most recent star names if Bordeaux President Jean-Louis Triaud has his way. The club have been chasing unsettled Arsenal striker Marouane Chamakh for a number of months and with les Girondins desperate for some firepower up front the club are set to turn to one of their star graduates. However, Chamakh is determined not to give up his EPL dream just yet despite his deep-rooted connections to the French club.
Speaking in France about the recent rumours and his future he said: "I have the idea that I will finish the season at Arsenal. But in May and June, I will see things differently. I'm 27, I'm a competitor and I want to play but I cannot live like this forever. I will make a decision this spring. If I return to France it will be with Bordeaux."
Players that won't be moving this January:
Despite the heavy amount of rumours linking players with moves away from Ligue 1 in January, there are a number of players that will be staying put. Modibo Maiga's failed move to Newcastle looks like it has put paid to his hopes of a swift exit from the sinking ship at Sochaux. His medical exposed a knee problem that is likely to put other suitors off of making a bid for his services this winter. Yoann Gourcuff is another name that has regularly been mentioned as a possible target for EPL sides; however, the talented Lyon midfielder has seen a potential move from favoured suitor Arsene Wenger ruled out this winter so expect to see him staying in France.
Montpellier's Younes Belhanda has been making waves this season for la Paillade and it had been expected that his sparkling form could earn him a move abroad but his involvement in this year's African Cup of Nations makes it unlikely that anybody will be bidding for him in January, so EPL fans might have to wait a little longer to see if the talented midfielder makes the move across the Channel. He won't be the only one affected by Africa's biggest footballing event however; Andre-Pierre Gignac had been expecting to leave Marseille after enduring a difficult start to the season and having seen a last-minute move to Fulham fall through at the end of the summer. Instead, Gignac suffered an injury towards the end of the French winter campaign and he is now to be sidelined for the majority of the month and with Marseille's squad set to be heavily depleted by those heading to Africa, Gignac is set to be handed a chance at redemption.
The biggest name to be linked with a move to the EPL this winter transfer window is also a player who will not be going anywhere until at least the summer. Lille's attacking wonderkid Eden Hazard is constantly touted as a target for Europe's biggest sides and has recently been linked with a move to Manchester City which would see him loaned back to Lille for the rest of the season.
However, his agent Marc Formeaux scotched these rumours when questioned on Hazard's future: "There is talk of a €30million bid from Manchester City but Lille president Michel Seydoux is looking for closer to €40million. However, Eden has explained to me that he wants to play for Real Madrid."
Hazard has always insisted he will stay put until the end of the season and it seems that he is ready to keep his word before pursuing his dream move to Spain at the end of the current campaign.
With rumours and early transfer bids now surfacing, the transfer window is already hotting up and unlike so many others that have preceded it, this one could be a really eventful one. With plenty of big-name moves potentially just around the corner, all eyes will be on France as Ligue 1 looks set to explode amidst a flurry of mid-season activity. Stay tuned for more...