Win some, lose more
The shadowy world of the football agent is one that is cloaked in secrecy amid accusations of greed. Thankfully, we've got one of the good guys on board to lift the lid on what life really is like at the sharp end of a notoriously cut throat business.
By Secret Agent - Follow me on Twitter @SSSecretAgent
Last Updated: 28/02/12 11:43am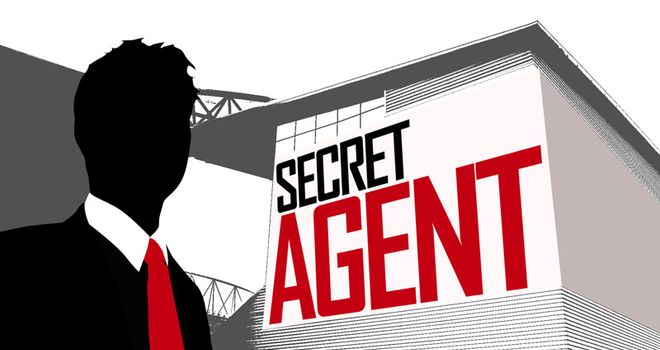 As an agent when the transfer window shuts you can't just switch off and wait for the next one to open. Like a lot of agents up and down the land I will be taking a couple of days to lick my wounds, relax and recharge the batteries but it's very important that I take stock and review the January window on a personal front and also in general.
I will look at what I did with my clients during the window and also what, through hindsight, I should do next time when in similar negotiating positions. There is no handbook or Dummy's guide to being a football agent, and that's more the pity. Obviously there are some general rules and practices that we all follow but in this ever changing football business you are always learning. Knowledge is power!
It's also vital to check on how the window unfolded outside of my own specific dealings, so I'll need to read the websites, newspapers and Twitter comments to see what business clubs did. Even more importantly, you need to work out what business clubs didn't do. Preparation is the key in this game so if you read that Tottenham missed out on signing a new winger or Sunderland brought in a defender on loan then that's two areas you need to attack in the summer.
God bless Jim White for managing to get excited over the last minute loan move of Sebastien Bassong to Wolves, but even the Silver Fox would have to admit that the window was a little on the quiet side. We were spoilt by the Torres and Carroll moves last year; the total expenditure of this window only just passed the £50million mark that Chelsea paid for the Spanish striker alone.
The reasons for the quiet window I talked about last week. The primary causes of a stalled market was the lack of quality available within a reasonable price range, the absence of a big transfer between clubs in the Premier League to kick-start a domino effect of follow-on deals and chairmen telling their managers that the budget had already been exhausted in the summer window. These are austere times after all...
On a personal note, the 'protracted' transfer saga which I've been keeping you updated on finally came to a conclusion. Two Premier League sides put in significant offers for the player, which after much agonised (particularly for me!) deliberation, were rejected. One of the clubs went back with an increased offer but this was also spurned. Both clubs then refused to up the stakes any higher and decided to try for other targets.
The selling club is going to lose the player in the summer and for significantly less than what they were offered this week, but life in the top flight is all about taking calculated gambles. With Premier League survival not secured the risk of losing their top flight status was far more financially unnerving than potentially losing a few million on a player who they see as key to keeping them up this season.
I was disappointed with the outcome, a commission like that would have paid a few bills for a while but I knew the nature of the beast when I bought a second mobile phone and got into the industry. You win some, you lose more.
I can appreciate their decision, I would do the same in their position (excuse me for a moment; something has just stuck in my throat).
That failed bid is symptomatic of how a lot of deals go by the wayside during every transfer window, especially this winter. Club chairmen aren't prepared to pay over the odds for players anymore, while managers aren't prepared to sell an influential player in the middle of a season.
My completed deals during January were much like the window itself, mainly made up of loan moves. On top of that, I got a couple of players and their clubs to 'mutually' agree to cancel their contracts to enable them to seek a new employer in the pursuit of regular match time (it's vital to be playing football this time of year with contracts up in the summer). I also managed to negotiate new improved contracts for a couple of my players too, so it wasn't all doom and gloom.
There's no rest for the wicked, an apt phrase for us agents according to many, as the transfer windows in Russia and many other countries are still open for business. I hope to have a deal or two secured in these far-flung places before long and will be working my contacts until the fat lady is singing in Moscow. I still have a couple of free agents available who can join a club anywhere, at any time, and don't forget the loan market opens for Football League clubs a week after the window shut.
The image of us agents has taken another beating in the last week or two with some high profile disputes played out in the media, with the blame aimed squarely at the door of the respective representatives of Ravel Morrison and Carlos Tevez. Not much more needs to said about the latter but it's fair to say ushering your player out of the back door at Old Trafford to move to Upton Park is a move that smacks of chasing immediate coin at the expense of organic player development.
For me this week it's back to reality and getting my hands dirty as tonight I take a young player, a bit down on his luck, to a new club in what is the sixth level of the football pyramid (that's the one below the Conference). I'll be there to 'hold his hand' as he meets his new manager and team-mates. Let's not forgot a lot of these lads are just kids and greener that Shrek. Hopefully this move will kick-start the long haul back to the professional ranks of the game - if he works hard that is.
You won't see me neglecting those players who need that bit of support, advice and help when they're down on their uppers. Time is money and all that but I'll often use my network of contacts even when there's no financial gain for myself. Perhaps I need to be a bit more ruthless and spend precious time and resource on making commission on the big deals instead of travelling around and making calls to get a kid a club in the non-leagues. I was watching Wall Street the other night and something Gordon Gekko said was a bit of light bulb moment: "I look at a hundred deals a day. I pick one." Who am I trying to kid? It's just not my style.
Later in the film he also said "Jesus, if this guy owned a funeral parlour nobody would die!" For most of this window I've been that guy!
So amid widespread criticism of the work we do I hope this is a timely reminder to not paint all us agents with the same brush. I am still working on the fringes of the big deals and it's a tough gig at times. Yes, I make a living out of the game but I am a very long way from becoming a so-called 'Super-Agent'. I would rather be seen as a 'Decent Agent' helping where I can and providing the right sort of support when needed, in the hope of making that big deal one day.