Our Road to Wembley
Our Road to Wembley feature continues, and we catch up with Everton legend David Unsworth.
Last Updated: 16/02/12 7:18pm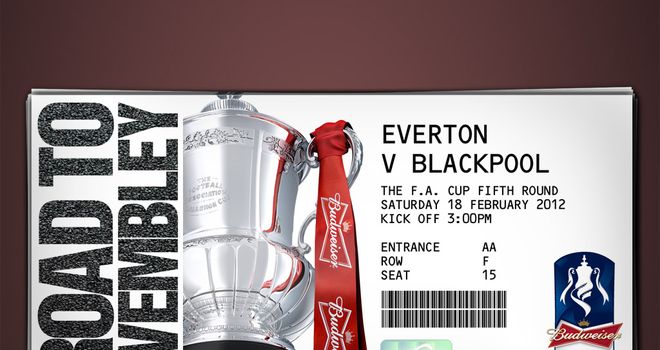 The fifth round of the FA Cup is upon us and for the first time this season our Road to Wembley features stays with the same club for a second round.
Everton came through the last round with a 2-1 victory over Premier League rivals Fulham at Goodison Park.
Now for the third round in succession they again have home advantage, with Championship high-flyers Blackpool the visitors to Merseyside.
Entering into the fifth round, or the last 16, talk of FA Cup magic is beginning to emerge in the Toffee quarter of Liverpool, and memories of 1995 - their last cup victory, are again resurfacing amongst the Everton faithful.
Evertonian
And one Evertonian who admits the cup final is already on his mind is David Unsworth.
Unsworth is a life-long Toffee, who began his career with the club and in two different spells played some 348 games for Everton.
The one-time England international has a lot of fond memories from his playing time with his boyhood heroes, but he acknowledges that the FA Cup win in 1995 was the highlight.
"I have a lot of great memories from my time, but the FA Cup was special," he told Sky Sports.
"Many people forget that we came from nowhere that season, Joe Royle came in and turned us around, and we went from relegation strugglers to finishing the season as FA Cup winners, beating Manchester United in the final."
Unsworth admits that the FA Cup did mean more in his time, but he puts that down to increasing interest in other competitions.
"The FA Cup lost a lot of magic, although I think in recent years it is beginning to get back to previous levels," he said.
"I personally think the main reason is down to the Champions League and the impact that has made on the game.
"Suddenly the FA Cup has only become the third most important competition for most clubs, but winning the FA Cup is still a huge thing."
Unsworth himself remains a true Evertonian, and after leaving his role as first-team coach at Preston earlier this season, he has been enjoying a number of visits to his beloved Goodison.
"I have been able to get to a number of games and I have seen the cup matches, and I will be there again on Saturday," he said.
And he is one of those Evertonian's who is confident that they could be seeing a repeat of 1995.
"I really do think that everyone is starting to think about Wembley now, after drawing Blackpool at home, and that is no disrespect to them, I think confidence is high.
Fortress
"But I just think once the home tie came out, that was the main thing - Goodison really is a fortress at the moment and they can beat anyone there.
"David Moyes really has them playing brilliantly at the moment as he continues to perform miracles given what he has to work with.
"But there is a feeling now, not necessarily of Wembley, that this could be our year and I don't see any reason why not."
Unsworth admitted that an Everton triumph this year particularly would be poignant following the death of Gary Ablett.
Ablett is the first member of the 1995 winning side, to have passed away and Unsworth feels it would be hugely fitting if they won this season.
"Of course Gary passing away was heartbreaking and a massive loss to everyone at Everton, but also for the city as a whole after his time with Liverpool too.
"But it really would be wonderful if they could do it this year following Gary's death. He was such a great guy."
Unsworth himself remains intent on continuing his coaching career and he is ready to get back into the game after his three-years with Preston.
"I had three great years with Preston, and I loved my time there and I truly wish them all the best for the future, and I hope they can get back to where they belong very soon," he continued.
Not even 40 yet, Unsworth remains a youngster in managerial/coaching terms and he admits he would love to be back at Everton one day.
"That would always be the dream," he admits.
"But I am just looking to get back into the game now, it has been great spending time with my family, but I feel ready to look at what options are there."