Kenny still King
Sky Sports looks at the impact of Kenny Dalglish after Liverpool's Carling Cup final win.
Last Updated: 01/03/12 1:07pm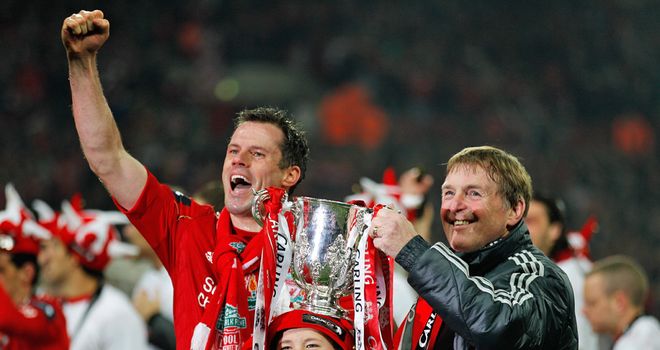 His judgement has been questioned over these past four months. At Anfield, though, Kenny Dalglish remained King. And this is why.
Less than 14 months after answering the SOS call ordered by John Henry, skipping off the Silver Wind in Bahrain and leaving 290 blue-chip passengers without a host, Dalglish has delivered the currency that frames his life.
After six barren years, that mighty red machine is cranking up once more. Liverpool have a trophy to clean and Dalglish will strain every sinew to ensure there are more to follow.
Maybe the glory days will never return fully. But Dalglish - and the watching club principal owner Henry - know Liverpool are far more than they have been. And the work has now begun.
In contrast to Cardiff, who were making their third visit in four seasons, any Liverpool fan attending Sunday's game at Wembley would have needed to be at least two decades old to have any proper recollection of those ridiculous white suits that were worn on their club's last visit in 1996.
The statistic is unfair in the sense that the Merseyside outfit made eight trips to Cardiff when the Millennium Stadium was being used instead of Wembley.
Glorious
However, there was an uplifting feeling around the ground in the hours before kick-off, unusual when the bigger teams are present as their fans tend to leave arrival rather later and make less hullabaloo.
That Liverpool's balloon was the one to be punctured was perfectly in keeping with those seismic events at Emirates Stadium and Carrow Road, where an illustrious Welshman had added his own glorious contribution to a fabulous weekend for the men from the Valleys.
Through the rugby union boys, boxer Nathan Cleverly and Ryan Giggs it had been a rare old weekend. It would have been a shame to spoil it. And with one swift swipe of Joe Mason's boot, Cardiff seized the initiative.
You could not say they deserved it. Liverpool carried most of the threat, Glen Johnson struck the bar and Tom Heaton was by far the busier goalkeeper. What the Championship outfit did was make fewer mistakes.
After all, it was not one of their players who had a fresh air shot at an inviting cross, as Jordan Henderson did when he tried to profit from Stewart Downing's hard work.
At £16million, Henderson has been a questionable purchase and his detractors were given even more ammunition with a shot at the start of the second half that went fully 20 yards wide.
For the goal, Martin Skrtel's initial distribution was poor, Daniel Agger's desperate charge to close down Kenny Miller fatal. All that did was leave a massive hole for the Scot to roll the ball into and Mason, showing impressive calmness, did the rest.
Inept
On the touchline, Dalglish looked even more worried than usual.
The only trophy he had never previously won as a manager, this tournament was kind to the Scot as a player, who was ever-present in that amazing run of four successive victories in the early 1980s which form the basis of Liverpool's record overall triumphs. Not even he wore a cup-final suit this time.
Instead, the 60-year-old went for a snug-looking grey jacket, which at that precise moment probably matched the colour of his mood.
He certainly would have been in no position to appreciate a gag about an Englishman - born in Plymouth - an Irishman - the country he plays for - and a Welshman - his employers - that Mason is on his own.
It took the removal of an inept Henderson for Craig Bellamy - who received a standing ovation from both sets of supporters - to halt the slide to defeat. Within two minutes, Skrtel had levelled and Liverpool set up camp around the Cardiff penalty area.
The resistance was heroic. Cardiff's grit and determination in the face of severe pressure a joy to behold, they dug so far down into their reserves of resolve and stamina after Dirk Kuyt scored what he thought would be the winner, they would need climbing gear to get back out.
There could be no more suitable scorer of that dramatic extra-time equaliser than Ben Turner, whose attitude was so symbolic of those around him.
They did not deserve it all to end in slapstick, only two of five penalties converted.
Football is a brutal game, though. And after a touching handshake from Steven Gerrard to cousin Anthony, whose miss presented Liverpool with their victory, King Kenny could be crowned once more.