Secret agent
The shadowy world of the football agent is one that is cloaked in secrecy amid accusations of greed. Thankfully, we've got one of the good guys on board to lift the lid on what life really is like at the sharp end of a notoriously cut throat business.
By Secret Agent - Follow me on Twitter @SSSecretAgent
Last Updated: 13/04/12 11:50am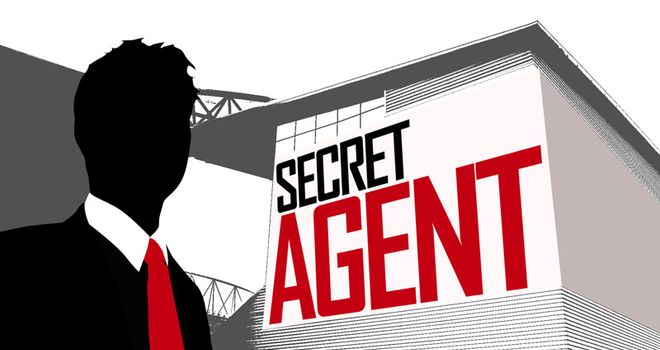 As Manchester United will well attest after last night's surprise defeat at Wigan it's 'squeaky bum' time from now until the end of the season for those clubs still in contention for silverware or facing a different type of battle at the other end of the table.
For players whose contracts expire at the end of the season I've coined the phrase 'sweaty bum' time. It's not a pleasant analogy but then the situation facing a record number of professionals come June isn't too pleasant either.
For many players the reality is that 'squeaky' doesn't come close to expressing the fear of not knowing where next month's mortgage repayment is coming from. The list of players without a club come the last day of June will be longer than the wait for Kenny Dalglish to answer a journalist's question with good grace.
I am looking at the prospect of around eight or nine of my players possibly being without a club when the season reaches its conclusion. I've tentatively got something lined up for at least half of them and am quietly confident something definite will be in place before the end of the current campaign. For the rest of them, their immediate futures in the game hang in the balance.
Circumstances don't help some of the lads. Injury prevents one of them from getting on the pitch to show his worth, but on the plus side he's experienced and with a decent enough reputation to ensure he should get something sorted without too much trouble. That's all very well but his value is value and bartering power is only going one way, with potential suitors aware he's on the lookout on the back of an injury that curtailed his season.
Another player is fighting to keep his team in the division and along with his team-mates, won't know his future until his club knows which division they will be playing in next season. It's a similar story up and down all the leagues, with numerous players left in limbo as no decisions are made while budgets are still up in the air dependent on what level they will be competing at next season. None of this makes my job any easier.
Injury and club security are two reasons for decisions on contracts being held back; the other is when a club is without a permanent manager. Clubs as disparate as Burton and Chelsea don't know who their next manager will be next season and, understandably, club chairmen are loath to hand out new deals. Until such managerial situations are resolved, contract talks are very much on hold.
I'm sure the likes of Didier Drogba and Salomon Kalou aren't suffering from sleepless nights thinking how they will pay for their half dozen cars, penthouses and Mediterranean hideaway but that's not the case for players further down the football pyramid. Large numbers of their Football League counterparts are at best looking at a pay cut to remain in the professional ranks. This is the harsh realities of football these days.
The yearly cull of players is nothing new though. It's discussed in the media every year and indeed I've highlighted it in previous blogs. To put it bluntly, it's a fact of a footballers' life these days and there's precious little point bleating about it. It's a harsher reality in the lower leagues today than in the (relatively) free-spending days of past but we have to get on with it and hope for a positive outcome.
My job is simple: find every option available to the player to keep him in employment. Just as important, and this is the point where voices are often raised, is to make sure a player realises that options are limited and now is not the time to get picky about having to relocate or travel that bit further than normal.
I appreciate that Bradford isn't Brighton and Fleetwood isn't Fulham but at the end of the day players know the pitfalls when they come into the profession. The mantra I trot out to my less fortunate and less talented players is: 'If you are as good a player as you say you are then we'd be taking business class to Milan not Trans Pennine cattle class to Mansfield. I'm with you either way, but we have to suck it up and make sure that next season we're tasting caviar not corned beef'. I also tend to add that if your motto isn't 'have boots, will travel' a change in career needs to be considered pronto.
You may think I'm being harsh but truth and an occasional verbal kick in the proverbials is as essential as an arm around the shoulder. I'll do my job to the best of my abilities, but you've got to give me something to work with. As Jerry Maguire said: "Help me to help you!" Perhaps some of my players would get the message better if I dropped my Americanisms and instead quote our own Poet Laureate, Paddy McGuiness: "No Likey, No Lighty!"
This leads me on to a dilemma that a lot of agents, including myself, come up against now and again. Like everyone else, nobody works for free, well they do - but I can't afford to. Agent commissions can come from either the club, which is always the preferred option for player and agent, or alternatively the player pays the agent themselves.
The latter option is one that irks a lot of players and can impinge on how agents recruit their clients.
How you ask?
Agents look to recruit players who, dependent on their ability, may have a choice of representatives to sign up to. To appear a more attractive proposition the agent will say something along the lines of 'sign with me and I won't take a penny off you. I will always try to get paid by the club and if I don't, then that's the risk I take'. It's a win-win situation for the player, no brainer.
Despite what everyone thinks, commission for agents from clubs is being squeezed every season. So unless you get your clients to sign with a club willing to pay you a fee, you will be working for nothing. You may be able to get away with that for a season, but if you sign all your clients up on a 'club pay or no fee' basis then you'll be out of business quicker than the latest dud Apprentice candidate.
At the end of the day you are providing what is essentially a recruitment service for your playing clients. They come to you with no club and through your hard work you find them a new employer. The only other place someone will find you employment without charge is the Job Centre! Do I need to say any more?
Recently I've definitely seen a slow shift of thinking towards players paying their agents. It can sometimes take a player's parents to convince their offspring that this may be the route to go down in the future, especially if it increases their chances of staying in gainful employment.
A number of the wiser and more experienced players are also being realistic and know that the days of free agency help, especially in the lower leagues, are on the decline. If an agent tries to be clever and attempts to hold a club to ransom to get a fee then more often than not they will have a Plan B or C in situ and take that option. In these scenarios you've not only shot yourself in the foot but more importantly, lost your client a job.
This is the tough reality of the economic times we are living in and we have to pass such a sentiment onto our clients more than ever. It's not going to get any better any time soon either...