Secret agent
The shadowy world of the football agent is one that is cloaked in secrecy amid accusations of greed. Thankfully, we've got one of the good guys on board to lift the lid on what life really is like at the sharp end of a notoriously cut throat business.
By Secret Agent - Follow me on Twitter @SSSecretAgent.
Last Updated: 03/05/12 2:06pm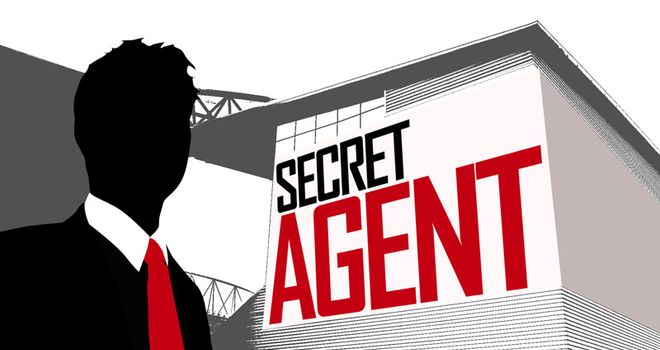 The adage 'too many cooks spoil the broth' is not a new one but just a single letter needs changing to aptly describe the way a lot of transfers are conducted these days.
With numerous intermediaries, not necessarily agents, all trying to get involved in a deal it's no surprise when many fall through before they've even got off the ground or more frustratingly, just minutes before the player is due to sign.
There are players who we all know are represented by a particular agent. Paul Stretford manages the on and off field negotiations for Wayne Rooney, Jorge Mendes does a fine job looking after Ronaldo, amongst others, while Eric 'Monster Monster' Hall was the larger than life agent for Dennis Wise.
In the majority of cases though the same knowledge of which players are represented by who is not widely known.
Like the agents mentioned above, I have my players signed to me under a representation contract which means that they can only be represented by me when negotiating a move to a new club. Usually I will be informally speaking to managers, coaches and chief scouts throughout the season, letting them know who I represent and when the time comes if there is interest in one of my players they know to speak to me direct, instead of using a third party.
Unfortunately there is no reliable database available with details of which player is represented by which agent. A couple of companies have tried in vain to set websites up, but when the information is updated by the agents themselves then it is open to mistakes and misdemeanours. Some bloke in Bulgaria claims to look after one of my players. How that came about I've no idea!
I was recently contacted by someone working for an agency telling me a club were interested in one of my players, whose contract was due to expire at the end of the season. How did the agent find out that I looked after this player? In this case he simply asked a player he knew at the same club. I had already been in contact with a few clubs about a summer move, including renewal at his current employers.
After I was contacted by this agent it gave me a couple of options to consider.
Be polite and tell him: 'thanks, but no thanks', if you've got the right connections you should already have a good idea of who the interested club may be. The upside to this is that you remain in full control of the direction your player's career takes and no one gets near to one of your prize possessions. Meanwhile any commission made goes into your pocket only.
The risk you take when keeping everything under your sole control is the possibility of missing out on a move to another club, and it may be one you didn't consider to be on the radar for your player. If you do this and the player finds out that he could have doubled his wages and been playing Premier League football instead of struggling in the Championship it won't take long for him to decide he's better off without your help - thanks very much.
Personally, I'm open to hear what other agents interested in my players have to say, but it's vital that any agreement between myself and the other representative keeps me in control if a transfer is agreed. Personal contact with your player is strictly off limits to the 'sub-contracted agent'.
At the same time it's probably a good idea to also sign an extension to your current representation agreement, just to ward off any lingering thoughts that the new agent may hold with regards getting your lad under his control. Hopefully the player you've got isn't that fickle, but once bitten and all that.
This all sounds very civilized, organised, official and an amicable way of working for the good of all parties. This deal could be the start of a nice new link-up between agents which may produce further collaborations in the future. What a wonderful and beautiful business it is when this happens. Get real. This is very much the exception rather than the rule.
It's not just the agents who are causing the problems when it comes to transfers. The players themselves are also up to no good. Some players are happy to have more than one agent working for them, even though they have an agreement in place with a single agent to act on their behalf.
It's like the player is a contestant on 'Take Me Out' with Paddy McGuiness, where the bloke is trying to find himself a hot date out of the 30 women on the show - while his wife is watching. You just don't do it.
They are leaving the door open to other agents to see which one can bring them the best possible deal. At times it's not unheard of to have three or four, sometimes even more, agents trying to get a deal for a single player, all the while under the assumption they are the only ones working on the transfer.
Where a wife would likely try to do a 'Bobbit' on her husband upon similar infidelity, the player is in breach of his contract and the agent is quite within their rights to take it down the legal route. They could well be awarded some sort of compensation and the player fined by the FA.
The football business may be global but it doesn't take very long for some 'overlap' to happen, where one or more agents contact the same club about the same player. Your contact at the club will admit that there is interest in the player but he will tell you that you are the second or third agent to bring this deal to the table.
My response would be to tie up the player like Cathy Bates in Misery. Joking, I think! If you don't foster honest relations between yourself and your clients it makes you look stupid in front of clubs you've built up a reputation with. It's certainly easier to lose a club's trust than gain it.
The answer would be for an official FIFA database to be introduced, whereby it's made clear which agencies represent which players. It makes it all transparent, it simplifies transfers, and it would reduce the amount of rogue agents in the game and in turn reduce the number of legal problems.
Will it happen? No, is the simple answer. Why? A lack of desire for change and a likely influence from some agents linked with high ranking officials.
Sad but true.