Gaz Coombes
Gaz Coombes of the Supergrass fame shares his Manchester United-themed Football Firsts.
By Rachel Griffiths - Follow me on Twitter @SkySportsRachG
Last Updated: 23/05/12 3:46pm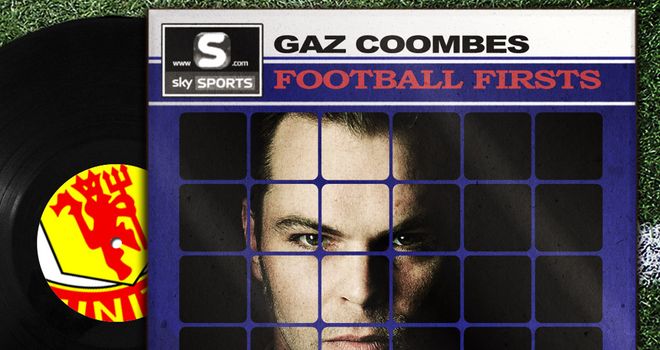 Following his success as the lead singer of Supergrass, Gaz Coombes is set to release his debut solo album 'Gaz Coombes presents...Here Come The Bombs' on May 21st. Sky Sports caught up with the long-time Manchester United fan as he shared his earliest Red Devils-themed memories.
Manchester United
When I was a kid I had family in Birmingham, family up North in Manchester and I was brought up in Oxford. So it was a choice of Oxford United, Birmingham City or Manchester United. Man City didn't even come into it, I might add. It was a choice of those three and at that point it was just an easy choice for me. My oldest brother was a United fan and had all the posters on the wall and stuff, so I just gravitated towards it really and that was that. It was a bit of a weird time though; we had a massive history but we were in the lower reaches of the First Division at that point, this was before Fergie came along and did his magic. All my mates supported Liverpool around that time, as you can imagine, so I got some stick.
Manchester United 2 Manchester City 2, 1986
I think it was a derby actually - Manchester United versus Manchester City at Old Trafford. It's hard to remember but I think it might have been a draw. It was a mad game to go to as a first game because the derby is always pretty raucous. I think my dad was trying to cover my ears at a few points because of all the ranting and abuse and stuff. But it was a real classic first match to go to. I've been to a lot of United games in the past but I love the away games, the away fans are so great.
Bryan Robson
I always had this thing about Bryan Robson, he was probably my idol. I loved the way he played and he was United through and through. It was a great time for United, I remember that team really well, with Mark Hughes, Robson, Frank Stapleton. I really thought Robson would do the business in management, I thought he had the brain for it, but maybe he hasn't done the right thing yet.
Brazil at 1984 Olympics
I spent a bit of time in the States as a kid and we lived in California. I remember going to the 1984 Olympics and watching Brazil at an LA Stadium. I was about eight I think. Another memory is meeting Micky Thomas after a gig. It was the only time in my life when I've asked for someone's autograph and they've asked for mine. We sort of just handed each other our autographs - it was a great moment.
Garsington Boys Club
It was my local club. I was never really that good but I think I liked to think I was. I saw myself as a midfield maestro but I was just a left-back. I played at Wembley once in a charity match, I think it was England versus Scotland. It was me and Danny from Supergrass, Massive Attack, a few of the Blur boys playing against people like Primal Scream. I think we won actually. It was my moment at one point where I was put through by Danny and I was facing the goalkeeper, it was almost like a one-on-one, 30 yards out. I just sort of fell over the ball. At Wembley. I went off to the side of the pitch and, I think it must have been a heavy one the night before, because I threw my guts up. From what was about to be a great moment turned into an awful moment. But it was all for charity.
Manchester United, 1985
I remember my first kit really well, with the white stripes around the shoulders. I had the home and away kit that year. It's just that magic time when you're first getting into football. I was up in Manchester doing some gigs a couple of years back and got in touch with a guy who took me around Old Trafford for one of those tours. We went in the dressing rooms and I could go and sit in the dug-outs and all that stuff. I think I was telling him about that period of United and at the end he presented me with this replica 1985 shirt and all these feelings and memories of being a little boy came floating back.
After six successful albums with Supergrass, Gaz Coombes will release his debut solo album 'Gaz Coombes Presents... Here Come The Bombs' on May 21st, check it out here.