Lawson
Andy Brown, frontman of guitar-popsters Lawson, shares his earliest Liverpool memories.
By Rachel Griffiths - Follow me on Twitter @SkySportsRachG
Last Updated: 14/06/12 4:42pm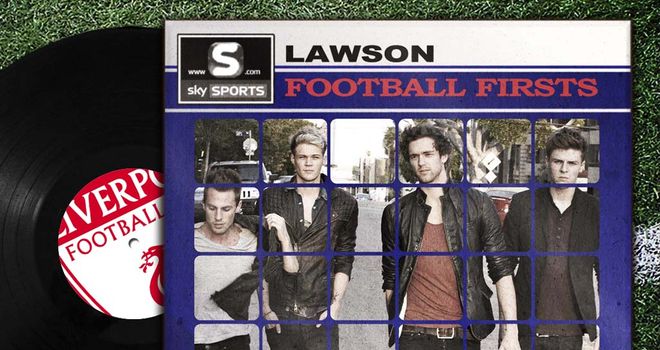 After supporting tours for the likes of The Wanted, Avril Lavigne and Will Young, guitar-pop four-piece Lawson are set to release their debut single 'When She Was Mine' this month on the back of a successful UK headline tour. We caught up with frontman and Liverpool fan Andy Brown to discuss his earliest Reds memories and a season he would rather forget.
Liverpool
My dad and my brother are lifelong Liverpool fans so I was just sort of born into it. I think it goes right through the family down the years, as far as I can remember back. As soon as I could stand, my dad had a football at my feet and I was going to the games with him. I don't get to go to as many now because I live in London but we've got a season ticket between the family, so any time I'm home my dad lets me have the ticket for the day. I went to a lot of games growing up, as many as I could. Back in the day when Liverpool were amazing it was one of the best teams to support.
This season hasn't been your best, though... It was obviously disappointing, to finish eighth considering we've dominated the league in previous years, but hopefully we can bounce back from it in pre-season, get some good signings.
It's a tough one with the whole Kenny Dalglish situation because I think a lot of fans are saying he didn't get enough time and other people are saying it was the right thing to let him go. I'm sort of on the fence to be honest, I don't really know what the best idea is. I think every Liverpool fan would say we want someone of a Jose Mourinho level, like Pep Guardiola or Frank Rijkaard or someone like that. The guys we're being linked with, like Roberto Martinez, he's done a great job at Wigan, but personally I think if we want to compete with the likes of Manchester City and Chelsea, we need a big-hitter manager.
I would prefer someone like Guardiola or Mourinho, although he's just signed an extension at Real Madrid. Someone like that, who's got experience of winning leagues and playing in Europe. Although if someone like Martinez did come in, it would be a nice change and it would be a lot fresher. I'm not completely opposed to having Rafa Benitez back - I'd rather have him ahead of Martinez or even Andre Villas-Boas.
Liverpool 2 Juventus 1, 2005
I can't remember the first game I went to, because I went from such an early age, but one of the games that really sticks out was against Juventus in the Champions League. I must have been about 16 and I was sitting behind the goal when Luis Garcia scored a volley from 30 yards. I think we beat them 2-1. The Champions League nights at Anfield were just special and that was when I first realised it.
Steven Gerrard
He's definitely the hero of my generation, but I think most fans would say he's a Liverpool great, with the likes of Dalglish and Kevin Keegan. He's an amazing captain and an amazing player - he's got every attribute. I've had a couple over the years, I loved Michael Owen and I loved Fernando Torres. It absolutely killed me when he went to Chelsea. But overall it has to be Gerrard. I think he was the only man for the job captaining England this summer. Scott Parker is a great player, but I think when Stuart Pearce came in and made him captain that was a bit strange, to be honest. You can't look past Gerrard, he's just an unbelievable captain.
Eric Cantona
Growing up, I remember when Liverpool were in the FA Cup final against Manchester United, Cantona scored that goal in the last 10 minutes. It was a poxy goal and I remember him doing that celebration. He was a bit of a villain anyway with that kung-fu kick.
Losing to Chelsea, October 2005
There's been a few bad memories, but I was at Anfield when we got beaten by Chelsea 4-1 a few seasons ago. Didier Drogba just destroyed us and then Frank Lampard scored a penalty. That was a low point. Then I went to the FA Cup final at Wembley the other week, against Chelsea, and that was pretty painful. We could have nicked it when Andy Carroll got the header in the last 10 minutes, it was really frustrating. If we'd got the FA Cup as well as the Carling Cup this season, it would definitely have lessened the blow.
Rufford Colts
It was my local team where I was growing up. I always played right midfield or centre midfield. I also had trials for Everton and Wigan - I played for Wigan for about four or five weeks. My brother was at Everton and he played in teams with Leon Osman and Francis Jeffers. I used to go and watch him all the time, he was on the cusp of making it. My dad was a great player as well; he played for Liverpool and Tranmere reserves growing up. It was always massively important in our family, but when I was around 15, music came into my life as well and I started to learn to play the guitar and went down that path. I love the music but the lads always ask me, if you could headline a gig at Wembley Stadium or score a goal in the last minute in front of the Kop at Anfield which would you choose, and it's a very tough call!
Liverpool, 1983-85
I've got about 50 Liverpool kits, but the first one I had was sponsored by Crown Paints and it was red with stripes down the front. But I think I had every kit from every year and I've still got them at home.
Lawson's new single 'When She Was Mine' is released May 27th. Visit the band's official website.