Secret agent
The shadowy world of the football agent is one that is cloaked in secrecy amid accusations of greed. Thankfully, we've got one of the good guys on board to lift the lid on what life really is like at the sharp end of a notoriously cut throat business.
By Secret Agent - Follow me on Twitter @SSSecretAgent.
Last Updated: 25/05/12 3:58pm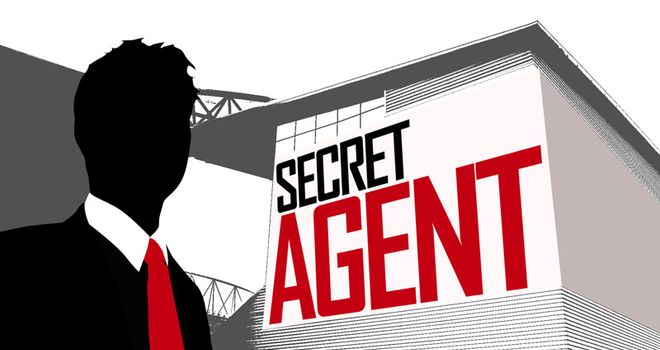 When does the summer window actually open? If you believe the FIFA and Football Association guidelines it's after the last match of the season. So is that the end of April for the Championship, or do we have to wait until the play-offs are done and dusted? In the Premier League we go into mid-May while some European leagues continue until the end of month. It's all a little confusing.
Regardless, there seems to a pattern emerging already for this transfer window. Certainly from the deals I've been privy to and various chats I've had with chief executives, scouts and managers it's become apparent the top two divisions are taking a very different approach to the lower echelons.
With release lists fatter than ever this summer clubs in League One and Two are very much playing a waiting game, while higher up the football pyramid the message I'm receiving is that top clubs want to complete deals quickly and with minimum fuss.
Money has always been tight at the bottom but when you add into the mix the recession, it's no surprise Football League clubs are being cautious, or rather extra meticulous, when planning their summer recruitment drive. I appreciate the old adage about fools and rushing in, but it's been eerily quiet so far.
Managers across the country are studying the free agent lists with the precision of a surgeon, well aware that getting the right players in will determine how the forthcoming season will pan out. Get it wrong and you might not be in situ by the time the winter window comes around.
The usual protocol is that a manager will make a note of three or four players he would be interested in for each position required, which is then passed onto the money men to start negotiations. If player A won't come for £700-a-week then it's on to B or C. It's when you get to D or E you start to worry!
It's all about keeping within a budget in these times of austerity and with the market swamped with available players facing the job centre, the current climate works very much in favour of the clubs. The message seems to be 'take it, or leave it'. Invariably, with unemployment the alternative, lads in the lower leagues have to accept their lot with good grace.
As I've had to remind some of my clients, players at this level have to wake up and smell the coffee. As Mick Hucknall once crooned 'money's too tight to mention' these days, so don't expect miracles from your agent! Of course players are right to charge their agent with finding them the best possible deal (that's what we're here for) but if you wait too long pursuing an ideal move or have an overinflated sense of your own worth (you wouldn't believe it but footballers can be ego-centric) you'll soon find options expire pretty quickly. Just as players crave a need to be wanted, clubs can get cold feet if their potential new signing looks uncommitted.
Meanwhile, on the other side of the divide clubs in the Premier League and the Championship appear to be getting their acquisitions in as early as possible. Arsenal have completed the signing of Lukas Podolski before the season was over, while Chelsea snapped up Marko Marin despite not knowing who their manager will be next season. That's taking forward planning to the extreme.
There's a combination of reasons why deals are being struck ahead of normal schedules. The Euros next month always seem to produce a few players that come to the fore, so before a prime target has a 'worldy' or wins the Golden Boot to double their value, clubs will want to strike early to avoid an auction.
Another reason is the desire to avoid a last minute trolley dash at the end of the transfer window. In this business, at the top end, you don't get last minute bargains; actually the reverse is true. Top clubs don't lower their prices to clear stock. If anything, the nearer to the end of the window that you do your bidding the more you are likely to pay. Just look at Liverpool and Chelsea with Andy Carroll and Fernando Torres respectively. Once it's out that you've a few quid in your pocket that you're keen to spend but running out of time, a selling club will always hike up its prices.
Last season you'll probably remember Sir Alex doing his business very early with David de Gea, Ashley Young and Phil Jones signed to Old Trafford before May was over. At the start of the season everybody thought that this was a masterstroke by Sir Alex Ferguson, as United swept all before them, but in hindsight they ultimately fell short.
Whether Sir Alex's decision to buy early was an overall success is up for discussion, but what can't be denied is that having a settled squad - with all transfer dealings completed before everyone reports back up for pre-season in early July - has real merits.
For an agent like me, working in both areas of this divide, it invariably means that my summer will be long, complicated and at times frustrating. I will probably still be working to get players placed and transfers completed right up until the last day of the window. Ideally I'd love any business to be done nice and early for my players' sake, as much as mine (hey I'd like to get a family holiday too). But of course that won't happen.
I've certainly asked the question 'why is there a need to have the transfer window open for six weeks after the season has already started?' more than once.
Personally I think this is too long. The window should be closed at the end of July. If clubs can't complete business before August then they need to have a long look at themselves and their recruitment policy.
Although there are some sound reasons for the window being open once the season kicks off - to be able to replace players who pick up serious injuries at the start of the campaign for one - I struggle to comprehend why under normal circumstances there's a need to prolong this period of transfer activity. At a time when clubs and their players need to be concentrating on the job in hand, i.e. getting off to a flyer, lingering transfer speculation helps no-one.
I was just about to put the final touches to this week's blog when I had a call from an assistant manager telling me that his club were no longer going to sign one on my lads, who'd been a long-term target of theirs. A fee had been agreed with his current employers and negotiations had been going smoothly. To say I was both non-plussed and perplexed is an understatement. The reason for their U-Turn? 'He's lazy and not worth what he wants'. Charming!
I didn't see that one coming, so it's back to the fire-fighting part of job that comes with the territory. I'll be onto the manager forthwith to try and get him to see reason. I suspect such a sudden change of heart is in all likelihood a negotiation tactic, with the buying club trying to put the squeeze on our financial demands. It's a game of chess and as I alluded to earlier, the clubs have got players in a checkmate position that Bobby Fischer would be proud of.