Talking tactics
A reshuffle may have decreased the drama in the Merseyside derby but it proved Liverpool manager Brendan Rodgers knows his stuff
By Nick Miller - Follow me on Twitter @NickMillerF365
Last Updated: 29/10/12 10:33am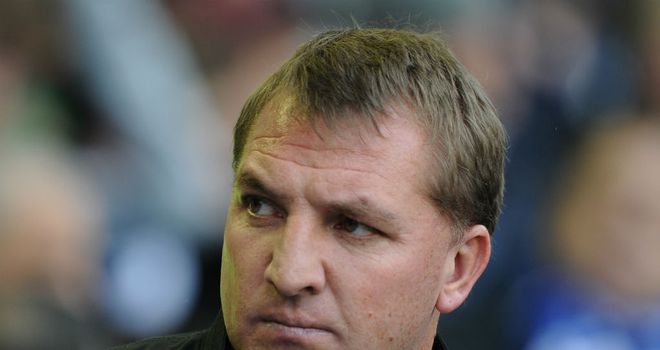 Brendan Rodgers is a spoilsport.
The first half of the Merseyside derby was one of the most breathlessly entertaining games of football in some time. Four goals inside the first 35 minutes, relentless attacking by both sides with defending an optional extra for much of the time, and then there was the added bonus of a hugely childish but enormously entertaining 'dive' celebration by Liverpool's Luis Suarez, right in front of Everton boss David Moyes.
And then, after the break, not a great deal of excitement. It was a trudge in the drizzle compared to a carefree dash along the seaside. Until injury time that is, when Liverpool were denied a perfectly good goal by an errant linesman's flag. Quite how he thought Suarez was offside is difficult to tell, and even the most fervent Liverpool critic must concede they were robbed this time. Perhaps Sebastian Coates fouled Phil Jagielka, but that was not the decision given by the official.
There was a reason for the transformation from blustering fun to controlled, erm, not-fun, and mainly that was down to the tactical switch by Liverpool manager Rodgers.
Whereas Roberto Mancini appears to often switch to a 3-5-2 this season for no good reason, Rodgers recognised the majority of Everton's threat was coming from their left, with the always-dangerous Leighton Baines combining with Kevin Mirallas, having perhaps his best game since arriving at Everton. One of the drawbacks to his 4-3-3 system is the midfield three tends to be fairly narrow, meaning Liverpool's full-backs can be exposed, and the inexperienced Andre Wisdom was given something of a chasing before the break.
Anonymous Fellaini
At half-time, Rodgers changed from his standard set-up to a three-at-the-back in order to give Wisdom a little help. When it works, the right-sided centre-back can help the wing-back by doubling-up on the opposition's left-sided attackers, thus snuffing out the danger. And it worked this time, with Martin Skrtel giving first Wisdom, then Jordan Henderson a helping hand in preventing Baines and team-mates from providing such a threat from that flank.
The removal of the poor Nuri Sahin (only 58 per cent of his 12 passes in the opening 45 minutes found their target) for the more physical presence and drive of Jonjo Shelvey was also a shrewd move.
Of course, it helped a great deal that Mirallas, probably Everton's best player in the first half, went off at the break (one assumes because of an injury), replaced by the ineffectual Magaye Gueye. Sebastian Coates, brought on to play in the middle of the three-man defence, also had a more straightforward job, because he really only had Nikica Jelavic to deal with - Marouane Fellaini had an anonymous game, largely because he did not look fit.
Plenty has been written about the 'philosophy' Rodgers is trying to instil at Liverpool, but this game should reassure their fans their manager has a pragmatic side. He will try to win playing pretty, passing football, but he can recognise when his team is under threat and he has a Plan B, too - perhaps more importantly, he knows when it is appropriate to change.
So Brendan, you rather spoiled our afternoon of fun. Hats off.
This article first appeared on football365.com