Manchester City were wrongly denied a goal and a penalty against Ajax, says Graeme Souness
Graeme Souness says Man City were the victims of two poor refereeing decisions against Ajax.
Last Updated: 07/11/12 10:44am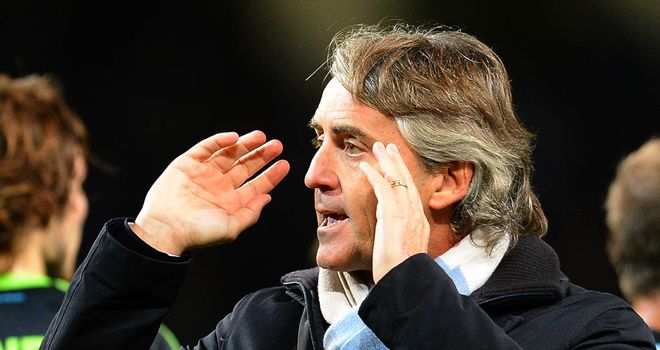 Mancini was livid with the officials after a strike from Sergio Aguero was ruled out for offside and Mario Balotelli was denied a penalty during City' 2-2 draw with Ajax at the Etihad Stadium - a result that leaves them bottom of Group D and eight points behind leaders Borussia Dortmund.
City still have a distant chance of making the knockout stages if they beat Real Madrid and Dortmund in their remaining two fixtures, but Souness said the officials had got both controversial decisions wrong, which had cost Mancini's men a crucial victory.
Of Aguero's disallowed goal, he said: "It was a great goal and I don't see it as being offside. It could have been the winner for them. It is a great finish because he is under a challenge as well. That for me was a perfectly good goal."
And on claims Balotelli was hauled down in the box, he said: "It looks a certain penalty. We were in doubt whether he gets a bit of a hand on it when it pops up but nevertheless he has been totally man-handled."
Souness' fellow Sky Sports pundit Glenn Hoddle added: "The official has a great view. He can see it clear as daylight and I think it was handball so you can let the ref off the hook a bit. I don't see the assistants making enough decisions when the bodies are like that."
When asked if City could beat Real Madrid and Dortmund to secure an unlikely place in the knock-out stages, Hoddle said: "No. In my opinion I don't think so, I really don't. There is something about them still in Europe. They don't have that belief and if they keep defending like that they certainly can't."
Susceptible
Despite City's grievances about the refereeing decisions, Souness stressed their defensive problems, which are ultimately responsible for City's struggles in the Champions League, were clear for all to see again on Tuesday night.
"It is not just in this competition but in the Premier League and everything else," Souness said. "Tonight the problem came from set pieces. Last year with Joleon Lescott and Vincent Kompany in the team they looked unbeatable and if anything came into the box one of them was getting their head to it.
"With (Matija) Nastasic in the team now they are looking susceptible to conceding things. I think Roberto (Mancini) needs to have a look at that. We see it and other managers will see it. They are a team still scratching for the performances they had last year and they are not there yet."
Fellow pundit Ray Wilkins stressed that City simply did not look comfortable with performing in the Champions League, something which is inexcusable given their experience.
"We are seeing at this level that City are not comfortable at all," Wilkins said. "(Siem) de Jong for Ajax, who scored both goals, had numerous shots on goal and Joe Hart performed a couple of great saves again. But he had the opportunity for 20 yards to have a whack.
"City are not comfortable. I asked the guys upstairs to put a few stats together: the City team that started tonight had 241 Champions League appearances and 386 caps between the team. So they should be comfortable at this level, but they don't appear to be so."