Jack Wilshere can be an 'outstanding' player for Arsenal and England, says Nigel Winterburn
Jack Wilshere can be an 'outstanding' player for Arsenal and England, says Nigel Winterburn.
Last Updated: 22/11/12 9:32am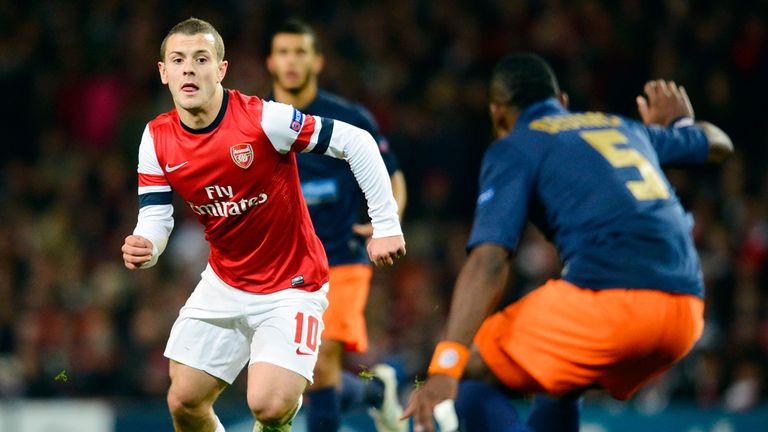 Wilshere, 20, scored the Gunners' opening goal and his first since returning from a long injury lay-off as Arsene Wenger's side beat Montpellier 2-0 to progress to the knockout stage of the Champions league for the 13th season running.
A sublime volley from Lukas Podolski sealed the win, but it was the performance of Wilshere - who returned to competitive action last month after 14 months out with foot and knee problems - which caught Winterburn's eye.
"I think Wilshere can be very, very good; he can be outstanding for Arsenal and England," said the former Arsenal defender. "He's a player who is so strong although he is small, and he has the ability to go past players as well.
"I think he realises that he still has some way to go to get back to his very best but that will only come with playing games.
"He said it himself [after the match] - 'I was so sloppy in the first half'. Giving the ball away when you're playing five or 10 yard passes is nothing to do with fitness.
"But as the game progressed he got better and better, playing the little touches and flicks which was the old Jack Wilshere.
"He can be a big player for England, that's for sure, because he has that ability when the midfield is tight to drive past players and pick out that perfect pass and I think England do lack that at the moment."
Penetrative
Wilshere broke the deadlock against Montpellier with a crisp finish, dinking the ball over goalkeeper Geoffrey Jourdren after former Montpellier striker Olivier Giroud had knocked down Thomas Vermaelen's cross.
The strike was Wilshere's first in almost two years and now he's back in the side, Winterburn says he fully expects the young midfielder to improve his games-to-goal ratio.
"I personally believe for the skill that he's got, the penetrative runs that he makes into the box that he doesn't score enough goals but coming back from a big injury, that will be a massive boost for him," he reflected.
"It's not that he doesn't finish as many chances as he gets - I don't think that he gets into that position enough to score goals.
"I think he's a player with his energy, with his skill, with his work-rate that should be bursting into the box even beyond the attacking players looking to score more goals. I think that will come into his game once he becomes older and wiser."
Unbelievable
Arsenal did catch Montpellier out with a swift burst on 63 minutes when Alex Oxlade-Chamberlain led a counter attack, which Podolski finished in resounding fashion by burying a left-foot volley past Jourdren following a one-two with Giroud.
Winterburn believes the build-up and finish demonstrated exactly the type of team-work that Arsenal need to show more of as a whole if they are to adequately compensate for the departure of Robin van Persie to Manchester United.
"It was unbelievable," he said of Podolski's finish. "Steve Bould said to me that 'this guy hits the ball harder than anybody I've seen in my lifetime'.
"It's just a perfect strike. The sheer power means that the keeper has absolutely no chance.
"Robin van Persie was absolutely outstanding last season, scoring 30-odd goals. That is hard to replace. No one player at Arsenal is going to be able to do that but there has to be a combination of players from Giroud to Podolski to Oxlade-Chamberlain to Walcott to Gervinho to fill that gap.
"It's what Arsenal need to do. They are moving forward again after having a blip over the last few games."
Arsenal's first home win over a French team in the competition leaves them second behind Schalke in Group B but they could still claim top spot in their final group game against Olympiakos next month.