Martin Kaymer can shoot up the rankings off the back of Nedbank Challenge win, says Jamie Spence
Martin Kaymer's victory at the Nedbank Challenge will set him up nicely for 2013, says Sky Sports' Jamie Spence.
Last Updated: 17/12/12 9:28am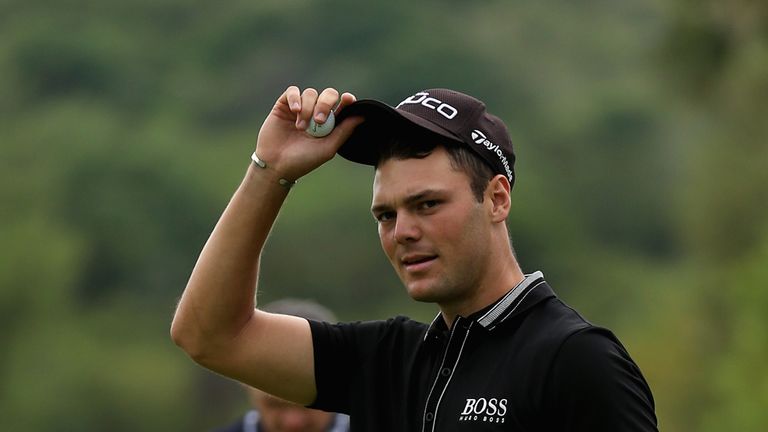 Kaymer, the former world number one, has struggled for form this term and, subsequently, slipped down the rankings, but he picked up his first win of the campaign at the Nedbank Golf Challenge at the Gary Player Country Club on Sunday, beating South Africa's Charl Schwartzel by two strokes.
Sky Sports pundit Spence believes the German has had a renewed swagger since he holed the decisive putt for Team Europe at this September's Ryder Cup in Chicago, and says the 27-year-old will now have designs on returning to the apex of world golf.
"Kaymer came out of himself in Medinah and was a far more relaxed character than the one at the Ryder Cup in Celtic Manor in 2010, where despite being the reigning US PGA champion, he was not one of the stalwarts of the team," said Spence.
"He practiced hard before the Ryder Cup because he was under pressure and his grafting has now paid off.
"He likes the Middle East swing which is coming up soon - he has won the Abu Dhabi Golf Championship a couple of times - and I bet he can't wait to get his clubs out.
"Kaymer will now be thinking: 'I can do something next year'. He was world number one not so long ago and will be keen to sneak up there again - but he has got a lot of competition!"
Clear
Spence reckons Kaymer was very fortunate to escape the 14th hole of his final round with a birdie, but says Schwartzel's club choice off the tee at 17 - a hole he went on to bogey - scuppered the home favourite's chances of snaring the title.
"Kaymer played the best golf, as other players took one step forward and one step back, and in some people's cases, two steps back," said Spence.
"He pulled his tee shot at 14 into the undergrowth, but not only could he have a swing at it but he had a clear line. He was able to get it back on the fairway and make a birdie, when you thought he would make a bogey.
"Schwartzel should have played driver at 17; it's alright sitting here and saying that, but he left himself 200 yards to a semi-island green, a shot that was difficult. I'm sure if he played it again he would get the driver out."
Kaymer and Schwartzel posted final rounds of 69 - along with Francesco Molinari and Carl Pettersson - but there was no advance on that score all week, and Spence reckons the lay-out of the Sun City course did not help matters.
"The golf course won and the weather had a contributing factor," added Spence. "But you would have thought someone would have bettered 69, as there were 11 guys in the top 50, as well as Garth Mulroy, but they couldn't get it going.
"I think the way they set-up the course was pretty poor; they narrowed it in to about 280-290 yards to where these guys pitch the ball and it just encouraged them to hit three wood off the tee."