Hard-working Stoke showed quality in win over Liverpool, said Jamie Redknapp
Jamie Redknapp praised Stoke's quality, as well as their work rate, after their 3-1 win over Liverpool.
Last Updated: 27/12/12 12:30pm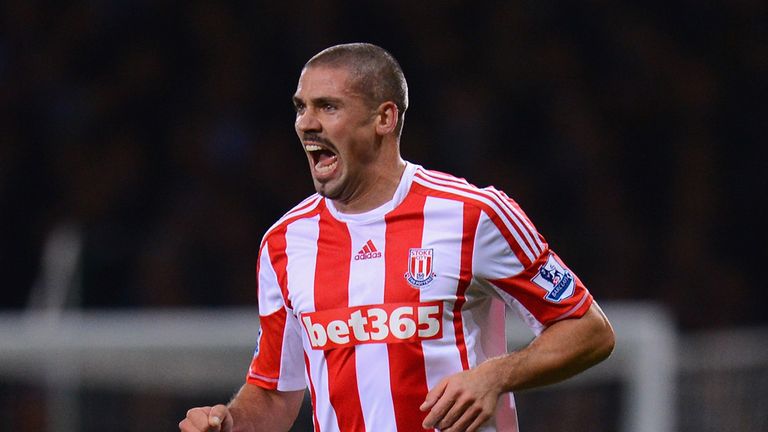 The Potters, renowned for their tenacious attitude, fought back from an early Steven Gerrard penalty to extend their best-ever run in the Premier League to nine games unbeaten, which includes five wins.
A Jonathan Walters double sandwiched Kenwyne Jones' header and secured the points - and Redknapp was full of praise for the battling Ireland international.
"I don't think I've ever seen a forward work as hard as Walters," he told Sky Sports. "It's such a delight, as a midfielder or defender, to have someone up there closing down, pushing high up the pitch.
"It was amazing how many balls Stoke were winning back and Liverpool couldn't handle it. Martin Skrtel and Daniel Agger probably hated every second of it; it was a non-stop bombardment.
"But there was also a lot of quality as well. People like Steven N'Zonzi, who Stoke signed from Blackburn, dominated the midfield against some good company. He was different class on the ball and Glenn Whelan passed it well, too.
"So, there was the work rate that we always talk about, but there was also some positive performances where they tried to play as well."
Replacements
However, Redknapp was less impressed with Liverpool, who had seemingly found some form in recent weeks, and said Brendan Rodgers must look to add to his squad in January to support lone frontman Suarez.
"You could see something starting to happen for Liverpool before this game and we were talking about them having a strong back end of the season, so this is a blow," said Redknapp.
"Suarez up front is different class, he's dynamite - but he needs help. Suso didn't get into the game in the first half and Stewart Downing didn't do enough. Rodgers tried to make changes to make them more positive but it didn't work.
"He needs to get reinforcements in; Liverpool have been lucky to a certain extent because if Suarez had got an injury they'd be in an even worse position.
"The fact he's got as many goals as he has is a God-send but they need players to help him. At the moment they haven't got enough options."
And Redknapp insists the Reds will have to step up their game in the second half of the season if they are to secure European football for 2013/14.
"Liverpool were five points off Tottenham this morning. After Spurs' win over Villa they are up to fourth and Liverpool are eight behind in 10th.
"It isn't beyond Liverpool to get a European place - and I do expect them to have a better second half of the season - but they have to produce better performances than they did against Stoke."
Bale revels in space
Redknapp and Glenn Hoddle also watched Tottenham's 4-0 win at Aston Villa and, while impressed with hat-trick hero Gareth Bale, criticised the struggling hosts.
Redknapp said: "When Bale stays wide he loses some of his impact, but when he drifts infield there are so many possibilities, but you can't give him the space that Villa did; it was too easy for him. Unfortunately, Paul Lambert does not have experienced heads to bring on."
Hoddle added: "The danger with playing Tottenham is the pace they have got, so if you get bodies forward and create space, as Villa did, you are going to leave space for them to punish you. However, Spurs were excellent, both with the ball and defensively."