Moments of 2012
Georgie Thompson remembers an emotional day for Lewis Hamilton, Bob Willis hails amazing Amla and Martin Tyler celebrates Wiggo's gold with a former Norway striker...
Last Updated: 30/12/12 10:30am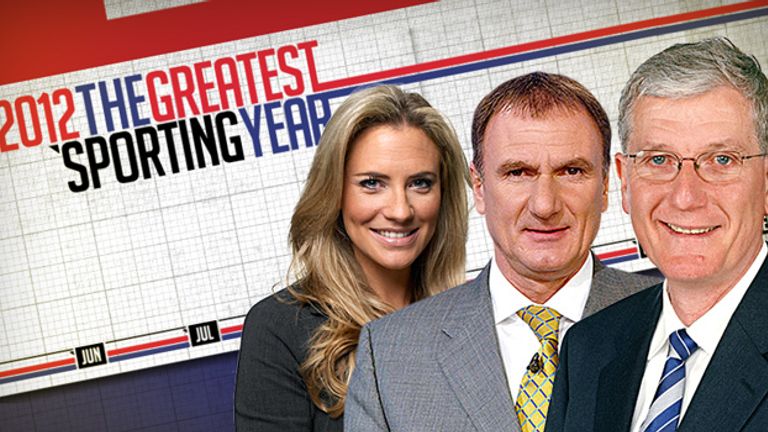 Georgie Thompson (Sky Sports F1)
F1 highlight of the year
I loved Austin, Texas; a live music town with a now dedicated Formula 1 race track. It had all the ingredients for a fantastic race weekend and it more than delivered. The Americans have plenty of sports to follow so to break through and make a case for watching you have to give them good reason and F1 did just that. Lewis Hamilton more than deserved his race win. His victory was an emotional one for everyone with him heading for pastures new with Mercedes in 2013. It didn't much matter what happened in Brazil, that was a battle he was already out of. Austin had its first F1 race winner and Lewis had bowed out in style.
Other sporting highlight of the year
I was lucky enough to be in the Olympic Stadium for that golden Super Saturday; the night which saw Jess, Mo and Greg Rutherford win each of their respective disciplines in front of an Olympic obsessed British public. It was an incredible few weeks but having run against Mo in a ridiculous challenge on A League of Their Own just a year previous and spent some time with Jess at various events, it was just magical to see them both perform as best they can on the biggest stage.
Phil Thompson (Sky Sports Football)
Football highlight of the year
That final day of the Premier League was absolute chaos and pure drama and emotion... it was wonderful! Up at the Stadium of Light and of course, The Etihad where Queens Park Rangers needed to win and looked like they were going to - and stop Man City winning the title. We all know what happened but I do think this is the most fascinating finish to the season since Liverpool lost to Arsenal with the Michael Thomas goal. Everyone is still talking about that Thomas goal, and I do think that perhaps Sergio Aguero and the City win and the occasion, will sink in even more - and we will talk about it for years to come. Also, the fact Sky could show the two games, on the same screen, beamed into your house made it so dramatic. In the studio, I was sat next to Merse who was of course doing the City game and I was doing Tottenham who were winning but if I am honest, I kind of forgot what was going on there! I could not keep my eyes off what was going on at The Etihad. Throw in Jeff Stelling and the emotion he was bringing to everyone watching at home, it was just incredible. It will be hard to beat.
Other sporting highlight of the year
I like my golf and I can understand people picking the Ryder Cup or Rory McIlroy, I can understand the Tour de France, I could pick Bradley Wiggins, I can understand Andy Murray and all of those and what goes with them. But the highlight for me was the overall spectacle of the Olympics and the Paralympics; incredible sporting occasions left, right and centre but in the wider picture it brought so much good feeling to the nation as a whole. Everybody got something great from it - you can go as far up as the sponsors, right down to the cleaners, the volunteers. It was just the best of Britain and both of those events just brought us all together and that is something that doesn't happen too often and will stick with me for a long, long time. It was a joy.
Wayne Mardle (Sky Sports Darts)
Darts highlight of the year
Michael van Gerwen winning the Grand Prix. We don't know yet, but I just think that could be one of the most important wins, potentially, in darts history. When Phil Taylor won in 1990 we didn't know that that was going to be the start of something truly unbelievable and it might be the same with Michael, who I think is the second best player I've ever seen. He came back from 4-1 down to beat Mervyn King and will that be a defining match? I hope so.
Other sporting highlight of the year
The Ryder Cup for me. I've never watched such an intensive day of golf in my life as the final day at Medinah. I follow golf and I play it, but I've never sat and watched seven straight hours of golf in my life before! You could not miss a putt and it was the most intense thing I've ever seen. The European players showed that it's sometimes easier to chase and you really could see the aggression in their play, especially on the 18th. I remember Justin Rose and Martin Kaymer playing fantastic shots out of the bunker and the Americans weren't able to do that because they were trying to free-roll to the finishing line - and it wasn't working.
Scott Minto (Sky Sports Football)
Football highlight of the year
I have two highlights from the world of football. My first would be Chelsea's Champions League win in Munich. My old club had been so close to winning it in recent years, probably with better teams, but the cup with the big ears had eluded them for one reason or another. Robbie Di Matteo's team needed three things to win it: 1. Be defensively solid 2. Clinical with their chances and 3. A bit of luck. To beat Napoli, Benfica, Barcelona and Bayern Munich in their own backyard was nothing short of incredible. And fantastic for all Chelsea fans.
My second would be Spain's win at the Euros. Working on La Liga has made me appreciate Spanish football even more than before. I was surprised at the 'boring' tag aimed at what I believe is the best national side in the history of football. Even people I respect (and played with) said some negative things about Del Bosque's team, although maybe that's because some of them were forwards! But this was football played in its purest way possible. They, like Barcelona, have turned it into an art form. And when you just get teams with 10/11 men behind the ball, even Spain can find it difficult to break them down. I was so pleased with the performance in the final against Italy. They are a joy to watch.
Other sporting highlight of the year
My other sporting high of 2012 has to be the Olympics/Paralympics. A lot of people didn't want it. But it couldn't have gone much better in terms of organisation and performance. There are so many highlights to choose from: Mo Farah's double gold win was incredible, the way Jess Ennis handled the pressure of almost being the face of the London Olympics in the build to then beat the best of the rest was remarkable - but David Weir's four golds was nothing short of inspirational and showed the world what you can do with talent, hard work and mental strength. Practically ANYTHING is achievable If you put your mind to it. No matter what anyone says.
Phil Clarke (Sky Sports Rugby League)
Rugby league highlight of the year
It has to be Wigan's win at Leeds when they scored 50 points (50-8) and they just didn't score 50, they annihilated the Rhinos. I won't be given enough space to talk you through this, but the Wigan performance was one of those that comes along, say every five years at best. They were red hot in every department and believe it or not, they had a weakened side out. On paper, at Headingly, there was only supposed to be one winner... and it was not the visitors, and definitely not them scoring 50 points. Rio Ferdinand was watching in the stands and was in the Wigan dressing room afterwards, because he is a fan of theirs and obviously loved it. But there was another part to this; Leeds' ability to bounce back and eventually go on to win the Grand Final. They are smart enough to learn from defeat and they did, beating Wigan in the Challenge Cup and then the play-offs.
Other sporting highlight of the year
It has to be Mo Farah winning the 10,000m. Don't get me wrong, he was sensational, but that first one was something else. I am a big, big fan of athletics so I was aware of the training, the preparation and the nervousness before that final. And then, for lap after lap, he was still not certain what he was going to achieve down that final straight was a huge buzz. I was sat at home watching it and when Mo crossed that line, it brought tears to my eyes. I'd always had in my mind what he had gone through but to see him produce that performance was incredible... and emotional for all of us watching.
Bob Willis (Sky Sports Cricket)
Cricket highlight of the year
Hashim Amla's unbeaten 311 against England at the Oval this summer was sublime. South Africa were 1-1 when he came in but for almost two days he made batting against a highly-rated England attack look effortless - he hardly raised a sweat in what was a virtually-faultless innings. My recollection is that he hit almost every single bad ball for four and plenty of good ones too! I think Amla has the most complete all-round game of any player in the world at present and, very much in the mould of Brian Lara, Sachin Tendulkar and Ricky Ponting, he's destined to be one of the greats. His runs are a huge part of South Africa's success story - one that has taken them to No 1 in the world.
Other sporting highlight of the year
Europe's Ryder Cup comeback at Medinah was spectacular - and not just because I was watching it in 3D, which is amazing for golf; most greens and bunkers look the same in 2D but in 3D the undulations really come to life. The unique formula of the event meant there was still everything to play for on day three and Ian Poulter played an inspirational role; he looks to be as specialist a Ryder Cup player as Colin Montgomerie was before him, but let's hope that Ian can win the major that Monty couldn't. You need special, talented people around you to mount a comeback as seismic as Europe's - players like Rory McIlroy and Poulter - to inspire everybody; once that happens belief spreads around like wildfire.
Miles Harrison (Sky Sports Rugby Union)
Rugby Union highlight of the year
I am going to be cheeky and go for two. The first is the magnificent Heineken Cup semi-final between Clermont and Leinster. The colour of the day, with that amazing atmosphere, was something that I will never forget. My Heineken Cup cupboard of memories is becoming ridiculously full. And, the drama of the finish was just unforgettable too; it was simply draining to watch. However, I cannot better England's performance against New Zealand at Twickenham - it is my rugby moment of the year. It had everything to be the great story - the World Champions arriving unbeaten to take on an England side written off by just about everybody outside the camp. But, the noises all week coming from inside the England camp were ones of quiet confidence. How they got it all right on the day. It was massively encouraging, not just for England but for northern hemisphere rugby as well.
Other sporting highlight of the year
We all know this has been the greatest ever sporting year. Where do you stop? I'm going to be cheeky again and go for two. And, despite my love of cricket, (well done Alastair Cook et al in India and I was lucky enough to be at Headingly to see KP make the South African attack look like club bowlers), the choices are both Olympics related and family related. We all went to the Paralympics and we will never ever forget that sporting experience. It was one of the greatest sporting days I have ever been to and I have been lucky enough to see all kind of sporting events around the world. That whole experience was just so special that words cannot do it justice. Anybody who went to the Paralympics will know exactly what I mean - it was simply life changing. But, there was one Olympic moment that stood out in that I have never experienced a moment like it before whilst watching TV as a family. It was a moment when we all leapt out of our seats, as one, and started shouting uncontrollably at the set. It was when Mo Farah won his second gold medal... one of those things that you could never orchestrate - everyone in the room up at exactly the same time and charging towards the unfolding picture of greatness. Mo kicked on and we kicked off with uncontrollable screaming and shouting. The Olympics were good but, in my humble opinion, no one moment quite got to that level. Chris Hoy's final bend, Ellie Simmonds' final push, but Mo just won it for me. It was Jonny Wilkinson's drop goal in 2003 all over again.
Martin Tyler (Sky Sports Football)
Football highlight of the year
My football moment was obviously commentating on Sergio Aguero's title-winning goal for Manchester City. It was a truly special moment in the history of league football in this country and as a commentator you just feel fortunate to be there. I'm glad I didn't muck it up - and I appreciate all the kind words that have been said about my words on that day - but the moment belongs to Aguero and Manchester City. I must say however, it's been very strange going to Manchester City matches since May and hearing my voice on the ringtones of Manchester City supporters! I would also mention Ji's dramatic goal for Sunderland against Manchester City. It was amazing that my very first game of 2012 had its own dramatic conclusion and maybe it got me in the right frame of mind for what happened on May 13!
Other sporting highlight of the year
I have a bit of a personal story to tell here. As for many people, Bradley Wiggins is my man of the year and as a resident of Surrey I was in the privileged position to see him compete in the Olympic road race and the Olympic time trial. On the first Saturday of the Games I went to the end of my road to scream for him and the rest of the team, Mark Cavendish in particular, in the unsuccessful road race for Team GB.
On the following Wednesday I stood behind the barriers on Hampton Court Bridge to cheer him on in the time trial and was thrilled he got the gold medal, so I climbed on a fence down by the river to get a vantage point to watch the medal ceremony. As it was about to start I got a tap on the shoulder - and my first instinct was that someone was going to spoil the moment by telling me to get down. So imagine my surprise when I turned around to see [former Swindon and Middlesbrough striker] Jan Aage Fjortoft standing there asking if he could climb alongside me. He'd brought his family over from Norway to sample the Olympic spirit and we shared a remarkable moment in remarkable circumstances. So it's fair to say I'm a Bradley Wiggins man... if only I could I'd grow the sideburns!
For more pundit picks of 2012 check out:
Part one - including Mike Atherton, Stuart Barnes and Jamie Redknapp
Part two - including Johnny Nelson, Sir Ian Botham and Niall Quinn
Part three - including Paul Merson, Guillem Balague and Nasser Hussain
Part four - including Jeff Stelling, Stevo and Dewi Morris
Part five - including Bumble, Chris Kamara and Will Greenwood