Ballon d'Or 2012
Andres Iniesta, Lionel Messi and Cristiano Ronaldo are the three nominees for the 2012 Ballon d'Or award. Sky Sports assesses the merits of the candidates who have each enjoyed a sensational year.
By Adam Bate
Last Updated: 07/01/13 3:42pm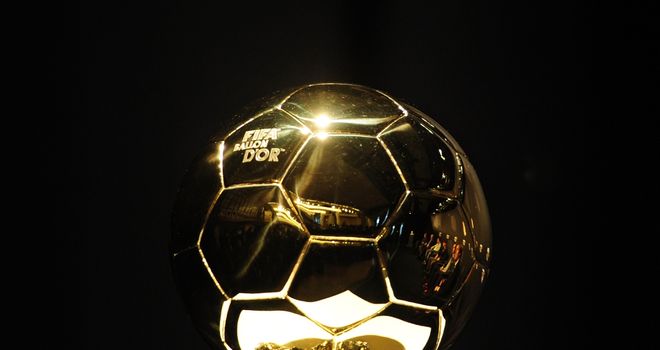 It's the most prestigious individual prize in football. On Monday evening in Zurich, one of three men will be awarded the FIFA Ballon d'Or honouring the world's greatest player of 2012. Sky Sports profiles the shortlisted candidates - Andres Iniesta, Lionel Messi and Cristiano Ronaldo - and makes the case for each of them to claim the trophy...
Andres Iniesta - Barcelona & Spain
"The press often ask me about whether Messi or Ronaldo is the best," admits Manchester City's Spanish midfielder David Silva. "But for me something is very clear - Andres Iniesta is the number one. He is able to do even more difficult things on the pitch. He is magic with the ball and so influential."
Iniesta cannot compete with his fellow nominees in terms of sheer volume of goals - he found the net just six times for club and country in 2012. But the players' player has other qualities. "He is the complete footballer," explains Spain coach Vicente Del Bosque. "He can attack and defend, he creates and scores."
With Barcelona he can appear on the periphery at times as Messi claims the headlines and Xavi controls the game from the centre. But so often it is Iniesta with the interjection at the crucial moment. As Sir Alex Ferguson noted back in 2009: "I'm not obsessed with Messi, Iniesta is the danger. He makes the team work."
Importantly, the man who scored the goal that won Spain the World Cup in 2010 also had a triumphant year at national team level in 2012. Iniesta was named UEFA player of the tournament at Euro 2012 as Spain successfully defended their crown with an emphatic 4-0 win over Italy in the final.
La Furia Roja were not at their most fluid prior to that but one man whose levels did not drop was Iniesta. Prompting and probing from midfield, he was named man of the match in two group games as well as the final itself. As ever, the quiet man was willing and able to take centre-stage on the biggest of occasions.
Lionel Messi - Barcelona & Argentina
"The superlatives ran out ages ago," claimed Spanish football expert Sid Lowe in his Guardian column. "The statistics are almost surreal, utterly stupid. They belong to a different era." He's right. Messi had another spectacular season in which he scored a barely believable 91 goals for Barcelona and Argentina.
The 25-year-old has won this award for the past three years and is in danger of making genius look common-place. There is a visceral joy to watching Messi skip past opponents but it is coupled with statistics that need to be hammered home - 73 goals for Barca last season; 36 in 27 games so far in the current campaign.
The record books are being rewritten.
Perhaps the only disappointment for Messi in 2012 was that he could not add a fourth Champions League win to his CV after suffering defeat to Chelsea in a dramatic semi-final in May. The Argentine forward missed a crucial spot-kick in that game. And it's one that still haunts him.
"I felt terrible," he told the Times. "Angry at myself because I knew that at that moment the whole tie was in my hands. But I can't do anything about it now. It's past but it was a very tough moment for me and I still think about it."
If 2012 was the year that reminded us that Messi is still human, it was also the year in which he took the game to new heights in terms of what humans are capable of on a football field.
Cristiano Ronaldo - Real Madrid & Portugal
"It would be a crime for Cristiano not to win following such a fantastic year," claims Real Madrid coach Jose Mourinho.
Ronaldo saw his Portugal side beaten by Iniesta's Spain in the semi-final at Euro 2012 and he lost his Pichichi goalscoring crown to Messi in the club game. But the Portuguese star was the top man in La Liga last season as he helped Real Madrid to the league title. The 27-year-old scored a remarkable 60 goals for his club last term but, most significantly, he seized the day in the biggest games.
Ronaldo netted in all six clashes with Barcelona in 2012 and that proved an important factor in the outcome of the title race. The key contest came at Camp Nou with Real four points clear at the top but unable to afford to slip up at the home of their great rivals. Ronaldo silenced the crowd with a brilliant winning goal to secure the title.
While the frontrunner is often accused of being an individual rather than a team player, the success of Mourinho's side tells a different story. As Sky Sports' Spanish football expert Guillem Balague explains: "Although both players (Ronaldo and Messi) are great individuals, it is a team game. In terms of trophies, Real have had a much more successful 2012 than Barcelona.
"If Messi does win the award for an unprecedented fourth consecutive time who am I to argue? His performances, goals and stats speak for themselves in 2012. However if you dig a little deeper, you may just think that the boy from Madeira may for this year, be a slightly more deserving winner."
Player
Andrés Iniesta
Lionel Messi
Cristiano Ronaldo
Games Played
39
50
51
Minutes Played
2835
4380
4541
Goals
6
72
53
Mins per Goal
472.5
60.8
85.7
Goals (inside box)
6
62
41
Goals (outside box)
0
10
12
Total Shots
48
205
288
Shots on Target
23
139
149
Shooting Accuracy %
47.9%
67.8%
51.7%
Shot Conversion Rate %
12.5%
35.1%
18.4%
Shots per Game
1.2
4.1
5.6
Assists
16
17
11
Chances Created (inc. assists)
66
101
91
Chances Created per game
1.7
2.0
1.8
Passes
2667
3178
1848
Passes per Game
68.4
63.6
36.2
Who do you think should win the FIFA Ballon d'Or for 2012? Let us know in the comments section below.