Brits abroad - Gordon Hill
Continuing our Brits abroad series in which we speak to players and coaches to get the lowdown on their time overseas, Adam Bate talks to former Manchester United and England winger Gordon Hill about his spells in the United States and Holland.
By Adam Bate - Follow @GhostGoal
Last Updated: 21/01/13 11:22am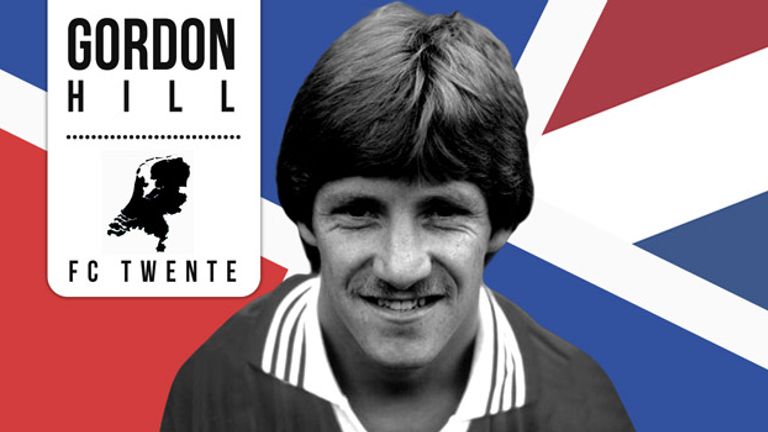 Gordon Hill made his name as a youngster at Millwall in the mid-1970s before going on to enjoy fame and fortune with Manchester United and England. But a serious knee injury saw him walk away from English football at just 27 to return to the United States where he had first played on loan for the Chicago Sting as a youngster. A season at Montreal Manic was followed by several years of indoor football before Hill made a dramatic return to the European game with FC Twente in Holland. Adam Bate caught up with the former winger to discuss making that transition back to the outdoor game as well as his experiences playing against Pele in America...
How did the move to the Chicago Sting come about?
When I first went out to Chicago it was just for a couple of months on loan from Millwall. I was only a kid and they wanted me to get some experience and to use it as a pre-season. It came out the blue really because, while you imagine bigger clubs in England coming in for you, going abroad was not on my radar at that stage. I was a real Londoner and going to America felt like a different world - the razzmatazz and the travelling to games by plane - it was a completely new way of life.
How did you find it?
NASL was still on the up at that time and it was a case of trial and error in working out the cities where it would take off. Some were a success but others weren't. Unfortunately, in Chicago we were playing to crowds of just 3,000 to 4,000. This wouldn't have been so bad but some of these games were at Soldier Field, the huge NFL stadium, so it felt empty.
But on a personal level it was a triumph. I scored a lot of goals and was named in the All-Star team alongside Pele. What's more he became a friend.
Until I arrived in the States all I knew of Pele was what I had seen on TV and that was just the World Cups as a kid. Obviously his reputation went before him but it's only when you see these guys up close that it hits you - they can really play. I was fortunate that through our friendship I later got to play in the same team in the Pele Trophy out in Brazil. It was a far cry from Millwall!
And going out there must have played its part in getting you a move to Manchester United?
I think Manchester United had already pinpointed me as a talent before I went to America. However, I'm certain that my performances out there sealed the deal. Bill Foulkes, the former United player, was my manager in Chicago and he obviously still had strong contacts back in Manchester. So I moved to United and within a year I was in the England team. That could easily have been the end of my NASL experience.
But it wasn't...
It probably would have been as I was quite happy in England. But I then suffered a bad injury that could've - and probably should've - ended my career. I lost half a yard of pace and felt like I'd lost a trick too. I was soon out of the England team and then, all of sudden, Montreal wanted to buy me.
The former Italy international Eddie Firmani was the coach at Montreal Manic and offered £200,000 to QPR for me. My manager at Loftus Road, Terry Venables, made it clear to me that I was welcome to go as he wanted to bring in younger players so I felt it was time to go.
Was it a different experience second time around?
I was surprised by what I found in Montreal. It was helped that they had financial backing and a strong European community there who knew the game so we were playing to huge crowds - sometimes filling the Olympic Stadium with 60,000 people. The New York Cosmos were getting even more than that. It was exciting and much better than before as the game had obviously grown.
You say you weren't the same player but it seems you were quite successful out there too?
It was a pleasure to pioneer the game out there and I treated it as a bonus. I'd come over with the attitude that if the knees go then they go but until then I would give it my all. I surprised myself to be honest because I even saw myself as damaged merchandise. I remember a transatlantic friendly against Marseille where I tore them to shreds. I was named in the NASL All-Star team once again and they were happy times.
But the league in America soon collapsed. What went wrong?
There were lots of things being said and in the end I think they decided to just cut their losses. You have to remember that NFL is the sport in America. It's incredibly frustrating but there are forces at work - I'm talking business and TV companies - that simply will not allow the game to grow as it could. Anyway, I ended up playing indoor football there for a few years. It was a good contract but for me the indoor stuff was just glorified five-a-side.
It must have been strange going from indoor football to resuming your career in Europe?
It caused problems to my game that I hadn't really anticipated. Fritz Korbach was the manager of FC Twente in Holland and he contacted me about going over to play for them. I just couldn't adapt to playing 11-a-side again. I was obsessed with little three yard passes and couldn't get the indoor game out of my system. I was also struggling with the ninety minutes - I remember one game against Hercules where I was really blowing.
There were some tough games too. At that time there were some excellent young players there. Ruud Gullit was at PSV while Ajax had Marco Van Basten, Frank Rijkaard and Ronald Koeman. We actually lost to Ajax 8-2 and Fritz asked me what we could have done differently. I told him there was very little he could do as they had 11 professionals and we had six. Half the team were part-timers having to work. But I also told him that come the return fixtures I'd be fit and ready to help him.
I finally cracked it in a game against PSV. I'd been training morning, afternoon and night to get the indoor stuff out of my system and I played a blinder. It was like day and night. I was back and I was even able to keep my word to Fritz and help us gain a 1-1 draw in Amsterdam against Ajax.
So it was a good experience in the end?
My experience in Holland really helped me as I got to understand the Dutch player. Everywhere you go in the world you notice that players have a different way of seeing the game. Dutch players are very technical. After I left I went out to play in Helsinki briefly and it's the same there - now I understand the Finnish player, which is a combination of English attitude and Dutch technique. That's football for you - everywhere you go you learn something new.