McClaren's future
Steve McClaren has fallen from grace in recent times. But Daniel Storey believes that Gerard Houllier may provide a key to a potential redemption for the former England manager.
Last Updated: 04/03/13 2:14pm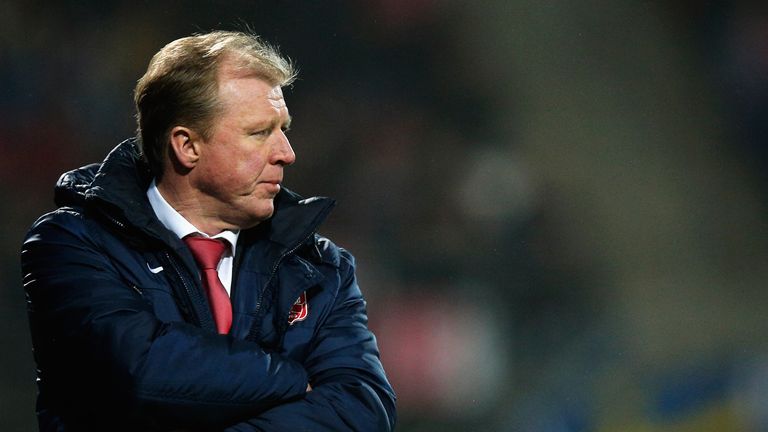 It may at first seem an odd comparison, but this week it struck me that Gerard Houllier and Steve McClaren are in many ways remarkably similar men. Both enjoyed early success as managers (Lens and Middlesbrough respectively), before fateful spells in charge of their respective national teams were curtailed after failure to qualify for major tournaments.
Both then moved abroad in order to embark on attempts at restoration. Houllier won trophies at Liverpool including a treble in 2001, whilst McClaren opted to join FC Twente and won their first ever Eredivisie title. Continuing the similarities, the careers of both managers have since taken downturns in recent employment. Houllier had just seven months in charge of Aston Villa, taking them from a sixth-place finish to ninth when he departed with health problems.
McClaren's demise has been more pronounced, significantly failing at Wolfsburg and Nottingham Forest in spells shortened by sackings (his City Ground spell was just 13 matches). Last week he resigned as manager of FC Twente after the club had failed to win a single match in the first two months of the year. A reputation back to relative tatters.
It is not just their careers that link the two managers, but also their characteristics. With his failure as England's manager (a job for which he was under-prepared but could not refuse), it is too easy to forget that McClaren has a reputation within the game as an exceptional coach. Whilst assistant manager at Derby County, he gained plaudits for his use of modern methods such as sophisticated video analysis.
Tactical acumen
Regarded as one of the most tactically astute coaches in the country, Sir Alex Ferguson chose McClaren to replace Brian Kidd as his assistant, and it was him who apparently persuaded Ferguson to utilise sports psychology with his players. It was only 18 months until Peter Taylor and then Sven-Goran Eriksson recruited him to England's coaching team, but in this time United won every trophy they entered, including the treble in 1999.
For Houllier too, the intricacies of coaching is where the greatest talent lies, and he gained his most significant success in the role of Technical Director at Clairefontaine, the French football academy. Opened in 1988 with Houllier at the helm, it specialised in the development of young French players. Its products include Thierry Henry, Nicolas Anelka, William Gallas and Blaise Matuidi, and the academy gained fame when it formed the base camp for the French national side that won the World Cup in 1998 and European Championship in 2000. At Clairefontaine, Houllier was regarded in almost deistic terms, such was his ability in coaching young players, and the coach was awarded the Legion d'honneur, France's highest decoration.
But whilst both are exceptional coaches, their managerial records have not matched such ability. They have shown a repeated inability to deal with pressure when downturns are experienced.
Perhaps this is to be expected. Whilst becoming a high-profile manager is the eventual aim of coaches such as McClaren or Houllier, it is clear that football management involves a great deal more than tactical astuteness. Indeed, UEFA's Pro licence (required by all Premier League managers) focuses on aspects such as transfer protocols, dealing with agents and injury prevention. All of the tactical coaching is completed by the end of the 'A' licence course.
So if an individual holds the requisite skills to be a 'great' coach, why do they instead resort to simply being a 'good' manager? Is it for money or kudos, or simply a desire to be the best one can be? Whatever the reason, now is the opportunity for McClaren to once again gain notoriety for success rather than failure.
Redemption?
It is pertinent that Houllier's pinnacle came at Clairefontaine because England now, finally, have an equivalent of which we can be proud. The St George's Park National Football Centre in Burton is to be the coaching and development hub of our national game. It contains training pitches, hydrotherapy suites, biomechanics gyms and world-class medical and sports science facilities.
Houllier himself is impressed: "To me it is a massive achievement and improvement for English football. We entered Clairefontaine in 1988 and the team became World champions in 1998, it is not only a coincidence. I think once you have a tool of that dimension it brings unity to the national teams, even referees can train there, national teams from youngsters to the first-team."
An academy is nothing without its leader, and if England now has its own Clairefontaine, we also have our own Houllier. McClaren, now out of work, could be appointed as Technical Director at St George's Park. With Dan Ashworth due to start his role as Director of Elite Development in early March, he is to take responsibility for the management of the FA's coach education team. The appointment of McClaren would provide an immediate boost in ensuring that England's future can finally be viewed positively.
For McClaren, it would provide an ideal scenario in which to recapture his standing in a country in which it dropped so low. More importantly, like Houllier 25 years ago, he would be working to his evident and significant attributes.
The Football Association retains one of its most astute tacticians to work with the next generation of England players. A coach gets paid handsomely for doing something which he cares deeply about. A public regains faith in a fallen manager. And a man gets a valuable shot at redemption. There isn't much to dislike.