Winning formula
Manchester United have secured a record-breaking 20th league title. We look at some of the factors behind the success of Sir Alex Ferguson's squad
By Tom McDermott
Last Updated: 23/04/13 10:24am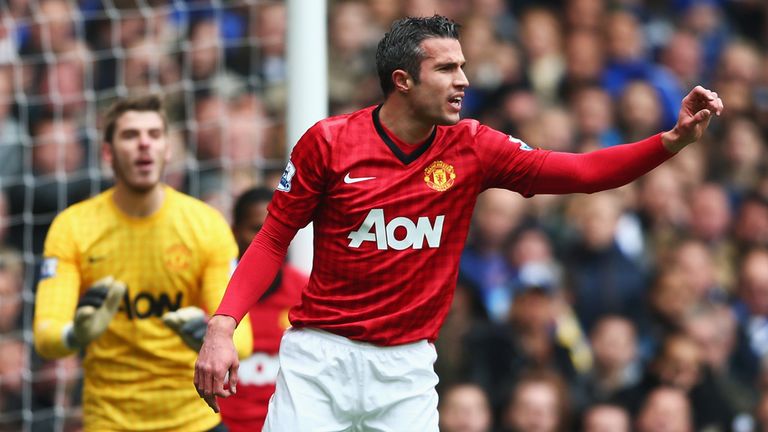 After losing out on goal difference to Manchester City on the final day of last season Sir Alex Ferguson's team responded in typical fashion this term.
And they could yet make it a record breaking one as well by securing the highest number of points for a side over the course of a Premier League season.
It would be quite an achievement from the 2012/13 Premier League champions especially if you consider the number of great teams which have won the Premier League in seasons gone by. Ferguson's treble winners in 1999, Arsene Wenger's 'invincibles' and Jose Mourinho's powerful Chelsea side immediately spring to mind.
But, records aside, just why have United been able to win the league so easily this season? Sky Sports looks at a few of the key factors.
Robin van Persie
At the end of last season Ferguson promised the United fans that they would never lose the title on goal difference again. So, while Roberto Mancini was securing deals for Scott Sinclair, Jack Rodwell and Maicon, the United manager was on the telephone to Arsene Wenger trying to finalise a deal for last season's Player of the Year and top scorer. The Dutchman eventually arrived at Old Trafford and although he might have gone off the boil slightly in recent weeks his goals during the first two thirds of the season have arguably fired United to the title.
Sir Alex Ferguson
Ferguson is at his best when presented with a challenge. He responded to the great Arsenal sides by buying a young Ronaldo and Rooney, waited while they developed, before reclaiming the league title. When Mourinho arrived at Chelsea his impact was instant. Ferguson had to improve and respond again - and he did. In the end Mourinho was shown the Chelsea exit and United went on to win the Premier League and European Cup. This season the challenge was set by champions Manchester City. United acted quickly in the transfer market and then during the season the defensive errors that had cost them so dearly the year before were kept to a minimum. There was no margin for error, Ferguson recognised this and improved United at both ends of the pitch.
Ryan Giggs
It is fair to say that Ryan Giggs' better days are behind him. However, Giggs brings so much experience and title winning know-how to the United squad that it rubs off on his team-mates. On the pitch Giggs hasn't featured maybe as much as he may have liked this season but a string of good displays at vital points (Everton at home and QPR away, for example) show that even though he is in his 40th year his desire and determination to win the big prizes still remains.
The youth
In 2006 when Manchester United beat Wigan Athletic in the League Cup final, Ferguson claimed that was the trophy his young side needed to win to kick-start another period of dominance. You get the impression that this title success may have the same impact on his current squad. David de Gea, Tom Cleverley and Phil Jones have all become champions for the first time and in the coming years they will be expected to take the baton from the likes of Giggs, Rio Ferdinand, Nemanja Vidic and Paul Scholes. Within Old Trafford it is thought that success breeds success and by winning the league title it's not a bad way to start.
Manchester City
City will be hurting from this year's disappointment in the league and will want to respond like United have this season. The errors they made last summer in the transfer market are unlikely to be made again and as well as a number of outgoings it's fair to assume that one or two big names will arrive at the Etihad.
But, that is just what keeps United ticking along. Ferguson will expect City to get the chequebook out and with it see their form improve in the Premier League next season.
What you can also be sure of is that United will improve as well. The younger players will gain confidence from this league success and they will slowly start to take over from the experienced members of the squad. Add to that a signing or two and it will be a brave man who bets against United defending their title next season.