Ronaldo's year?
After Cristiano Ronaldo bagged yet another hat-trick for Real Madrid on Saturday, there is a feeling in Spain that it might finally be his year to win the Ballon d'Or...
By Tim Stannard
Last Updated: 11/11/13 1:56pm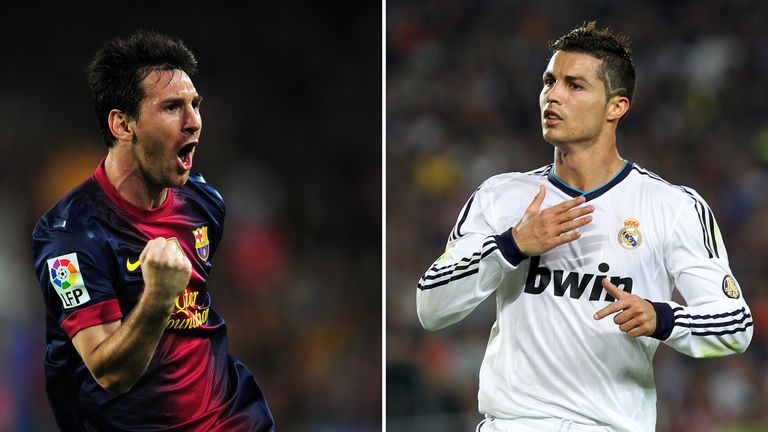 The good citizens of Zurich, where FIFA's number one lair is located, may want to consider stocking up on drinking water, energy bars and tasty looking cats and dogs in case of emergencies. If Cristiano Ronaldo does not win the Ballon d'Or award in January then a hefty part of the population of Madrid will be heading to Switzerland to go medieval on Zurich's booty with an old-fashioned siege and ransack.
Pitchforks are set to be waved in a furious manner by those who feel that Ronaldo's immense 2013 is worthy of football's big gong, ahead of Lionel Messi and Frank Ribery, irrespective of the lacklustre performance of the Portuguese poacher's club in the same period.
On the completion of Ronaldo's hat-trick against Real Sociedad in a 5-1 win, the Santiago Bernabeu crowd was calling for the player to finally be handed the big prize. That is saying something for a group who took a very long time to warm to the player, despite the amount of goals he's scored since joining the club in 2009.
Whilst Ronaldo will continue to say that the award doesn't matter a hoot to him, that is of course complete nonsense. It matters a huge amount. Especially since the announcement that four other rivals will be on the final shortlist for the ceremony being held in January - an excuse if ever there was to put Neymar on the ticket, as well as Zlatan Ibrahimovic, a certain Argentinean and Ribery.
After Saturday's victory saw a more balanced Real Madrid for once, Marca plonked Ronaldo on the front cover, with the banner "Cristiano Universe". Although the paper tends to live in that place every day of the year, it was a worthy headline with Ronaldo in particularly devastating form at the moment.
The Madrid man has already scored 24 goals this season in La Liga and the Champions League, to make it 62 since the start of 2013. His 19th hat-trick in La Primera saw Ronaldo reach 225 goals in 216 games in Spain, a truly extraordinary figure in the demanding realm of the modern game. "He is from another world," admitted Carlo Ancelotti, a manager who has seen some decent players in his time.
It is not just Ronaldo's goalscoring record that is so particularly impressive but also his non-stop commitment and running. Ronaldo never seems to have a lull or a period of iffy form. Unlike Leo Messi, who suffered a hamstring knack against Betis, he never seems to be injured either. As the ever-effusive Tomas Roncero wrote in AS, "It doesn't matter when or where he plays, he puts on a superman cape and flies with the same ambition, the same effort and intensity."
However, there is a sense in Spain that no matter what Ronaldo achieves, it simply won't be enough. The recent mocking caricature from Sepp Blatter merely reinforced the feeling in a country that loves a good conspiracy that FIFA (and UEFA, the two groups are interchangeable in any complaint), have if it in for the forward on the grounds that Ronaldo's flashy image is vulgar.
As the editor of AS, Alfredo Relaño, wrote on Sunday: "This year it won't be Messi, but Ribery due to the campaign from Bayern". It must be said though, that if image was key to FIFA then the French footballer may not be the most wholesome choice due to his current legal issues.
Besides, Ronaldo is nothing less than perfect in his professionalism. If ever there was a football who delivers again, again, again, and again; who is increasingly selfless in his game and clearly someone who looks after his body and mind, it is the Real Madrid man. Indeed, it would not be a huge surprise if he were tucked up in bed by eight o'clock on matchdays.
After Ronaldo trotted off the field following yet another performance that challenges the creativity of La Liga headline writers, the bandwagon in parts of Spain calling for him to win the next Ballon d'Or begins to gather speed. And it's being loaded with enough pikes and cannon balls to rout the city of Zurich if the vote should go the wrong way.
This article first appeared on Football365