Secret Agent
The shadowy world of the football agent is one that is cloaked in secrecy amid accusations of greed. Thankfully, we have got one of the good guys on board to lift the lid on what life really is like at the sharp end of a notoriously cut throat business.
Last Updated: 10/12/13 4:19pm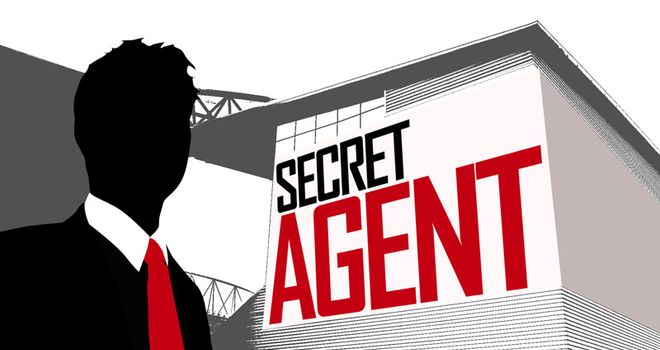 In this life there have been many remarkable sporting comebacks. The Miracle of Medinah, Red Rum in '73, Liverpool in Istanbul, Manchester United in '99 - the list is endless. And now, in the words of trailer park Poet Laureate, Eminem: 'guess who's back, back again.' It's only the Secret Agent with his first column since Jimmy Hill was campaigning for the abolition of the maximum wage.
I've simply been too busy to pen a column over the past six months, so for that my apologies. Reshaping my portfolio of investments has taken longer than I'd envisaged. It doesn't help when Daniel Craig, Briatore and the boys, Kate and Naomi are forever on the blower asking to borrow the yacht either. It's hard, but as sure as bears sh use alarm clocks in woods, it's time to take stock.
Back to reality and my imaginary mojito is replaced with an insipid cup of Costa Coffee in a service station. Accidental Partridge has nothing on me. I'm waiting to meet a prospective new client, whilst mulling over the 'big one' that evaded my clutches before the window slammed shut with a yawn back in January. I've had more get away from me than the love child of John Wilson and Ernest Hemmingway over the years. The only financial investment I've been deliberating over of late is whether to cancel my subscription to The Economist.
Don't get me wrong, the last window was by no means a complete disaster. I had my share of successful dealings, but I'll be feeling the pinch come January just like everyone else.
It's a given in football that agents are synonymous with the murkier aspects of the game and the perception that we're only in the business to line our own (deep) pockets isn't going to go away any time soon. Whilst there are numerous sharks out there that care more about commission than clients, it's worth remembering that there are a fair few football clubs pretty well versed in the dark arts themselves. I was reminded of this just last week.
I like to think I've always worked in an ethical manner and having a lack of skeletons in the old closet has never been more important given the distasteful spot-fixing furore that has come out this week and is surely the proverbial tip of the iceberg. It was then, with considerable surprise and no little incredulity, that I greeted my falling out with a couple of clubs that I was dealing with in the last few days of the loan window.
In short, the two clubs basically blamed me for the collapse of a deal. And when I say blame they actually contacted the player directly and told him it was their agent (me) who messed up the deal due to asking for too much money!
Now what are you going to do if you were the player who received a call informing you that your agent's inability to negotiate a deal has led to its collapse? Yup, they were of a similar mindset and went ballistic.
The deal that collapsed was a loan move for a player who wasn't being picked by his parent club and so both parties agreed that a temporary switch was the best option. Coincidentally a club I work with regularly had sent a global email to agents asking for a striker, so I knew I had a potential buyer in mind from the onset.
After a few phone calls between the respective clubs and player we struck up a deal; a month-long loan, whereby the parent club agreed to pay 50 per cent of his salary, while the loan club would cover the player's travel expenses and accommodation for that period. They also agreed a small fee for my work in getting the deal done.
I went to bed that night with everything in place and the player ready to sign the paperwork at his club in the morning before travelling up to his temporary new home. Job done!
Now I've been in the business long enough to see the glass as neither half full nor half empty but more likely a mirage, so I'm not exactly green when it comes to last-minute hitches. After numerous failed deals I always remind myself of a mantra which I tell my clients: "The deal is done when you're on the pitch in your new strip. Until then expect the unexpected."
I had everything agreed in writing on email, including the 'small' fee I would get for the modest amount of wheel greasing I did to help the deal go through. I awoke to an early morning call from the chief executive of the player's parent club telling me the team wanting to take the player on loan had pulled out, and apparently I was to blame for asking too much money!
I should point out, it's common practice to receive a fee for a loan deal, even for those outside the higher echelons. A club wants a player, an agent finds one, and so it's normal procedure to pay the middle man a fee. The fee is a fraction of the commission that would be received for a normal transfer deal/contract negotiation.
Similarly if a club is looking to 'offload' players to save on their wage bill and you can get someone off their books, it's a given a fee is received for that too. As I always say, 'no one works for free' - even us parasites.
Anyhow, I digress, after a very animated denial (with email proof) and a quick damage limitation exercise with the parent club I tried to contact my accusers. Players aren't the only ones capable of delivering verbal tirades and I was ready to shoot from the lip when enquiring as to why there'd been an about-turn that dragged my name into disrepute. Well guess what? They didn't pick up the phone.
After I left the message, I had to get in touch with the player to assure him that his move was not called off because of my alleged greed. He knew me well enough to know I wouldn't put financial gain ahead of his need for playing time and after a quick chat the issue between us was put to bed.
Once the player was happy with my version of events I spoke to a few agents who I get on with to see what they had heard. You don't have to be Tony Robinson to unearth the truth in these types of conflicts and, after a bit of digging, it became clear the buying club had been offered a free agent as an alternative to my player. That they fancied having a look at a player who would be a cheaper and possibly long-term solution to the position they were struggling with is perfectly understandable, but it's a lack of transparency on their part that unfairly cast me as a Shylock figure, trying to squeeze every last drop out of a deal that was never going to get anyone rich in the first place.
That sort of thing happens all the time, so why blame me for the collapse? Let's just say the manager of the parent club and his counterpart at the potential buying party are long-term friends. I think they may have even played in the same team together. Instead of an open dialogue being exchanged I was cast as the patsy. Still at least the two bosses didn't fall out, with me as a handy scapegoat ('an individual singled out for unmerited negative blame') - spot on!
In the world of football, my business grows on the strength of my reputation. If I genuinely messed up a deal by being greedy then I would take the flak, but when on the contrary it was the club who killed the deal by being cheap, there was no way I was going to let up.
Fortunately but not deliberately, I had all the important parts of the conversations and agreement on email and text messages. It's very important to get everything down in writing. Verbal is useless, as this case proved. With the correspondence from the club though, I was able to smooth over what could have been a major issue for me.
All involved were happy with my explanation and agreed that the guilty party was indeed the other club, who funnily enough three weeks down the line still haven't returned my call.
Quelle bloody surprise...