Record breaker
After Darren Bent's late goal earned a point for bottom team Fulham at Old Trafford and added to the woes of Manchester United boss David Moyes, Adam Bate feels the record number of crosses put it on Sunday reflects the fact that the Scot is failing to adapt to the requirements of the job.
By Adam Bate
Last Updated: 10/02/14 8:56am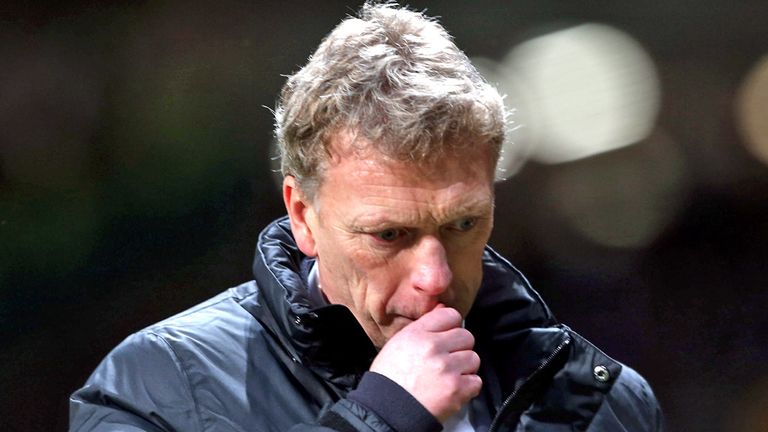 "It's a sign of the times when you're reacting like that against bottom of the league," said Gary Neville when Michael Carrick put Manchester United ahead with 10 minutes remaining. The cheers were understandable. The three points would be blessed relief after a difficult afternoon against Fulham. But the Old Trafford crowd didn't have too long to wait before their latest hopes of a long-awaited turning point were dashed. A stoppage-time equaliser leaves them nine points off fourth.
A little context is needed for this latest embarrassment. Fulham remain bottom of the Premier League. They are at the foot of most form guides you can lay your hands on, have conceded far more goals than any top-flight team and hadn't scored in five hours of football against Swansea, Southampton and third-tier Sheffield United going into this game. The 2-2 draw has ended a sequence of nine straight wins for United against Fulham in Premier League games at Old Trafford.
Moyes is proving quite the record breaker. Even his own personal achievements are being undermined - he had a 100 per cent home record against the Cottagers during his 11-year stay at Everton. But at Manchester United he is finding new ways to fail. Although, that's not strictly true. His methods remain bewilderingly predictable. It's the ways in which teams are working out how to foil his efforts that are varying by the week.
The accepted wisdom of this season was that Old Trafford had lost the fear factor for visiting teams. West Brom, Everton, Newcastle and Tottenham had all come with increased ambition this season and each left with three points. Perhaps it was the reverence forged by over a decade as a Manchester United employee, but Fulham head coach Rene Meulensteen went for an altogether more cautious route to success on Sunday.
The Dutchman noted in his pre-match interview that he'd seen away teams struggle at Old Trafford with the size of the pitch. As a result, he opted for a line-up that could politely be referred to as compact or more accurately described as six at the back, given the way that Sascha Riether and John Arne Riise tucked in to help their centre-backs. Everyone was instructed to get behind the ball in a narrow shape as Fulham gave United the freedom of the flanks.
Oh, those flanks. A curious contest of attack versus defence developed. Time and again United would pepper the Fulham defence by swinging in deliveries of dubious quality in the general direction of Robin van Persie only to see the ball cleared by a Fulham defence that - fully aware of what to expect - looked like it had worked on little else in their preparations. United's plan was simple: Spread the play wide. Cross. Retrieve the ball. Spread the play wide. Cross. Repeat.
Most Crosses - PL 2013/14
Team
Opponents
Crosses
Manchester United
Fulham
81
Stoke City
Liverpool
51
Manchester City
Sunderland
50
The process hit new 'heights' on Sunday. United attempted an astonishing 81 crosses against Fulham. That's 30 more than any team in any Premier League game this season and the most since Opta started keeping note of such things. Moyes, the record breaker. Meulensteen's defenders simply retained their shape and waited for the ball to come in. At the heart of that defence, Dan Burn alone - all 6'7" of him - made 22 clearances (the second-most of any player this season).
"I wouldn't look at those stats and say that shows how well Manchester United played," said Jamie Carragher in the Sky Sports studio, examining the 75 per cent possession that United both enjoyed and endured. "Fulham looked more comfortable out of possession." And well they might. These tactics played into their hands. What must be so frustrating for supporters of Manchester United is that not only should there be a Plan B, but Plan A shouldn't even be the Plan A.
"These are the games Mata was signed for, to unlock packed defences," said Neville on co-commentary. But while, Mata, Van Persie and Wayne Rooney were all present and correct for a game they might well have been rested for in days gone by, they could hardly be said to be central to the team's approach. Wilfully, United's tactics seem to promote their least reliable performers into the roles of key men.
Ashley Young was encouraged to lob balls into the box, while Old Trafford often waited with trepidation for the results of the chemistry experiment that occurs when a fast-moving Rafael da Silva meets a football slipped into his path. "I thought we could have taken a bit more care over our crossing," said Moyes afterwards. He wasn't wrong. Young and Rafael attempted 25 crosses between them but found a United player with just one of them apiece. Adnan Januzaj, bafflingly omitted in favour of Young, managed to do so with five of his 12 crosses in the final half an hour.
"We did everything to win," added Moyes. "We crossed it, passed it and tried to get through. But we just didn't quite have the finishing touches. We deserved to win the game but you don't always get what you deserve." Of course, in addition to Steve Sidwell's opening goal, Kieran Richardson could well have doubled the lead before the interval only to drive the ball over the bar when clean through on goal. So Meulensteen's interpretation of events was understandably different to that of the United manager - and those crosses were at the forefront of his mind.
"Manchester United's approach was straightforward," said the Fulham boss. "Get it wide and put it into the box. That can be easy to defend against." He added: "They kept producing the crosses. You look at the stats and think, 'Jesus, that was a load to deal with' but if you look at the real quality chances they've created then Maarten (Stekelenburg) had one fantastic save to make and even the second goal is a bit of a deflection."
Exasperated
Damning stuff. At least it makes a change from the disapproving looks of Sir Alex Ferguson and the exasperated exhalations of Sir Bobby Charlton. It's as though United's oft-discussed tradition of crossing the ball into the box is being thrown back in their faces like the naughty child asked to smoke the entire packet of cigarettes. And the queue of former coaches lining up to dish out the life lessons continues to grow.
"To say it is disappointing is an understatement," Mike Phelan, Ferguson's assistant manager for five years at United, told Sky Sports. "It's devastating more than anything. The variety in their play wasn't there. It was all about crossing the ball. You don't put that many crosses in without thinking to yourself whether there is anything else because that hasn't worked that well. Can you start manipulating the ball? Can you start playing those little give-and-goes to try to make Fulham do something different?"
It seems the answer is that under David Moyes they either can't or won't. With a huge game away to Arsenal in midweek, something needs to change. But the Moyes mantra is likely to remain the same and tired players must go again. "He couldn't afford to take any chances," claimed Neville in defending a selection that seemed to suggest an absence of the sort of forward planning that characterised Ferguson's reign. "Too much has gone wrong this season already." Under David Moyes, the record breaker, it could well continue to get worse before it gets any better.