Reds renaissance
As Liverpool narrowly miss out on the title, Sam Drury reflects on what has still been a fantastic season for the Merseyside club and how they have proven their doubters wrong time and again...
Last Updated: 11/05/14 4:54pm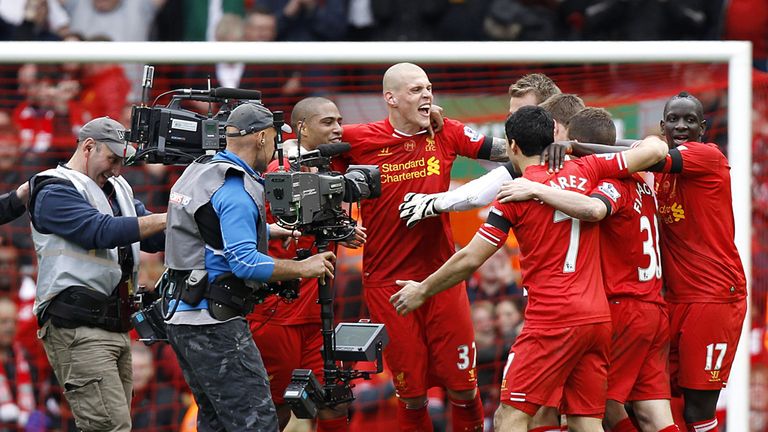 Every season there is a surprise package in the Premier League, it seems. Often it is the newly-promoted sides who are given this tag with Ipswich Town, Sunderland and Swansea City among those lauded as such at various points during the Premier League era.
Then there are the likes of West Bromwich Albion last season and Newcastle United back in 2011/12 who surpass all expectations and find themselves fighting off nosebleeds to reach heights even the most optimistic of fans would have deemed fanciful.
However, in the past 15 years no such team has ever reached the upper echelons of England's top flight. Everton in 2004/05 came closest as they finished fourth to reach the Champions League qualifying round, a year after ending the season in 17th, but they were as close to Birmingham in 12th as they were to Arsenal a place above them and whilst they trailed champions Chelsea by 34 points, bottom side Southampton were 'only' 29 points behind.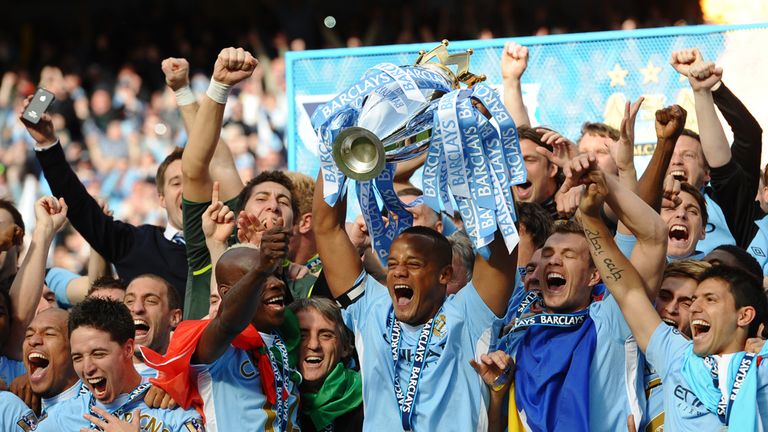 For the next four seasons the same four clubs occupied the top four spots, the order changed slightly each year but the 'big four' remained. Since then it has opened up slightly with Tottenham Hotspur and Manchester City forcing their way in, but even then Spurs have never finished higher than fourth and City needed to plough hundreds of millions into the club in order to secure their first league title in 44 years.
In reality, there has been no real surprise team finishing in the top three in the league since the mid-90s and few would have expected that to change this term.
Heading into the season it was the usual suspects being talked up as potential title winners. The accepted wisdom was that the nouveau riche duo of Chelsea and Manchester City would be challenging reigning champions Manchester United to top the pile. That all three were under new management gave hope to Arsene Wenger's Arsenal and a Tottenham squad shorn of Gareth Bale, but bolstered by several summer recruits, funded by his sale.
Everton had lost David Moyes to Manchester United and a transitional season under new boss Roberto Martinez was predicted. And Liverpool? A good end to the previous season had still only seen them finish seventh under Brendan Rodgers, more steady progress was anticipated and upheaval elsewhere might open the door for a return to the top four, but even that was unlikely.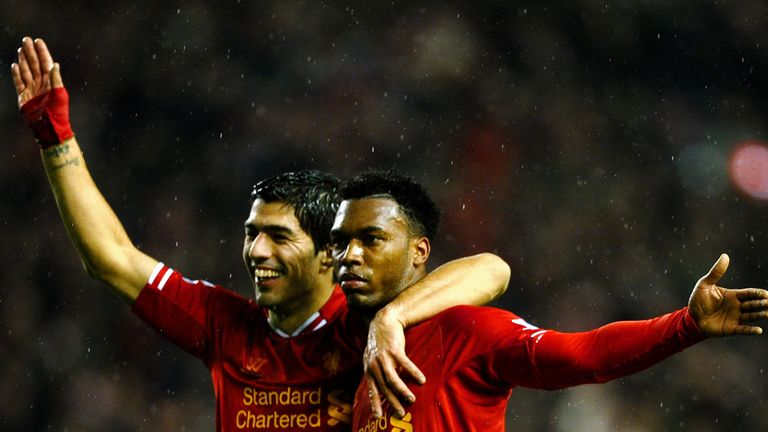 Fast-forward to the final week of the 2013/14 season and Liverpool were top of the league. Their fans were disconsolate. Having snatched a draw from the jaws of victory at Crystal Palace, Rodgers declared their hopes of winning the league over. With Manchester City just a point behind, with a superior goal difference and two very winnable home games remaining, Liverpool's hopes of securing the title were affectively ended.
They headed into this weekend's final game of the campaign with Newcastle still in with a chance of the title, mathematically at least, but expecting a West Ham United side with nothing left to play for to do them a favour was never likely to happen.
The way in which a 19th title slipped away from them will no doubt hurt Liverpool fans - the home defeat by Chelsea and the late horror show at Selhurst Park are unlikely to be forgotten in a hurry - but just by finding themselves in a situation where 'throwing it away' was possible, Liverpool have exceeded all expectations of them this season.
I think we've had a remarkable season, the players have put Liverpool on the world map again in terms of what we're looking to achieve here as a club.
Brendan Rodgers
When Rodgers' team won their first three matches of the season, all by a 1-0 scoreline, there was as much talk about their reliance on Daniel Sturridge, a lack of goals in the team and how winning games in such a manner was unsustainable as there was about their chances of finishing in the Champions League places, let alone a title challenge.
The doubts about this Liverpool side continued and given that the club have not played in Europe's elite club competition since the 09/10 perhaps it is not surprising even when victory over Cardiff City saw them top the league at Christmas there were many who queried whether Liverpool would even finish in the top four.
Liverpool's season started with the euphoria of beating Stoke City at Anfield thanks to a last-minute penalty save from Simon Mignolet. A victory that might otherwise have been routine took on extra importance as a result of the dramatic climax to the game.
The momentum from the opening fixture almost seemed to carry the team through the next few games. Rodgers' team was winning matches without firing on all cylinders and even when the return of Luis Suarez provided an added boost, the performances over 90 minutes were not quite matching the results.
Delighted though Kopites were by the results, questions were asked about the midfield, in particular. Jordan Henderson had been in good form but displays of the duo alongside him, Steven Gerrard and Lucas Leiva, had been far from convincing. The absence of Philippe Coutinho, out for six weeks in the autumn, also created a problem in finding a link between the midfield and the prolific strike partnership of Sturridge and Suarez.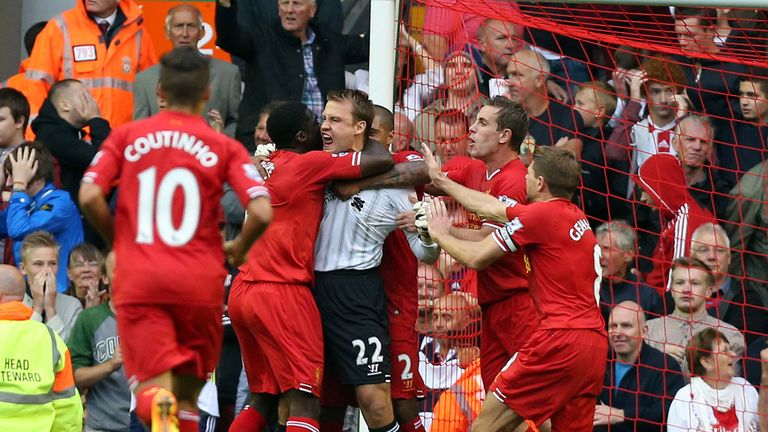 Defeat at table topping Arsenal was used as an example of just how far Liverpool still had to go to be considered title challengers and, despite much improved team performances in wins against West Brom and Fulham either side of that match, another loss - this time away at Hull City - saw all the same questions raised, with twice the ferocity.
The answer to those questions came two weeks later. Liverpool's response to the loss at the KC Stadium had been to hammer Norwich City 5-1 and beat West Ham 4-1 at Anfield but a trip to White Hart Lane to face Andre Villas-Boas' Tottenham side promised to be an altogether more difficult proposition.
The task was made tougher still as Liverpool went into the match without Gerrard and Sturridge. By half-time any such concerns were forgotten. Goals from Suarez and Henderson had put Liverpool two goals to the good and they could easily have been out of sight.
Spurs started the second period slightly better but following the sending off of Paulinho, Liverpool twisted the knife. Goals from Jon Flanagan, another for Suarez and Raheem Sterling handed them a 5-0 victory on a ground they had last won on back in 2008. It sent out a message to the rest of the league that this was not a team to be taken lightly.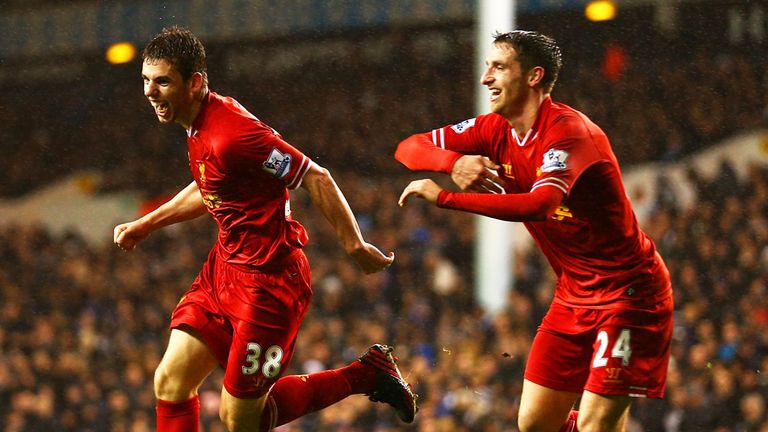 The aforementioned win over Cardiff gave Liverpool the No.1 spot at Christmas, but two defeats in three days away at Manchester City and Chelsea meant they headed into 2014 in fifth and with more questions over their top four credentials.
Liverpool's injury hit squad was unable to cope with two games of such magnitude in such a short space of time. The performances were good but when that extra bit of energy was required as Liverpool went in search of an equaliser at Stamford Bridge, the players on the pitch were out on their feet and Rodgers had few options on the substitutes' bench capable of making an impact.
Injuries to Joe Allen and Mamadou Sakho, both of whom had come in to the side and impressed over Christmas, only made matters worse and there was little indication that the next few months would unfold as they did.
Gerrard was back for the league game at Stoke and was entrusted with a new, deeper role. The Liverpool captain had a mixed afternoon but the away side, aided by a goalscoring return from Sturridge won a topsy-turvy game, 5-3.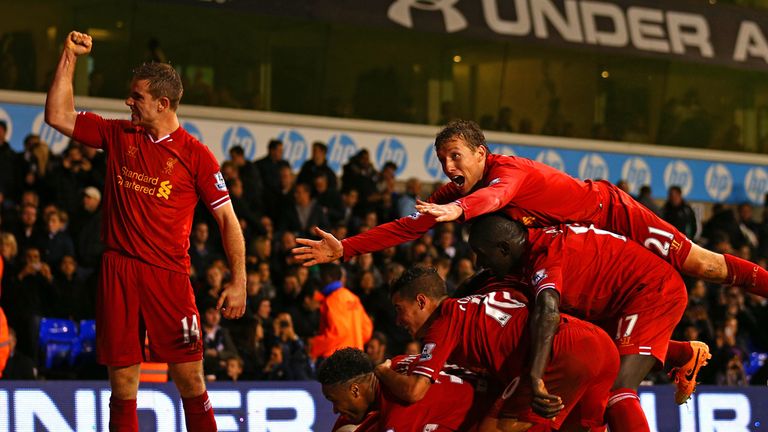 However, Gerrard endured a torrid time in his new position the next week as Aston Villa took a point at Anfield. Calls for the 'quarter-back' experiment to be stopped came thick and fast. The manager stuck to his guns, though, and when Everton arrived at Anfield in Liverpool's next league fixture his decision was justified.
For the first time in years, Everton were well fancied to get a win at the home of their local rivals – something they had not managed since 1999. Within 45 minutes that notion was a distant memory.
With Gerrard imperious in front of the back four, Henderson and Coutinho superb just ahead of him and Sturridge, Suarez and Sterling running riot up front, Everton were blown away. The skipper headed the opener, two Sturridge strikes made it 3-0 at the break before Suarez added a fourth in front of the Kop early in the second half. The match was won and Gerrard had proven himself once again.
A frustrating draw at West Brom followed but Kopites were in dreamland once more the next week as they took league leaders Arsenal to pieces within 20 minutes. So impressive were Liverpool in racing into a 4-0 lead that some fans were ranking the first-half performance as Liverpool's best in living memory. They closed the game out to win 5-1 and just as the Mignolet save had spurred the club on at the beginning of the season, the demolition of the Gunners did so in the second half of the season.
A last-gasp win at Fulham only added to the momentum and the wins kept coming. The performances now more than matched the results but questions remained. The defence being the primary reason many onlookers gave as why Liverpool could not make the top four and, once they made Champions League qualification all but certain, the league.
Indeed, another thrashing of Tottenham, 4-0 at Anfield on this occasion, saw Rodgers' Liverpool return to the top of the league. Having been eight points back and in fourth place before the Arsenal game, it was a stunning run in which both Southampton and Manchester United were dismantled on their own turf and still had a way to go.
The win against Manchester City at Anfield marked the highest point. Coutinho's winner sparked incredible and emotional scenes at the final whistle with hope having become genuine belief that Liverpool could end their 24-year wait for a league title. After 10 wins on the bounce it was easy to see why.
A hard-fought win over Norwich made it 11 before Jose Mourinho's Chelsea came to town and spoiled the party. Liverpool only needed a point to ensure the title remained in their hands. Playing for a draw, however, is not what this season's Liverpool team have been about. They wanted all three points and some will argue that is what cost them.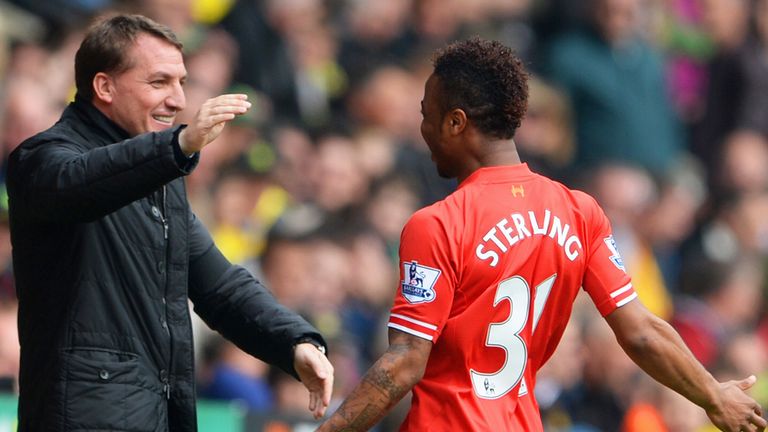 However, had they gone into half-time level, rather than trailing as a result of Gerrard's unfortunate slip, Chelsea may have been forced to come out of their shell more in the second half as opposed to inviting the hosts on. As it was, with a lead to defend, Chelsea were able to sit even deeper and Liverpool were unable to break them down. A lack of patience rather than a lack of ideas was perhaps their biggest downfall.
Crystal Palace attempted to do similar last Monday but Liverpool appeared to have learnt from their mistakes. They were more assured and probed patiently looking for a breakthrough. It seemed to have paid off when they led 3-0 with 15 minutes to go. The capitulation thereafter was as remarkable as it was crushing for Liverpool supporters.
But 10 minutes of madness should not take away from what has been a breakthrough season for Rodgers and his Liverpool team.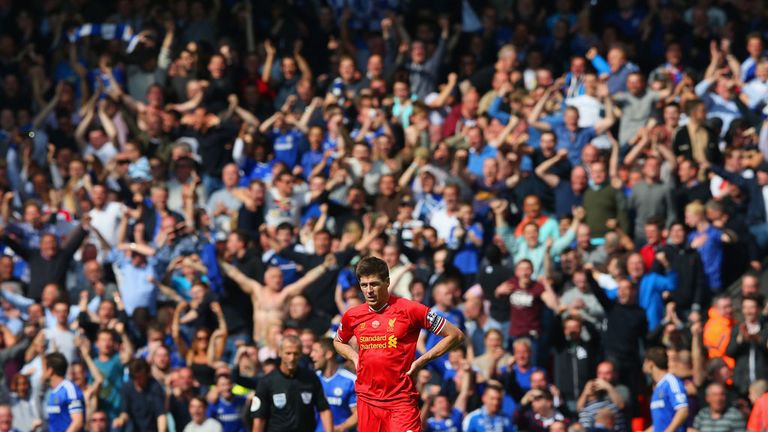 The critics will no doubt have considered themselves justified as defensive frailties cost Liverpool the title at Palace but those same people also rubbished talk of Anfield hosting Champions League football next season.
The fact is Liverpool have proven their critics wrong time and again this season. The 2013/14 campaign may not have ended with them lifting the Premier League trophy but it has seen them go as close as they have in nearly a quarter of a century. That is why Anfield gave its heroes such a rapturous send off following Sunday's match with Newcastle.
'Make Us Dream' has been the unofficial motto of the Anfield faithful this season and after five years in the wilderness they have been able to do just that.
Already there are suggestions this season was a one-off and Liverpool will be back fighting it out for fifth or sixth next term. Do not count on it, though, because this season's surprise package will be out to silence the doubters once more and go again, starting in August.