Premier League race for the title: The final day as it happened and Man City were crowned champions
Every kick in every second was scrutinised on the final day of an epic Premier League season as the battle to be crowned champions went to the wire. Man City claimed the silverware but where was it won and lost on the day? We used Opta data to analyse the events as they happened
By Alex Dunn and Peter Fraser
Last Updated: 11/05/14 9:00pm
And so a quite brilliant Premier League title race comes to an end with Manchester City crowned champions. The position of league leaders changed hands more than 20 times throughout an enthralling 2013/14 season and the battle to lift the trophy went all the way to the final day.
The concluding fixtures of the season might not have produced the drama fitting of the most unpredictable footballing nine months in living memory but that says much of the professionalism of Manuel Pellegrini's deserved champions in their victory over West Ham United which ensured they maintained their two-point lead at the summit.
Liverpool fell agonisingly short in their romantic story of a potential first league title in 24 years despite beating Newcastle United at Anfield, although it did not go exactly according to plan on Merseyside as they had to come from a goal down.
We used Opta data to analyse events as they happened in both Manchester and Liverpool in games which also told a story of a season which will not be forgotten for many years to come.
MANCHESTER CITY AND LIVERPOOL STARTING LINE-UPS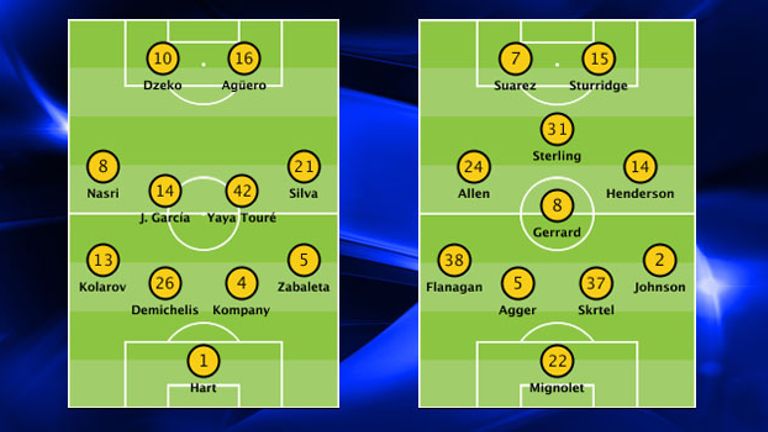 We will never get used to this success. For a City fan of a certain age, we went through too much to get used to it. The young lads will get used to it - we will not! People slag us off about the money but we bought well. These are amazing times and I am glad to be around to enjoy it.
Oasis legend Noel Gallagher speaks to Sky Sports
MAN CITY: Much of the talk pre-match centred on how the iceman, Manuel Pellegrini, would make light of any tension inside the City of Manchester Stadium; happy to play a waiting game as he did in midweek when City had to toil until the 64th minute before Edin Dzeko opened the floodgates against Aston Villa. That said, the Chilean – bidding to become the first non-European manager to guide a side to a Premier League title, picked a team that suggested he wanted the job done quickly. Sergio Aguero, the club's top scorer, overcame a groin injury to lead the line alongside Dzeko, ahead of a midfield four that included a triumvirate of attacking talent in Yaya Toure, David Silva and Samir Nasri in front of a sitting Javi Garcia.

LIVERPOOL: Centre-back Mamadou Sakho was dropped to the bench and Daniel Agger was recalled. Sky Sports' Alan Smith said of Liverpool's £18million signing from Paris Saint-Germain last summer: "Sakho has looked very unsteady of late. I am surprised Brendan Rodgers did not recall Agger quicker." In the 18 Premier League games when Sakho played in 2013/14, Liverpool conceded 25 goals, keeping just one clean sheet. Jordan Henderson was also back after his three-match suspension. In hindsight, the midfielder's absence was extremely costly as Liverpool scrapped past Norwich City, lost to Chelsea and blew a three-goal lead at Crystal Palace when he was banned. Liverpool were otherwise unchanged in a 4-1-2-1-2 diamond formation from the team who drew at Palace.
15:00 - KICK-OFF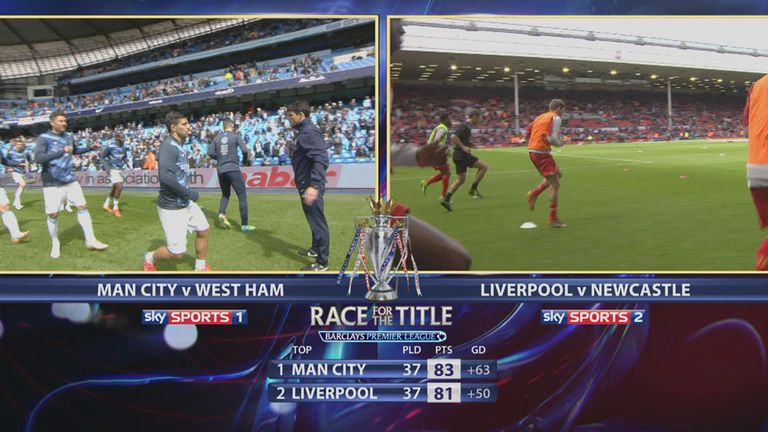 15:15 – WIDE BOYS
MAN CITY: As has so often been the case this season, the flanks proved to be profitable for City in the early sparring. A congested central third left space down either side, which the ever buccaneering Pablo Zabaleta  (No.5) and Aleksandar Kolarov (No.13) were willing to occupy on the overlap at every opportunity. Within quarter-of-an-hour being clocked up, City had put in seven decent deliveries. What sets City apart from their rivals is the patience they show in reaching the by-line, or as close to it as possible, before delivering the ball. On a day when demonstrating such virtues was always going to be key, City never once tried to hurry attacking situations, with the diagram below demonstrating how each of the seven crosses into West Ham's box were played from beyond their visitors' 18-yard line.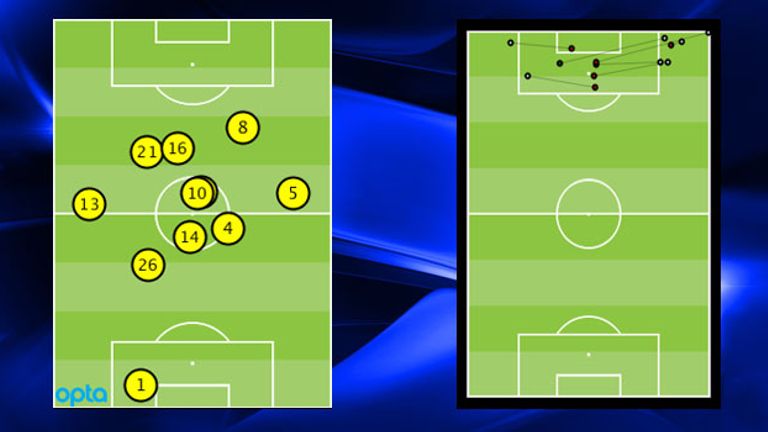 15:18 – LACKING A SPARK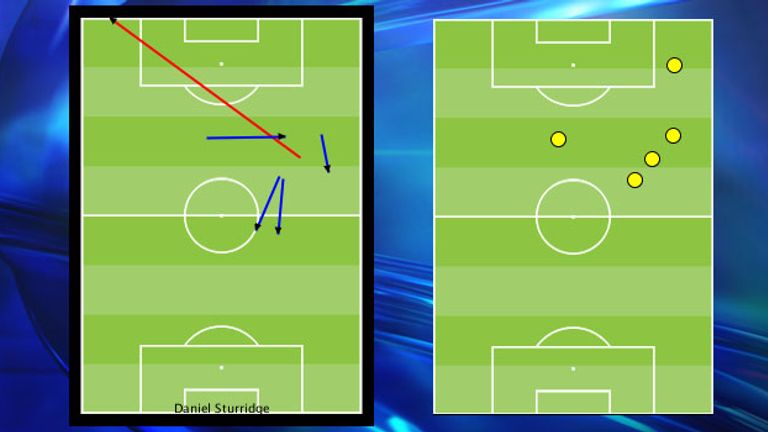 LIVERPOOL: Rodgers' side made a start which reflected the nervy-but-resigned atmosphere around Anfield. Smith would say later in the first half: "The Liverpool lads have played as if they have not believed something was possible for them, as if they are convinced the race is over." Luis Suarez and Daniel Sturridge were struggling to link up, with the latter touching the ball only five times in the opening 16 minutes while also hitting a wildly inaccurate cross-field pass (see above). Smith said in that 16th minute: "Liverpool need to apply a bit of zip to their passing, a bit of tempo. It is a bit too pedestrian at the minute."
Just two minutes later, though, Suarez did apply the impetus with a moment of inspired thinking with a quickly-taken, lobbed free-kick over Newcastle goalkeeper Tim Krul from wide on the right. But, much to the disdain of the Anfield Road End, the set-piece was taken too quickly for referee Phil Dowd, who was talking to Newcastle players and had not signalled for it to be taken. Replays also showed the ball was moving when Suarez took the free-kick.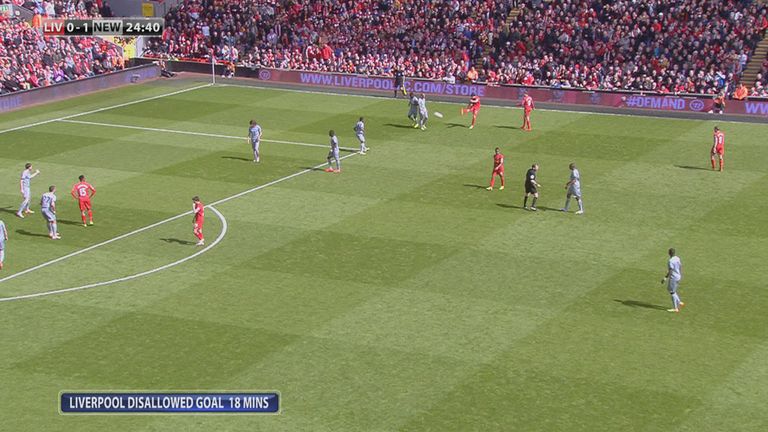 15:20 – ANFIELD GOES SILENT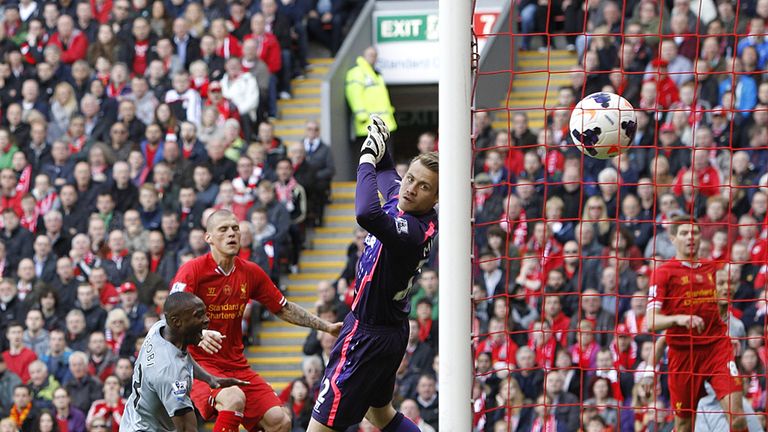 LIVERPOOL: Two minutes after Suarez's free-kick had been disallowed, Liverpool found themselves behind when Martin Skrtel scored at the wrong end. It was a horribly familiar moment from Skrtel in what was his fourth own goal of the season, more than any other player in a single campaign in Premier League history, and, not for the first time in 2013/14, Liverpool had been exposed defensively. The goal meant Liverpool had conceded 50 or more goals in a 38-game top-flight season for the first time since 1914/15. No team conceded more own goals than Liverpool in the league this season while Rodgers' squad kept only 10 clean sheets, which was eight less than Chelsea and six less than City. The goal also again saw Liverpool exposed in wide areas, with Yoan Gouffran having too much pace for Gerrard on the right before crossing to lead to Skrtel hacking the ball in to his own net on the volley. Smith said: "It is a slash at the ball, something which defenders do week in, week out and normally get a better contact than that. Martin Skrtel never really gets adjusted."
15:30 – YAYA MASTERCLASS
MAN CITY: As Sky Sports' Gary Neville pointed out in his co-commentary role,  there were obvious similarities between West Ham's deep backline and Villa's in midweek but this was a much more assured and expansive performance from Pellegrini's men. With Toure at the hub of everything good about City and lieutenants Nasri and Silva flitting in between the lines effectively either side of him, the tension of Tuesday was noticeably less conspicuous. At least in City's players, if not the home supporters!
Toure, as he has done all season, exemplified all that was good about the champions elect. With 63 touches in half-an-hour, the Ivorian was largely unplayable; to put his omnipresence into context, George McCartney with 17 touches topped West Ham's list. His 59 passes to Mark Noble's 13 told a story, as did the fact City in total had put in 239 passes (94 per cent accuracy) to West Ham's 73 (75.3% accuracy).
15:39 - BREAKTHROUGH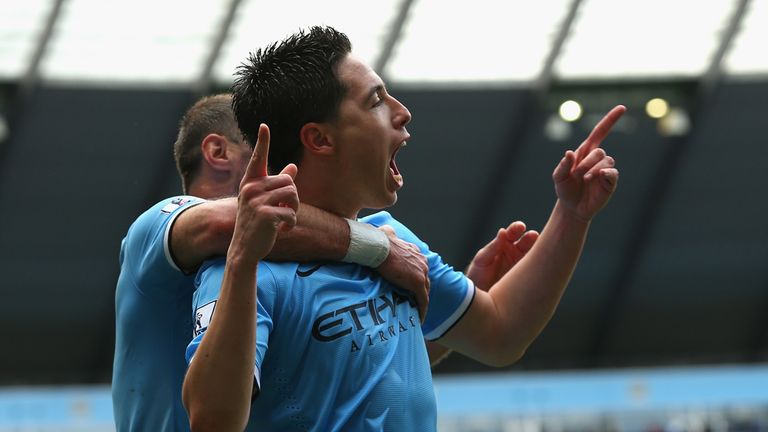 MAN CITY: For all City's patience in trying to work an opening by getting in behind West Ham, it was a shot from distance that broke the deadlock. When West Ham's back four failed to close down with anything like enough urgency, Nasri took possession from Toure's simple pass infield before angling a low drive beyond Adrian from around 25 yards. West Ham's Spanish goalkeeper bore the brunt of Neville's criticism for his part in City's 101st goal of the season: "It is a goal that will take Manchester City to the title. The goalkeeper should do better. It is a good hit from Nasri, but the goalkeeper should not get beaten from that distance. These Man City fans know there is no way West Ham can come back against them. It is a goal that should have been saved by Adrian."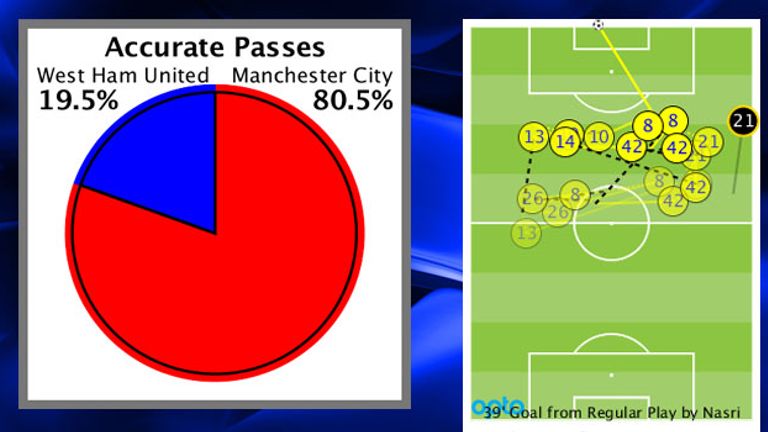 15:45 – SO CLOSE TO A SILVA LINING
MAN CITY: A touch off Andy Carroll's knee which diverted Silva's goalbound effort from a narrow angle onto Adrian's crossbar was enough to take West Ham into the interval with at least a smidgeon of hope of causing their hosts a nervy second period. Few would dispute West Ham's players put in a shift but, in the cold light of day, in terms of strolling to a title, City will have had few more comfortable afternoons in the season.
HALF-TIME
With City beating West Ham and Liverpool surprisingly behind at home against Newcastle, it looked like Pellegrini's side were going to have it all their own way as they sat five points clear at the top of the table. For Liverpool, it really felt as if they were running out of steam in the wake of the defeat by Chelsea and the draw at Palace. Could they turn it around?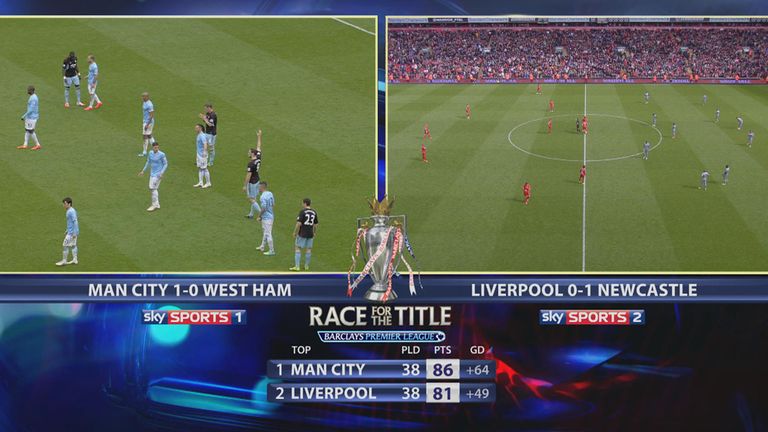 16:00 – SECOND-HALF CHANGE 
LIVERPOOL: Whether it was due to injury or a tactical change, Rodgers replaced Jon Flanagan with Aly Cissokho at half-time. Flanagan had not contributed anything in an attacking measurement, according to Opta's data, in the first half and this could have been due to him being a right-footed player on the left.
The change did give Liverpool more of an attacking outlet down the left, with on-loan Cissokho pushing much further up field in the second half than Flanagan had done. Flanagan had also won only 50 per cent of his eight duels which was a total lower than any of his defensive team-mates. Liverpool's more confident second-half approach, perhaps knowing the pressure was decreasing given events in Manchester, also nullified Newcastle, who would go on to manage just one shot in the second half compared to seven in the first.
16:05 - TWO'S KOMPANY
MAN CITY: Even in these partisan times when vitriol so often supplants sportsmanship in our beautiful game, few would deny Vincent Kompany is one of football's good guys and so it was left, fittingly, for Manchester City's captain to all but confirm the destination of the 2013/14 Premier League title. Swivelling smartly after Dzeko kept the ball alive in West Ham's box from Nasri's corner, the Belgian gleefully dispatched past Adrian from no more than six yards.
16:23 - GOAL RUSH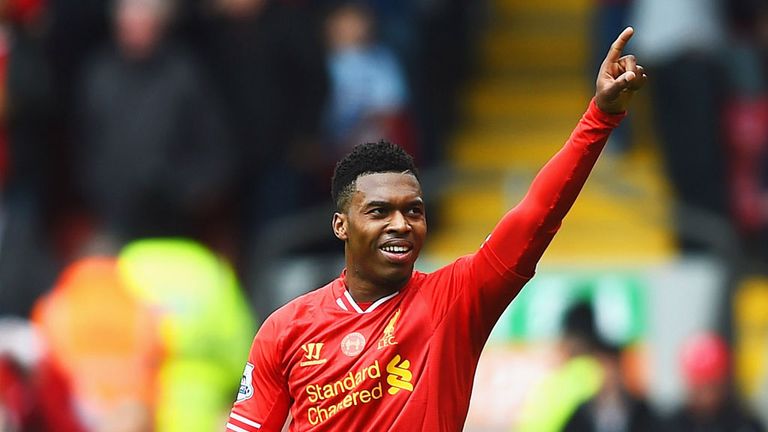 LIVERPOOL: Two goals in the space of 120 seconds between the 63rd and 65th minute, after which Shola Ameobi was sent off for dissent, turned the game around for the home side and they came in almost identical fashion. Agger and Sturridge were the scorers but both owed a great deal to assists from Steven Gerrard free-kicks into the six-yard area from the right flank. Those assists took Gerrard's total to 13 in the league for the season, more than any other player.
Their goals against Newcastle also meant Liverpool scored 37 goals from set-pieces this season. Eight of those set-piece goals have also come from indirect free-kicks, which is the most in the league, while they also have the most from direct free-kicks (six).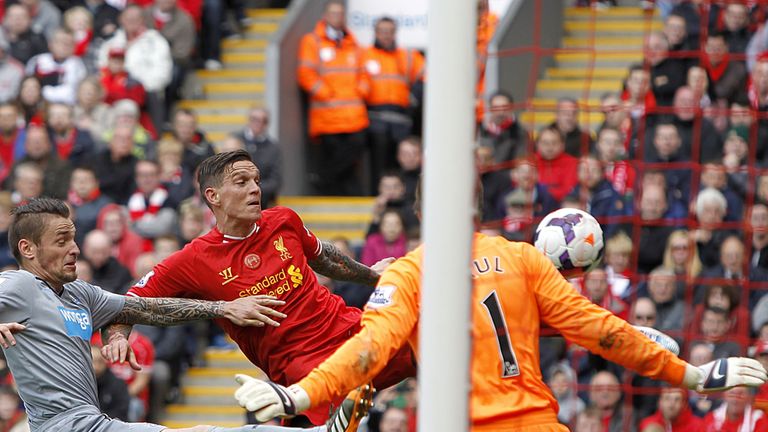 Meanwhile, the goals took Liverpool's league tally for the season to 101 to become only the third team in Premier League history to score 100 or more. Chelsea (103) in 2009/10 and City (102) in this season are the other sides to have achieved this landmark and so it was the first time more than one team scored 100 or more in a top-flight season since 1960/61. But Liverpool taking the lead did nothing to unsettle City in Manchester.
16:25 - DZEKO DEPARTS
MAN CITY: Jose Mourinho's favourite player, Edin Dzeko, received a deserved standing ovation from the City faithful as Fernandinho replaced the Bosnian. In Sunday's papers Mourinho's comments about City's 16-goal hit-man occupied more than a few column inches.
"If the champion is City, then I would say a Man City player and if I have to choose, I choose the kind of player he is, he is not just a goalscorer. He assists, he plays, he behaves, he is fair, does not dive, does not try to put opponents in the stands with an accumulation of cards. He was the third-choice striker at the beginning of the season. He was hidden behind his manager's first choices and when the team needed him in crucial moments of the season, I think he made the difference. In this moment I think he has 16 goals. Sixteen goals for the third striker is something spectacular."
16:37 – SEEING RED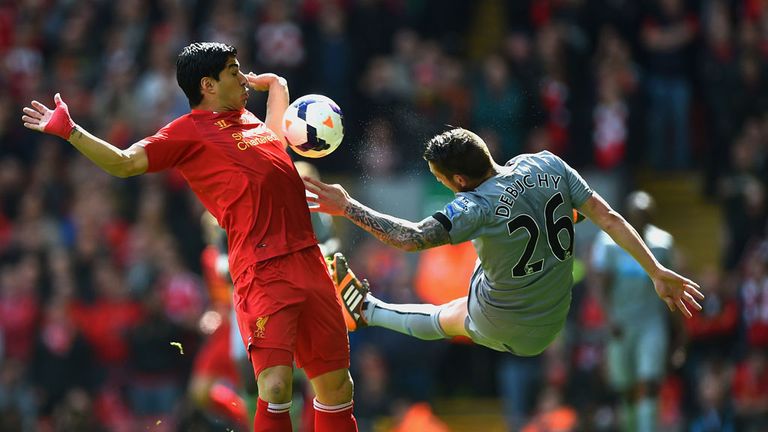 LIVERPOOL: It proved to be a comfortable second half for Liverpool. Rodgers' side had 72 per cent possession after the interval and at the final whistle they had more than doubled their opponents' pass count with 674. However, this was helped by Newcastle's red cards. Ameobi had already been dismissed before Paul Dummett followed in the 87th minute just five minutes after he had come off the bench. Newcastle, though, did not completely lose their heads, regardless of the protests among the away fans against manager Pardew, whose future has been the subject of speculation, and club owner Mike Ashley. Smith said: "At least the Newcastle players have finished the season with their heads held high and they have put in a performance, even though they lost their discipline once or twice."

16:41 - TOURE'S STANDING OVATION
MAN CITY: Neville paid homage to City's departing captain as he left the field to a standing ovation. Again, he was no less than immaculate. "Incredible season. A fantastic amount of goals, so important for City. You just cannot live with him when he is on form, there is no one in the league who can get close to him."
| | | | | |
| --- | --- | --- | --- | --- |
| Premier League 2013/14 Player | Goals | Assists | Touches | Passing Accuracy (%) |
| Yaya Toure | 20 | 9 | 2873 | 90.13 |
| Steven Gerrard | 13 | 13 | 2842 | 85.95 |
16:45 – FINAL WHISTLE...TYPICAL CITY...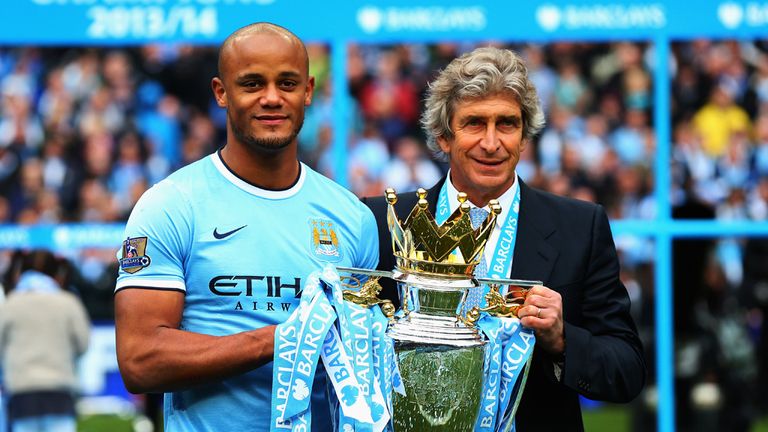 MAN CITY: City are the 2013/14 Premier League champions with 86 points after they sauntered to a 2-0 victory over West Ham courtesy of the quintessential professional performance. No histrionics, no fuss, no cock-ups, no Agueroooooooooooooo! We did not even have a Dickov moment. It is boring these days at City…
LIVERPOOL: As for Liverpool, they ultimatetly finished two points behind champions City, despite beating nine-man Newcastle 2-1, their best attempt at winning the Premier League. For all the goals, brilliant football, up and coming players and the romance of a potential first title since 1990, it was those goals conceded and defensive fragility which broke hearts at Anfield.
FINAL THOUGHTS
MANUEL PELLEGRINI: "It's a very special time. My first year is not easy to get used to English football but I think I managed a great group of players. I must be calm during the game because I need to make decisions but we've had a lot of difficult moments during the year. It was a very special because we've never been at the top of the table but six games away I told my players we needed to change and they believed in me. They are a special group. And we tried to play all year like a winning team. Kompany is a very good captain and he deserved to score today. Big teams cannot be satisfied with one title. We must celebrate but tomorrow, Monday or Tuesday we must start building for next season."
BRENDAN RODGERS: "It's been brilliant and just an incredible journey this year. That was a tough game today. Unfortunately there was no title but we showed great hope for going forward. It amazes me and it's a huge privilege to come into the club every day. Our idea is to continue with this momentum. We played some fantastic football, scored over 100 goals and we know the areas we need to improve. Hopefully we'll be better next year."