Transfer news: Neymar still committed to cause at Santos
Brazilian superstar Neymar has once again reiterated that he is more than happy staying at Santos.
By Paulo Freitas
Last Updated: 19/04/13 4:28pm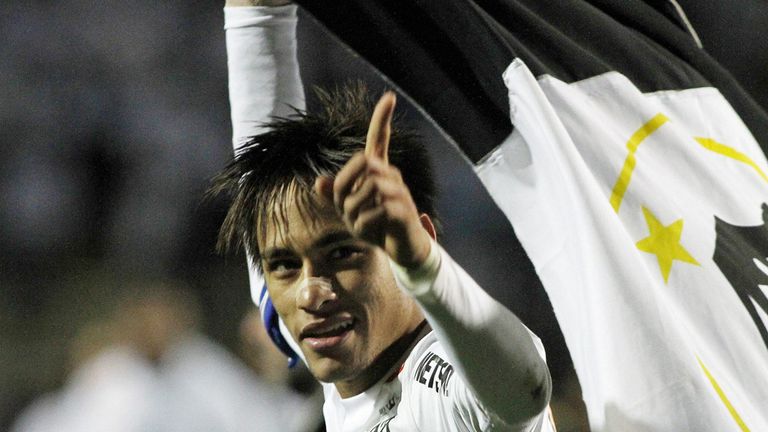 The 21-year-old has long insisted that he would not leave Santos before the World Cup finals in Brazil next year.
However, despite Neymar's consistent stance, that has not stopped many reports on his future, with Barcelona again strongly linked in recent days.
But Neymar told UOL: "They said I will go to Barcelona, Real Madrid, Chelsea. Those stories would make a good comic book.
"Speculation has existed since I was little, so there isn't much to talk about.
"I won't change my speech. I'm happy at Santos, I want to stay, I have a contract with Santos and I intend to see it out."
Neymar's father - who is also called Neymar - talked to Globo Esporte about the continuous links with Barcelona.
"It's 100 per cent certain that Neymar will stay until the end of his contract. But later? We don't know yet," he said.
"I think Neymar will have finished a stage in Brazil, playing a World Cup while playing here. Then, as a father, I think he has to think professionally and leave.
"He can choose some club in Europe, but we want him to see out his contract and if he happens to leave before that, it won't be our choice. It will be Santos'."
He also said it's not likely Neymar will renew his contract with Santo, adding: "What could they offer?
"If someone here in Brazil has a project to offer something to Neymar, please sit with [Santos] president Luís Álvaro and [vice-president] Odílio and say "we have a project for Neymar to stay]; Companies have come to help, Santos have done everything. Neymar's problem isn't financial."