Our Road to Wembley
Graeme Bailey catches up with Stoke City first-team coach Gerry Francis.
By Graeme Bailey - Follow me on Twitter @graemebailey
Last Updated: 16/04/11 1:34pm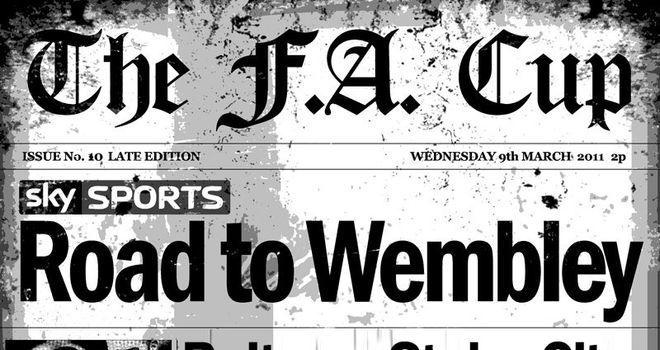 Our Road to Wembley returns as the the FA Cup finally makes it to the capital with the competition reaching the semi-final stage.
Having joined the world-famous tournament with FC United of Manchester in the first round in November, some six months down the line we are on the cusp of the final.
We remain with Stoke City, having followed them since they overcame League One outfit Brighton in the fifth round.
The Potters defeated West Ham in the quarter-finals and that booked them their place in the last four.
It is the first time since the 1970s that they have made the trip to Wembley in a major competition - but that was in their League Cup final victory in 72.
They have made the FA Cup semi-finals on three previous occasions but they have never made it through and now are looking to put that right.
And Francis admits that they have a great opportunity to make it through to the final.
"Clearly the draw has been kind, and I think both Bolton and ourselves would admit that they have got the draw they wanted, to avoid both Manchester clubs," Francis told skysports.com.
Stoke are taking over 32,000 supporters with them to Wembley and Francis believes that they are capable of recreating the intimidating atmosphere which many teams struggle to cope with at the Britannia Stadium.
"This is a wonderful day out for the fans, they have not been this far since the 1970s. This will mean a lot to them, as it does to the players, and they will play their part.
"We know that the Britannia Stadium is a tough place to go and our record shows how successful we are, but we are confident our fans can be just as passionate and loud at Wembley and turn that into another Britannia."
Chance
Stoke go into the game knowing they have a massive chance of making it through to the final.
"It shows how far we have progressed in the last three seasons, we have been getting better and better, and showing up well.
"Last season we got to the quarter-finals before losing at Chelsea, who went on to win it, now we are in the semi-finals and have a great chance.
"But Sunday is all about how you play on the day, whoever turns up, takes their chances and performs to the level they are capable of.
"We know we can play as well as anyone and can match any side, but Bolton we be thinking the same."
Despite Stoke's successes they are continually questioned about their perceived direct style of play.
But Francis insists this is not an issue for them, insisting: "We play with two of the most prominent wingers in the league.
"We know how we play, and if other people want to suggest otherwise then that is up to them.
"People can label us however they want, we just know that on our day we can be a match for anyone, we have proved that when we have beaten the likes of Arsenal, Liverpool and Tottenham.
"It was interesting to notice Gareth Bale in recent matches for Tottenham throwing long-balls into the box, and not much was said about that or them doing that - it is just how people perceive things."
Squad strength
Stoke will be making a change in goal with Thomas Sorensen starting against Bolton, as he has done for their entire cup campaign.
And Francis insists they have no qualms about bringing the Dane into the line-up.
"You have to have a squad and that is how we work, it was the same when Asmir [Begovic] first came, he was number two to Thomas and played in the cup matches.
"But again this is just a sign of how far we have come, the fact that we can bring a player of Thomas' calibre in.
"And it is important when you do have a squad to give players a game, you can get injuries and suspensions and it is important they are up to speed."
Despite all the hype around the FA Cup, Francis admits that they are yet to secure their Premier League status.
"Clearly we still have points to get in the Premier League and we know that, and we are not yet relaxed on that front.
"But we are now preparing for the Bolton match and fully focused on that."
But the magic of the FA Cup remains firmly alive, especially in the Potteries.
"I am huge believer in the cup competitions, I think winning is a mentality and it will always give you a boost when you win," Francis said.
"We have always believed that and have taken it seriously from day one.
"We are now in the semi-finals and fully prepared and looking forward to it."