Red mist
We reflect on Wayne Rooney's red card, which overshadowed England's qualification for Euro 2012.
Last Updated: 09/10/11 6:12pm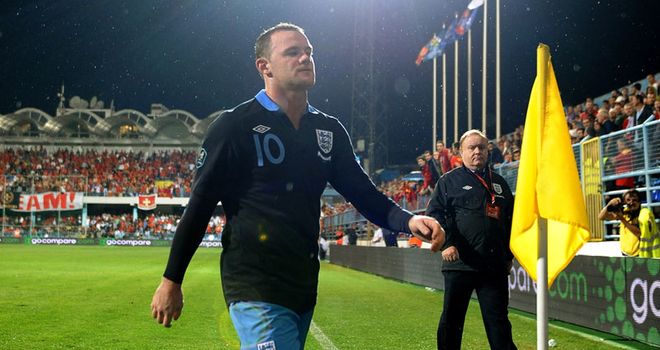 Stupid. Irresponsible. Out of control. Wayne Rooney was all three as he was shown the red card for a second-half moment of madness when he lunged through the back of Montenegro centre-back Miodrag Dzudovic as England stumbled into the finals of Euro 2012.
Yes, England drew 2-2. True, they finished unbeaten in Group G. Yet Rooney's red card, which gave him the indignity of joining David Beckham as the only two players to be dismissed twice in an England shirt, somehow stripped bare the mental frailty of Fabio Capello's team.
Put it this way, Germany and Spain and Holland and the rest of Europe's top teams will not be shaking in their boots after an England performance which began with supreme confidence and ended with them holding on in tatters against a nation with a population of 650,000, only a little higher than Manchester.
So do not dust off the flags of St George just yet. Keep the lid on all those expectations. England are going to Poland and Ukraine but Rooney will be suspended for the start of their finals campaign.
How much was the sending off down to the frustration of the last few days in which his father, who has protested his innocence, was arrested and bailed in connection with a betting investigation?
Capello insisted Rooney's head was in the right place. It clearly was not, when it mattered.
Rooney let the side down, but the entire team, who had strolled into a 2-0 lead, followed suit in one of the most ragged second 45 minutes of Capello's reign.
Fool
We should not fool ourselves. England's entire passage through one of the easier qualifying groups has not been overly impressive.
They have drawn at home to Switzerland, ranked 18th in the world, and Montenegro, the 26th best team on the planet. At Wembley against Wales, 90th according to Fifa, they sneaked a 1-0 win which owed much to the fact that Robert Earnshaw missed a sitter of blooper proportions.
It should have been all so different in Montenegro. In the first half the home side seldom pressed, rarely harried. They seemed content to allow England to dominate possession and territory and it seemed Montenegro coach Branko Brnovic really did have his mind solely on Tuesday's match against Switzerland.
In anticipation of losing to England, Brnovic had left out key men Milan Jovanovic, Nikola Drincic and Marko Basa to ensure they were fit and available for that match.
At times it did feel as if the Montenegrins were going out of their way to help Capello on his way to Poland and Ukraine next summer.
The first goal was a case in point, Theo Walcott delivering one of those crosses his critics say he does not provide enough of and Ashley Young, one of the smallest players on the field, stooping to head home from four yards.
Young is the find of this qualifying campaign. Three goals scored. Plenty of assists. Lots of moments which suggest he holds a key to England's attacking penetration.
If that first goal exposed the flaws in Montenegro's defence then the second cut it to shreds, Gareth Barry shifting the ball to Rooney who in turn found Young who unselfishly played in Darren Bent for a tap-in.
Concentration
By rights, that should have been that, but England do have a tendency, even when playing well, to throw in periods of inconsistency. This night they hurled in a huge dollop of it.
Lack of England concentration was written large over Montenegro's goal on the stroke of half-time when Fatos Beciraj picked out Elsad Zverotic inside the box and his spin and then shot found its way past Joe Hart.
That would have spiked Capello's temper during the half-time break and rightly so because it was just plain careless.
That goals change games is one of football's great truisms and Montenegro's fight and heart were doubled at least by that strike, so much so that the tide turned completely in a volatile second half in which Capello's men visibly wilted.
It did not help when Young limped off with an ankle injury, but the fact is Montenegro deserved their injury-time equaliser and runners-up spot in the group when a looping cross was headed home by Andrija Delibasic.
By contrast, Rooney deserved to hold his head in shame.